Overview
Background
Injuries to the lower genitourinary (GU) tract alone are not life threatening, but their association with other potentially more significant injuries necessitates an organized approach to diagnosis and management. Because trauma is a multisystem disease, multiple injuries may be present in the trauma patient. Other injuries often take priority over injuries to the GU system and may initially interfere or postpone a complete urologic assessment. Coordinated efforts between various services caring for the patient are crucial to ensure comprehensive care. Initial evaluation of the injured patient suspected to have GU trauma should not differ from that of other trauma patients. Follow the protocols of the Advanced Trauma Life Support program of the American College of Surgeons. [1, 2, 3, 4, 5, 6, 7, 8]
See the image below.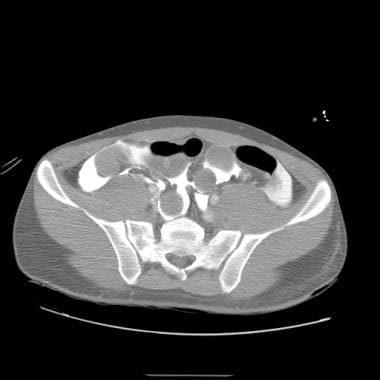 Extravasated contrast in abdominal cavity secondary to ruptured bladder.
Pathophysiology
The lower GU tract comprises the urinary bladder, urethra, and external genitalia.
Most bladder injuries occur in association with blunt trauma. Eighty-five percent of these injuries occur with pelvic fractures, with the remaining 15% occurring with penetrating trauma and blunt mechanism not associated with a pelvic fracture (ie, full bladder blowout). [9, 10, 11]
Urethral injury is predominantly a male problem. In males, the urethra is divided into the proximal (posterior) segment and the distal (anterior) segment by the urogenital diaphragm. The posterior urethra is further divided into membranous (sphincteric) and prostatic segments. About 3 cm long, the posterior urethra extends from the bladder to the urogenital diaphragm.
Injuries to the posterior urethra are mostly secondary to pelvic fractures, while injuries to the anterior urethra are caused by straddle-type (eg, bicycles, skateboards) or penetrating (often self-inflicted) injuries. Urethral injuries from trauma constitute only 10% of all GU injuries, with iatrogenic etiology constituting a significant fraction of all urethral injuries. [12]
Injuries to the external genitalia (ie, the penis and the scrotum) are usually secondary to injuries caused by penetration, blunt trauma, continence- or sexual pleasure–enhancing devices, and mutilation (self-inflicted or otherwise).
Epidemiology
From 3 to 10% of all trauma patients have injuries involving the GU tract, while 10 to 15% of trauma patients with abdominal injuries have associated GU tract involvement. Urethral injuries constitute 10% of all injuries to the GU tract, with bladder injuries comprising another 40%. Mortality from lower GU trauma is attributed to associated injuries, especially pelvic fractures.
Urethral trauma is primarily a male problem and affects all age groups, but it seems to have a higher incidence in persons aged 15-25 years.
Patient Education
For excellent patient education resources, see eMedicineHealth's patient education article Blood in the Urine.
What would you like to print?