Overview
Practice Essentials
Injuries to the lower genitourinary (GU) tract alone are not life threatening, but their association with other potentially more significant injuries necessitates an organized approach to diagnosis and management. Because trauma is a multisystem disease, multiple injuries may be present in the trauma patient. Other injuries often take priority over injuries to the GU system and may initially interfere or postpone a complete urologic assessment. Coordinated efforts between various services caring for the patient are crucial to ensure comprehensive care. Initial evaluation of the injured patient suspected of having GU trauma should not differ from that of other trauma patients. Follow the protocols of the Advanced Trauma Life Support program of the American College of Surgeons. [1, 2, 3, 4, 5, 6, 7, 8]
(See the image below.)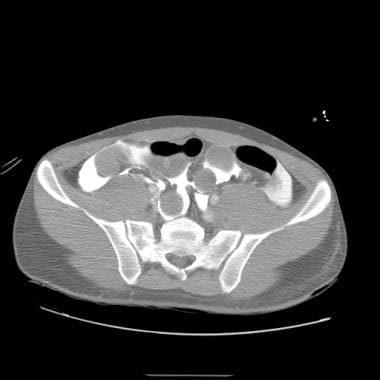 Extravasated contrast in abdominal cavity secondary to ruptured bladder.
From 3 to 10% of all trauma patients have injuries involving the GU tract. Urethral injuries constitute 10% of all injuries to the GU tract, with bladder injuries comprising another 40%. Mortality from lower GU trauma is attributed to associated , especially pelvic fractures.
Urethral trauma is primarily a male problem and affects all age groups, but it seems to have a higher incidence in persons aged 15-25 years.
Up to 10% of patients who experience abdominal trauma will also have injuries to the renal and urogenital systems. In patients with other potentially life-threatening injuries, renal and genitourinary trauma may be overlooked initially. Isolated urethral injury is a relatively rare medical condition, accounting for less than 1% of all ED visits, and include urethral crush injury, bruising, laceration, and transection. Urethral injuries if left untreated can cause significant morbidity. Scrotal emergencies are rare but if not promptly treated may threaten fertility. [9, 10, 11, 12]
Penile injuries from zipper entrapment occur most often in children but occur in adult males as well. Cases of penal entrapment are also seen in the ED, such as when penile rings to improve and maintain erections become trapped; the penis can become swollen and ischemic and progress to necrosis gangrene if left untreated. [13, 14, 15, 16, 17, 18, 19]
Penile fracture is a rare urologic emergency but should always be considered when the clinical presentation is suggestive. These injuries are related to low-energy trauma and usually lead to unilateral rupture of the corpus cavernosum. Urethral involvement is uncommon. [20, 13, 21, 22, 23]
Signs and symptoms
Signs of lower GU injury are a small part of a massive conglomeration of signs related to associated injuries; therefore, always keep a high index of suspicion. [24] Bladder trauma may be indicated by bruising or edema of the lower abdomen, perineum, or genitalia; an inability to void; and an inability to retrieve all fluid used to irrigate the bladder through a Foley catheter. Urethral trauma may be indicated by blood at the meatus; penile or perineal edema and/or hematoma; and a distended bladder. Signs of penile trauma include loss of skin, edema, and angulation. Signs of scrotal trauma include edema, loss of skin, and discoloration.
Workup
Lab studies include a complete blood count (CBC), prothrombin time (PT), activated partial thromboplastin time (aPTT), and urinalysis. Plain radiography is used to assess pelvic injury. Urethrography is performed with water-soluble contrast material, preferably under fluoroscopy.
Cystography is the most reliable and easily available modality. Obtain and view anteroposterior and lateral radiographs of the lower abdominal area; obtain identical views after the patient empties his or her bladder. Latter views provide information about posterior extraperitoneal injuries that may not be detected when the bladder is full.
The American Urologic Association guidelines support the use of ultrasonography in cases of blunt scrotal trauma. Ultrasound is often the first-line modality for evaluation of male pelvic emergencies. Testicular torsion, Fournier gangrene, and testicular dislocation are surgical emergencies and should not be missed or misdiagnosed, which could delay urgently needed treatment. In the case of testicular trauma, the main goal of US is to assess vascular perfusion and integrity of the testes and identiy testicular rupture. Sensitivity and specificity have been reported to be as high as 95-100% for testicular rupture. The focused assessment with sonography in trauma (FAST) can identify intra-abdominal bleeding. [25, 26, 27, 28, 29, 30, 31]
For more information on lower genitouinary trauma imaging, see Bladder Trauma Imaging, Urethral Trauma Imaging, and Testicular Trauma Imaging.
Management
Administer oxygen and ventilatory support if needed. Resuscitate with crystalloids (lactated Ringer solution or isotonic sodium chloride solution) and blood (O-negative packed red blood cells) if indicated. Life-threatening injuries (eg, tension pneumothorax, open pneumothorax, cardiac tamponade) should be addressed emergently in the ED.
Perform cystography and retrograde urethrography as needed.
Further outpatient care in the patient with lower GU tract trauma mainly depends on the extent of associated injuries. The need for rehabilitation secondary to either orthopedic or neurologic injuries must be assessed on a patient-by-patient basis.
Management of urethral injuries is related to the type of injury sustained, but basic principles apply [32] The bladder should be drained with a suprapubic catheter percutaneously or open technique to prevent further extravasation. Arrange for follow-up care for delayed repair of urethral injuries.
Management of penile injuries depends on the severity of trauma and the extent of tissue damage. Penile skin injuries are treated by debridement and split-thickness skin grafting. Penile injuries require close follow-up care, especially if skin grafting was performed.
Perform follow-up hormonal studies and semen analysis on patients with scrotal or testicular injuries.
Pathophysiology
The lower GU tract comprises the urinary bladder, urethra, and external genitalia.
Most bladder injuries occur in association with blunt trauma. Eighty-five percent of these injuries occur with pelvic fractures, with the remaining 15% occurring with penetrating trauma and blunt mechanism not associated with a pelvic fracture (ie, full bladder blowout). [33, 34, 35]
Urethral injury is predominantly a male problem. In males, the urethra is divided into the proximal (posterior) segment and the distal (anterior) segment by the urogenital diaphragm. The posterior urethra is further divided into membranous (sphincteric) and prostatic segments. About 3 cm long, the posterior urethra extends from the bladder to the urogenital diaphragm.
Injuries to the posterior urethra are mostly secondary to pelvic fractures, while injuries to the anterior urethra are caused by straddle-type (eg, bicycles, skateboards) or penetrating (often self-inflicted) injuries. Urethral injuries from trauma constitute only 10% of all GU injuries, with iatrogenic etiology constituting a significant fraction of all urethral injuries. [36]
Injuries to the external genitalia (ie, the penis and the scrotum) are usually secondary to injuries caused by penetration, blunt trauma, continence- or sexual pleasure–enhancing devices, and mutilation (self-inflicted or otherwise).
What would you like to print?