Periprocedural Care
Equipment
A diagnostic peritoneal lavage (DPL) kit, either commercially available or preassembled in the hospital, contains the following (see the image below):
Scalpel (No. 11 and No. 15 blades)

Hemostats (2)

Alice forceps (2)

Toothed dissecting forceps

Retractors (2)

Syringes (2), 5 mL

Syringe, 10 mL

Needles, 18 and 21 gauge

Lidocaine 1% with epinephrine

Warm lactated Ringer solution or normal saline solution (0.9% NaCl), 1 L

Intravenous (IV) bottle or bag connected to an IV set

Absorbable sutures, 4-0

Needle holder

Fenestrated drape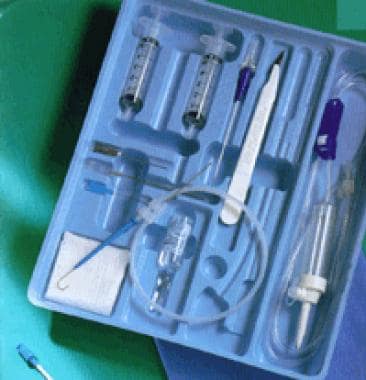 Diagnostic peritoneal lavage kit.
Patient Preparation
What would you like to print?