Treatment
Prehospital Care
General considerations
The rescuer's protective equipment should be Level A (eg, triple gloves [polyethylene gloves and nitrile gloves over latex gloves], fully encapsulating chemical resistant suit and boots, hard hat, self-contained breathing apparatus). See the image below.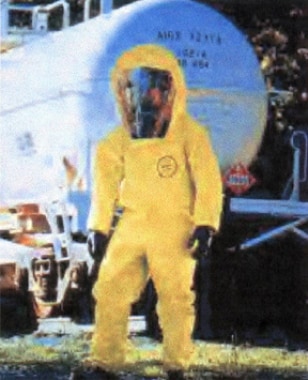 Level A suit (DuPont Tychem 10,000).
Standard organic vapor filters used with gas masks or air-purifying respirators do not remove chloropicrin effectively. [9]
Initial treatment is primarily supportive. It includes symptomatic treatment of early adverse health effects and support of respiratory function. Patients should be kept warm and quiet to minimize the effects of accumulation of fluid in the lungs/pulmonary edema that may occur with severe exposures. [10]
Skin exposure
Immediately begin decontamination with running water. Flush for a minimum of 15 minutes. Remove contaminated clothing, taking care not to contaminate eyes further.
Eye exposure
If possible, open victim's eyes while under gentle running water. Use sufficient force to open the eyelids. The victim must "roll" the eyes. Flush for a minimum of 15 minutes.
Inhalation
Remove the victim to fresh air. Provide assisted ventilation as needed to support pulmonary function. Cover or remove gross contamination to avoid exposure to rescuers. Monitor for spasmodic narrowing of the large airways, and treat bronchospasms with beta2 agonists and corticosteroids. Monitor for laryngospasm, and treat it if it occurs. Examine the mucous membranes for corrosive effects. [10]
Ingestion
Do not induce vomiting or administer charcoal. [10] Rinse mouth immediately with water. Have the victim drink milk, egg whites, or large quantities of water if available.
Emergency Department Care
Skin exposure
If not completed in the field, continue decontamination with running water for at least 15 minutes.
Eye exposure
If not completed in the field, continue flushing for at least 15 minutes.
Inhalation
Continue assisted ventilation and initiate artificial ventilation as needed to support pulmonary function. Obtain a baseline chest x-ray and monitor respiratory function for 24 hours. [10]
In severe respiratory compromise, ventilatory support is mandatory. If a PaO2 cannot be maintained above 60 mm Hg with a fraction of inspired oxygen (FIO2) of 0.6 or less, then add positive end-expiratory pressure in an attempt to open previously closed alveoli.
For methemoglobinemia greater than 10-20%, consider administration of methylene blue 1-2 mg/kg as a 1% solution intravenously over 5 minutes, followed by a 15-30 mL flush. [8]
Signs of pulmonary edema may not be evident early after exposure. Observation for 24-48 hours for progression or worsening of symptoms is recommended. [8]
Ingestion
Contact poison control for the most current information. Do not induce vomiting. Administer large quantities of water. Do not give diluents to a patient who is convulsing, unconscious, or unable to swallow.
Following ingestion exposure, gastric aspiration and endoscopic examination of the esophagus and stomach are recommended within 24 hours of exposure. [10]
What would you like to print?