Treatment
Surgical Therapy
Regardless of the surgical approach, the underlying guiding principle in correcting broad nasal tip is to maintain and increase the structural integrity of the tip.
Surgical treatment can be divided into 3 categories. First, suture reshaping of the domes is a commonly used approach to achieve significant long-lasting tip narrowing. Dome division is another method used to narrow the bulbous nasal tip. Cartilage grafting offers a third approach that can give the appearance of a narrowed nasal tip. Aside from narrowing the dome, these approaches have other predictable effects that must be anticipated for best results. In all techniques, "the devil is in the details," and careful application of each technique is mandatory for optimal outcomes.
The tripod concept is a simplified explanation of tip dynamics that can facilitate understanding of possible effects of the above-mentioned approaches. In the tripod conceptualization, the lateral crura constitute the superior limbs of a tripod, and the combined mesial crura act as the third limb of a tripod. Lengthening the inferior limb causes upward tip rotation and increased projection. Shortening the inferior limb causes counter-rotation and deprojection. Conversely, increasing the length of the superior limbs causes increased projection and counter-rotation. Decreasing the length of the superior limbs causes increased rotation and deprojection.
Healing forces, skin characteristics, and innate cartilage strength all contribute greatly to outcome in narrowing the nasal tip. In patients with thick skin, cartilage narrowing must be somewhat exaggerated to show through the thick blanket of scar tissue that will develop. Also, a stronger framework is needed to combat the contractile forces expected postoperatively. This is especially true in African American patients who tend to have both thicker skin and weaker cartilages. Patients with thick skin also must realize that their postoperative swelling will last from months to years.
An understanding of the complexities of tip dynamics and a careful consideration of the patient's overall anatomy and specific surgical goals will lead to the appropriate choice of tip-modifying techniques. The effective surgeon will carry a fluid arsenal of tools into each rhinoplasty, to use as each case requires.
Preoperative Details
Planning is key to successful rhinoplasty. The surgeon should undertake a careful and methodical preoperative anatomic analysis. Each nose should be carefully evaluated. Nasal analysis is not the subject of this chapter; the reader is advised to undertake appropriate study of methods and approaches to nasal analysis. The surgeon should carefully examine the bulbous tip, both visually and manually, to gain a detailed knowledge of the skin-soft tissue envelope and the underlying lower lateral cartilages (see image below). An intranasal examination is also a requisite part of any complete preoperative assessment.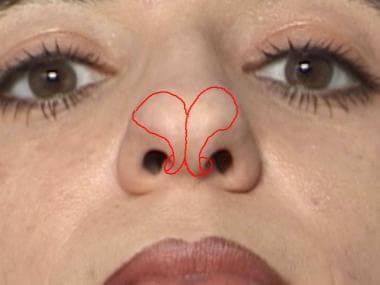 Cartilage shape and strength should be palpated and anticipated preoperatively.
In this preoperative physical examination, the surgeon must visualize the underlying anatomy a structure. The surgeon should also examine the availability and quality of available cartilage grafting sources. A list of problems should be outlined in order of priority following a thorough examination. The steps of surgery are carefully planned based on the surgeon's examination. The surgical plan may be modified during the procedure, but an organized approach is critical.
Careful photographic documentation is obtained preoperatively. A consistent format is used with identical film, lighting, background, and environment. Use of digital photography systems facilitates consistent photodocumentation.
Intraoperative Details
Suture control
Dome-binding sutures can be used to narrow a bulbous tip. A conservative resection of the cephalic edge of the lower lateral cartilages [2] (see image below) may be undertaken with dome-binding suture and other approaches. This is commonly undertaken to address bulbous deformity in the horizontal dimension, and in certain cases, it may allow an arched cartilage to bend without buckling. Preservation of a significant complete strip of cartilage is critical. Leaving at least an 8-10 mm width of cartilage is recommended.
Careful mattress sutures are placed to narrow the dome area (see image below).
If this is undertaken via an external rhinoplasty approach, a mattress suture is placed on each dome and progressively tightened until the desired configuration is obtained (see image below).
The sutures are joined to create a double-dome suture (see image below).
Typically, these sutures are clear and nonabsorbable with buried knots. An interdomal suture then can be placed to secure the individual cartilages in close approximation. Care must be taken to avoid overtightening of the interdomal suture.
Alternatively, a single transdomal suture that acts as a horizontal mattress suture can be placed through both domes such that the knot will be buried between the domes. This approach is commonly undertaken when dome-binding sutures are placed via an endonasal approach.
These sutures may be placed through a delivery technique, but some surgeons feel that increased ease and precision is obtained with the external approach. These techniques have been described in detail by a number of authors, including Tardy, Tebbetts, Johnson, Toriumi, and others.
Suture control of the nasal tip is a reversible technique.
Vertical dome division
Vertical dome division (and preferably reconstitution; see image below) can be performed via an endonasal approach (eg, Goldman tip technique, methods described by Simons and others) or alternatively via an external rhinoplasty approach. [3, 4, 5, 6, 7]
By vertically dividing the dome, the vertical spring of the cartilage is broken and lateral crus repositions in a narrowed configuration. Suture reconstitution of the divided segments provides improved control of healing and improved stability of long-term structure.
By altering the location of the lower lateral cartilage division, tip projection and rotation can be altered simultaneously with tip narrowing. According to the tripod concept discussed earlier, by dividing the dome toward the medial crura (and reconstituting the segments), the tip can be counter-rotated and deprojected. By dividing the lower lateral cartilage lateral to the tip defining point (and then reconstituting the segments), rotation and projection can be achieved. At times, a small segment of cartilage may be excised from the lateral crura, or the cartilage may be overlapped and sutured. This provides added control over projection and rotation while simultaneously achieving nasal tip refinement.
Cartilage grafting
A number of grafts may be applied in the nasal tip, depending upon the anatomy and goals of surgery. Advantages of cartilage grafting techniques include strengthening of the tip and reversibility of techniques.
Autologous cartilage is generally the preferred grafting material. Septal cartilage is the most commonly used autologous grafting material in the nasal tip. Conchal cartilage is frequently used when its shape is preferred or when septal cartilage is unavailable. Rib cartilage is another autologous grafting alternative.
Irradiated rib cartilage is a nonautologous alternative. Irradiated rib has a tendency to resorb over time and to occasionally warp. Alloplastic materials should be avoided in the nasal tip because the nasal tip is too mobile and too exposed to reliably tolerate artificial materials for a lifetime.
Lateral crural strut grafts, as described by Gunter, are underlay grafts placed beneath the lateral crus. [8] Lateral crural strut grafts can flatten the bulbous lateral crus and refine the bulbous tip. This technique is best undertaken via the external rhinoplasty approach.
Cartilage applied as a tip onlay graft can help create the illusion of a narrowed nasal tip and increase definition. Multiple layers of cartilage may be required. In the endonasal approach, a precise pocket is created in the nasal tip, and the graft is carefully placed. Grafts may also be crushed to camouflage edges.
In the external rhinoplasty approach, a sutured-in-place shield graft can define the tip defining points. Tip grafting is a useful technique, especially when thicker skin is involved (see images below). With all grafting techniques, special caution should be used in patients with thin skin, as an increased risk of visible edges and bossa formation exists.
Combined techniques
Typically, rhinoplasty does not conform to simplified rules. A sophisticated approach and an ability to use multiple techniques are critical. A single technique may be employed with a mildly bulbous nose. However, a number of techniques may be necessary with a more dramatic bulbous shape. Selection of appropriate techniques relies on a detailed preoperative understanding of the patient's anatomy.
Postoperative Details
Maneuvers performed are carefully documented in operative dictation and in pictorial form immediately following surgery. A diagram provides the surgeon with at-a-glance recall, means for self-evaluation, and a learning tool.
Edema of the nasal tip may camouflage the underlying changes to the nasal tip cartilages, especially with an open approach or patients with thick skin. Patients need careful preoperative counseling that final results may not be visible for 1-2 years. In patients with excessive swelling, subdermal injections of a dilute steroid solution may accelerate resolution.
Complications
Risks of tip refining techniques include tip asymmetry and bossa formation. Development of a polly beak deformity can appear with excessive deprojection, inadequate caudal dorsal resection, or persistent supra-tip edema. In rare cases, suture extrusion or infection can develop, but this can be minimized by carefully concealing knots in deeper tissues, avoiding vestibular exposure of sutures, and avoiding permanent sutures. Nasal valve collapse can occur with excessive tip narrowing, decreasing the nasal airway. This may be treated with lateral crural grafts. Care must be taken with each technique to assess the functional effects of each maneuver.
A study by Alkarzae and Bafaqeeh discussed a technique, turn-in folding of the cephalic portion of the lateral crus, designed to avoid external valve collapse, bossa formation, and alar retraction, in cephalic excision of the lateral crus. The investigators reported satisfactory results in most cases over a mean 2-year follow-up period, with no postoperative complications out of 120 patients and revision surgery required in just six cases. [9]
What would you like to print?