Overview
Background
Distinctive anatomic differences exist between the nonwhite nose (platyrrhine, mesorrhine) and the white nose (leptorrhine). Surgeons who perform rhinoplasty in multiracial patients must recognize these differences and must implement specific surgical strategies to achieve the desired aesthetic and functional outcome.
An image depicting rhinoplasty on a nonwhite nose can be seen below.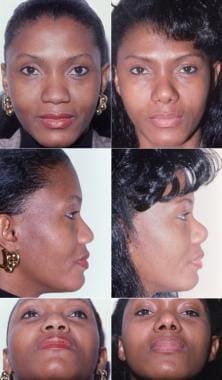 Preoperative (left) and postoperative (right) views of the African American multiracial nose. Rhinoplasty was performed as described in this article.
History of the Procedure
The concept of rhinoplasty in nonwhite has evolved over time. [1] In 1913, Schultz characterized the typical black nose as broad and flattened, frequently lacking dorsal projection. [2] The tip was described as flat and round, with flared alae and an obtuse alar dome angle. A number of authors, including Matory and Falces, have commented on the predilection for nonwhites to have thick nasal skin with a large amount of subcutaneous tissue. [3]
Despite such stereotypic features, authors have more recently pointed out the difficulty in categorizing individual patients. In 1976, Stucker noted that few African American patients possessed all the aforementioned racial characteristics. [4] Ofodile and James performed an anatomic study on 24 alar cartilages in 12 African American male cadavers and documented considerable variability in morphology. [5] They were able to divide subjects into 3 distinct groups and hypothesized that the considerable miscegenation among African Americans, whites, and Native Americans in the United States could account for differences among these groups. Baker and Krause analyzed 8 external nasal surface measurements in 196 nonwhite patients and could divide their study population into 5 statistically significant groups. [6] Interestingly, the so-called typical black nose did not typify the most common nasal configuration in African Americans.
Similarly, Aung et al used a laser surface scanner to perform anthropometric measurements in 90 subjects of Asian descent. [6] The authors concluded that the Asian nose is generally broader in relation to height and has less tip projection, but they also noted 3 different subtypes. In a study of 206 Chinese adults of Han ancestry, compared with 103 North American whites, Wang et al pointed out that the Chinese nose fit the dimensions of the nasofacial canon (the nose width is one fifth of the facial width) significantly more frequently (51.5%) than did the white nose (36.9%). [7, 8]
The conceptualization of the ideal nonwhite nose has changed dramatically in the literature. In the past, many authors assumed that multiracial patients sought rhinoplasty to gain a more white appearance. Martin reported that both black and white men in the United States ranked black women with white facial features as more beautiful, while men in Nigeria preferred women with black features. [9] Falces et al connected this perceived desire to appear more white to economic considerations. [10] Patients may feel it necessary to fit the white ideal of beauty to succeed in Western society. Given the limitations of rhinoplasty in this context, Snyder suggested the need for increased preoperative consultations for the achievement of realistic goals and the occasional need for psychiatric evaluation. [11]
In 1972, Pitanguy voiced the currently accepted perception that the nose must be in harmony with the rest of the face and the race of the individual. [12] Stucker stressed the importance of eliciting patients' desires and expectations, and he warned against imposing the aesthetic ideals of the surgeon on patients. This view was supported by Baker and Krause's survey of 196 nonwhite employees and outpatients at the University of Michigan. [6] This study revealed that the vast majority of African Americans considering rhinoplasty do not desire white-type noses. In view of the increased diversity of patients requesting rhinoplasty, Yellin commented that white normative standards of facial analysis are no longer sufficient in the new millennium, and he called for additional studies to define aesthetic ideals within the various racial groups. [1, 13, 14, 15, 16]
Problem
In general, multiracial patients requesting aesthetic rhinoplasty desire improvement and refinement of their noses with preservation of defining ethnic characteristics. However, certain anatomic features often found in the noses of multiracial individuals make rhinoplasty more challenging.
Epidemiology
Frequency
Facial plastic surgery has gained widespread acceptance and is growing in popularity because of the continued introduction of new and improved techniques and technology and to the continued exposure and advertisement of the media and entertainment industry. In the United States, the demand for cosmetic facial plastic surgery is increasing in all segments of society. With the influx of multiracial immigrant populations and the growth of minority communities, the number of multiracial patients requesting facial plastic surgery is rising steadily, especially in large urban centers. Internationally, on the basis of location, a surgeon's practice could potentially encompass only nonwhite patients.
Etiology
The racial and ethnic features of each patient's nose are determined by the underlying bony and cartilaginous framework and by the covering skin and soft tissue envelope. These characteristics are determined at a genetic level but may be influenced to a certain extent by environmental factors, such as nutrition, aging, trauma, and surgery.
Pathophysiology
As expected, underlying anatomy dictates appearance and function of the multiracial nose. The platyrrhine nose often lacks bony and cartilaginous support, resulting in a wide flat dorsum and a poorly projected tip. Frequently, the alar base is wide, and the nostrils are flared. Differences in nasal anatomy are most likely responsible for the differences in nasal valve physiology observed by a number of authors.
In a study, Canbay and Bhatia used rhinomanometry to measure total nasal resistance following nasal decongestion in 42 white and 32 African American healthy adults. [17] The study demonstrated a statistically significant decrease in the mean total airway resistance in African Americans in comparison to whites (0.136 Pa/cm³/s to 0.179 Pa/cm³/s, respectively, by the anterior method and 0.134 Pa/cm³/s to 0.161 Pa/cm³/s, respectively, by the posterior method).
In a similar study, Burres used acoustic rhinometry to study nasal valve physiology in 28 Asian subjects. [18] The author found a statistically significant decrease in nostril asymmetry in the Asian group compared with a white control group (39% vs 59%). Burres also found the mesorrhine nose to be less likely to respond to the use of a Breathe Right strip dilator.
Presentation
The clinical presentation of multiracial patients requesting rhinoplasty is just as varied as the presentation of white patients and is influenced by the etiology of the perceived problem. Younger patients are more often interested in altering genetically inherited nasal traits. Older patients may desire a reversal of the effects of aging on nasal appearance. Patients who have had nasal trauma or have previously undergone unsatisfactory nasal surgery are seen in the context of the injury. Men and women are equally likely to have rhinoplasty; however, the rationale for undergoing surgery is often different because men are more likely to have had nasal trauma.
Indications
As in all patients, no absolute indications exist for rhinoplasty in multiracial individuals. Patients desire rhinoplasty for both functional and aesthetic reasons. Anatomic nasal obstruction is by far the most common functional nasal complaint amenable to correction with routine rhinoplasty techniques.
Other functional complaints (eg, rhinorrhea, crusting, epistaxis, pain, anosmia) may reflect other rhinologic disease, the diagnosis and treatment of which are beyond the scope of this chapter. Aesthetic motivation can be objective (eg, obvious asymmetry of the nose) or subjective (eg, the nose is not in balance with the face). Regardless of the rationale for seeking rhinoplasty, patients must have realistic expectations of the outcome of the procedure.
Relevant Anatomy
Each patient's nose is unique and may not possess all the characteristics typical of the platyrrhine nose, although certain features specific to these noses make rhinoplasty more challenging (see the image below). Bone and cartilage support is often lacking, resulting in a wide dorsum with poor anterior projection (nasofacial angle < 30°). The piriform aperture is wide. This lack of skeletal support, in addition to thick skin and a prominent subcutaneous fibrofatty pad, contributes to a poorly projected tip that is amorphous and lacks definition. The nasal alae tend to be wider than the intercanthal distance and flared, with more horizontally oriented nostrils. The premaxillary area is hypoplastic.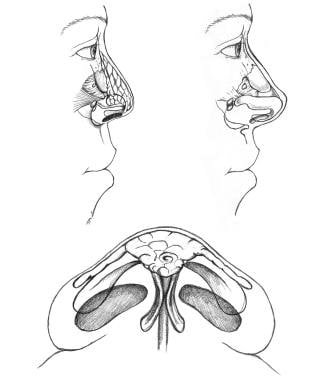 Lateral view (a) - Characteristics of the platyrrhine multiracial nose (on the left) compared with the Caucasian nose (on the right) include reduced bony and cartilaginous dorsal support and lack of tip projection and definition. Base view (b) - The platyrrhine multiracial nose often has wide flared nasal alae, poor tip support, and a thick, subcutaneous, fibrofatty pad, resulting in blunted tip definition. The ideal equilateral triangle appearance of the nose on base view is not achieved.
Contraindications
No contraindications are specific to rhinoplasty in multiracial individuals.
What would you like to print?