Overview
Overview
A comprehensive knowledge of laser systems and nonlaser treatment modalities, including light, radiofrequency, and ultrasonic systems; details and treatment parameters; appropriate patient selection; preoperative and postoperative care; and application of new technologies, can produce aesthetic results that are satisfactory to both the patient and the surgeon. Before any intervention, a thorough facial analysis must be undertaken in order to promulgate an appropriate treatment plan. The term resurfacing historically referred to ablative procedures of the epidermis of the skin. This can also include the anterior-most dermis referred to as the papillary dermis. See the images below.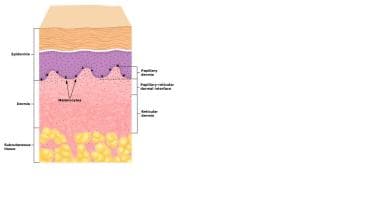 Epidermis and dermis. Courtesy of Primary Care Dermatology Society (PCDS) (www.pcds.org.uk).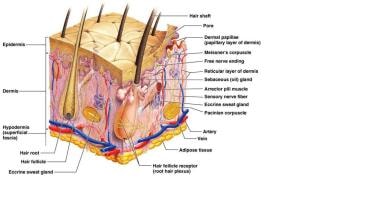 Detailed diagram of the skin. Courtesy of Wikispaces (https://showmesomeskin.wikispaces.com/Dermis).
The term resurfacing was most often used in conjunction with use of the carbon dioxide laser, then the erbium: yttrium-aluminum-garnet (Er:YAG) laser, and, subsequently, fractionated lasers. [1] Technically, chemical peels, dermabrasion, and, to a lesser extent, microdermabrasion, among other treatments, could also be considered resurfacing. Current terminology encompassing resurfacing not only includes ablative, but also fractional, nonablative, and sublative, which further stratify modalities of facial resurfacing.
Preoperative History
With preoperative evaluations, surgeons seek to identify where potential contraindications to laser resurfacing may exist. As with any procedure, a detailed medical and dermatological history with emphasis on wound healing and scar formation is essential. In addition, obtaining a family history of abnormal wound healing, skin disorders, and ethnic background can facilitate an optimal outcome.
If the patient has a history of collagen-vascular diseases (eg, lupus, scleroderma, keloid formation) or immunologic abnormalities such as vitiligo, laser treatment may need to be avoided because these conditions can cause problems with healing and can be relative contraindications to laser resurfacing.
It is often worthwhile for patients to complete a medical questionnaire and an aesthetic questionnaire to help identify prior or concomitant facial cosmetic treatments.
With the widespread use of digital photography, standard lighting and photographing techniques are often used to provide appropriate comparative photos. Simple digital photos provide basic pretreatment and posttreatment documentation. Variability in lighting can influence what is seen, but photography can still be useful.
Different imaging systems are available to assist in facial analysis. Standard- and high-definition digital photography are most commonly used to document the state of the facial skin prior to, during the postoperative period, and after completion of treatment. Basic photo management software can provide precomparison and postcomparison photos. Systems such as the Body Pro from Emage Medical include a camera, lighting system, and background to facilitate image capturing.
Additional imaging options using blue light, different color light, and polarizing light can also provide information to the patient and practitioner regarding subepithelial skin changes, especially with regard to pigmentation. While these are not absolute requirements, they can be beneficial.
An example of an imaging system including both the hardware and software is the VISIA Complexion Analysis System including the VISIA-CR geared for clinical research and the Reveal Imager, a portable device all from Canfield Scientific Inc, or the Image Pro Series from Emage Medical. The VISIA Complexion Analysis System uses RBX multispectral imaging incorporating cross-polarized flash and ultraviolet lighting with Canfield's Intelliflash system to reduce specular reflection emanating from the skin, allowing for assessment of hemoglobin and melanin within the papillary dermis and epidermis, respectively, while providing photodocumentation. [2] See the image below.
The proprietary RBX system allows the melanin and hemoglobin constituents in the skin to be analyzed and presented. This system reportedly gives more accurate representation of the melanin and hemoglobin than what can be obtained with polarizing or ultraviolet filters. [3] The Reveal imager also from Canfield Scientific uses the RBX technology and is postable. See the image below.
The Image Pro II uses a 15.1-megapixel display incorporating Emage Medical Triple Spectral Imaging capability, which uses normal, polarized, and ultraviolet light, providing on-screen analysis including measurements, wrinkles, pores, sebum, moisture, vascularity, and both superficial and deep pigmentation. [4] See the images below.
The image below shows a summary analysis on a male patient using the Emage Pro I System.
All parameters tested can be presented on a single screen
The Mirror medical imaging software has different programs that provide photodocumentation and offer representations of facial changes from facial treatments and surgeries. [5] .
Canfield Scientific, Inc offers nonportable 3-dimensional imaging of the face and neck with its VECTRA M3, VECTRA XT, and VECTRA WB360 imaging systems. Emage provides the IMAGE Pro 3D.
Portable 3-dimensional imaging systems are also available, such as the VECTRA H1 imaging system from Canfield Scientific [6] and the 3D LifeViz Mini from Quantificare [7, 8] . The 3D LifeViz Mini is the only portable system for 3-dimensional skin analysis, before-and-after comparison, and simulation. Accurate metrics capture the depth of wrinkles and pores and enable the user to visualize and assess the evolution and efficacy of treatment. See the image below.
Anaface [9] provides an online beauty score based on geometric analysis of facial features, but concerns over privacy issues surfaced. [10]
A handheld Wood lamp with an ultraviolet light is a simple way to assess facial pigmentation, [11, 12] as shown in the two images below.
Isotretinoin and Radiation
Ascertaining if the patient has used isotretinoin within 1 year before laser resurfacing is important. Some authors recommend discontinuation of isotretinoin for a minimum of 6 months before resurfacing with the erbium:yttrium-aluminum-garnet (Er:YAG) laser or the carbon dioxide laser. Others recommend waiting at least 1 year or longer. This concern stems from the effect isotretinoin has on the cells that repopulate the laser-treated skin surface. Even fractionated treatment ablates microislands of epithelium while leaving other islands of epithelium intact.
The epithelial cells of the adnexal structures are a regenerative source for the re-epithelialization of laser-treated skin. Isotretinoin and radiation exposure destroy these adnexal structures. Facial radiation has been used in the past for the treatment of acne and thyroid gland enlargement. With the fractional laser modalities, regeneration of the epithelium is less of a major concern because small islands of epithelial cells are left intact. Nonablative modalities leave the epithelium with much less and even minimal changes. However, atypical healing can occur with any resurfacing modality, and appropriate caution should be exercised.
Types of Rhytides
Differentiation between static and dynamic wrinkles and the degree of rhytidosis must be ascertained and documented before laser resurfacing. Certain aesthetic scenarios require a combination of laser ablation and more invasive and traditional rejuvenative techniques to achieve adequate rhytide reduction. Face or midfacial lifting, forehead or brow elevation, and blepharoplasty may be coupled with resurfacing [13] and tailored to the patient's needs. This combination of modalities may be performed together or in stages. Safety concerns do exist with traditional carbon dioxide laser resurfacing and full-face–lifting surgery. However, resurfacing can safely be performed in certain scenarios, such as mini lifts.
Rhytides exacerbated by active facial muscle contraction are more impervious to laser resurfacing than are static lines (see image below). Crow's feet and lateral smile lines around the eyes are deepened with smiling and can be treated with some success, as evidenced by reduction in wrinkle depth. Botulinum toxin treatment before resurfacing can lessen the mimetic-induced lines and provide a more pleasing aesthetic outcome.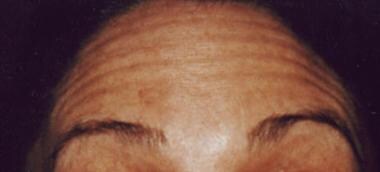 Contraction of the frontalis muscle is responsible for the creation of the forehead rhytides depicted here. Laser resurfacing may soften these, but the mimetic muscles are better treated with botulinum toxin injections or forehead elevation and release of the frontalis muscle.
Fitzpatrick Skin Type Classification
Evaluation of facial skin pigmentation before laser resurfacing is paramount for successful results. Pigment can be inherited ethnically or can be acquired, as in melasma or Addison disease. A higher degree of preablative pigmentation increases the risk of hyperpigmentation and hypopigmentation (see image below) after laser resurfacing.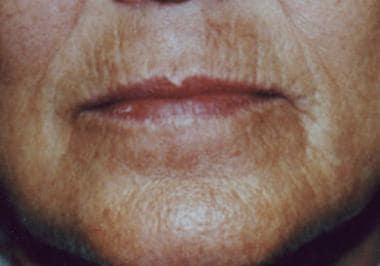 The perioral pigmentation depicted here can worsen after laser resurfacing.
Hormonal changes during pregnancy can vary the amount of pigmentation, and performing resurfacing on women who are pregnant is contraindicated.
Fitzpatrick devised a description of skin types known as the Fitzpatrick skin type classification. This classification, as follows, denotes six different skin types, skin color, and reaction to sun exposure:
Type I (very white or freckled) - Always burn

Type II (white) - Usually burn

Type III (white to olive) - Sometimes burn

Type IV (brown) - Rarely burn

Type V (dark brown) - Very rarely burn

Type VI (black) - Never burn
The higher the type and the degree of pigmentation, the greater the risk of postinflammatory hyperpigmentation. Persons who have minimal pigmentation or light skin can develop prolonged postoperative erythema but are less likely to develop the pigmentary sequelae.
Pretreatment regimens with bleaching agents commonly are used; however, in 1999, West and Alster reported that these pretreatment regimens may not be necessary. [14] However, the standard hydroquinone-based bleaching agents are not without concerns and are not available in all countries.
Special consideration must be given to nonwhite patients, especially with regard to pigmentation and scarring. [15]
Classification Of Rhytidosis
Glogau developed the following traditional rhytide/photoaging classification scheme that is used most often in current practice:
Mild (age 28-35 y) - Little wrinkles, no keratosis, requires little or no makeup for coverage

Moderate (age 35-50 y) - Early wrinkling, sallow complexion with early actinic keratosis, requires little makeup

Advanced (age 50-60 y) - Persistent wrinkling, discoloration of the skin with telangiectasias and actinic keratosis, always wears makeup

Severe (age 65-70 y) - Severe wrinkling, photoaging, gravitational and dynamic forces affecting skin, actinic keratosis with or without cancer, wears makeup with poor coverage
Fitzpatrick reported the following alternative classification system that is useful in assessing the degree of perioral and periorbital rhytidosis:
Class II - Fine-to-moderately deep wrinkles and moderate number of wrinkle lines

Class III - Fine-to-deep wrinkles, numerous wrinkle lines, and redundant folds possibly present
The following Modified Fitzpatrick wrinkle scale can also be used to assess the depth of wrinkles to a finer degree:
0 - No wrinkle; no visible wrinkle; continuous skin line

0.5 - Very shallow yet visible wrinkle

1 - Fine wrinkle; visible wrinkle and slight indentation

1.5 - Visible wrinkle and clear indentation; less than 1 mm wrinkle depth

2 - Moderate wrinkle; clearly visible wrinkle; 1-2 mm wrinkle depth

2.5 - Prominent and visible wrinkle; greater than 2 mm but less than 3 mm wrinkle depth

3- Deep wrinkle; deep and furrow wrinkle; greater than 3 mm wrinkle depth
Fitzpatrick also correlated these three classes with the following scoring system and degree of elastosis:
Class I (score 1-3) - Mild elastosis

Class II (score 4-6) - Moderate elastosis

Class III (score 7-9) - Severe elastosis
Mild elastosis is defined as fine textural changes with minimal skin lines. Moderate denotes a yellow discoloration of individual papules (papular elastosis). Severe describes marked confluent elastosis with thickened, multipapular, and yellowed skin. [16]
Roberts also developed a skin type classification system incorporating how the skin responds to "injury and insult from cosmetic procedures." [17]
Future Trends
Fractional carbon dioxide lasers, erbium lasers, and combinations of the two technologies have considerably advanced in the past decade. [18] Nonablative lasers, such as the frequency-modified neodymium:yttrium-aluminum-garnet (Nd:YAG) [19] ; the broadband high-intensity pulsed light; and the flashlamp dye laser, radiofrequency, and photothermal technologies have also advanced, producing regeneration of dermal collagen without resultant exfoliation. Ablative and nonablative lasers have been combined to produce results comparable to other modalities, with reportedly fewer complications. [20] Different lasers can be used to customize facial rejuvenation. [21, 22]
A noted benefit is the marked reduction in recuperative time, allowing patients to be treated and return to work within a shortened period and, in some cases, with no downtime. These modalities and combinations of these different modalities have allowed practitioners to treat a wider array of skin types. Patient acceptance has also increased owing to the ostensible less invasive nature of these modalities, represented by the reduced healing times. However, these modalities continue to evolve, and appropriate patient assessment is always warranted.
Conclusion
Many different modalities of facial resurfacing, including but not limited to, laser, nonlaser, ablative, nonablative, sublative, and even chemical peels, are adjuncts in the antiaging treatment spectrum. These technologies can be used separately or in conjunction with other noninvasive and invasive treatments. Regardless of how these techniques are used, the recipient of them must be assessed carefully before treatment can begin.
The physician must ascertain the patient's expectations and render a critical and honest judgment as to whether these technologies can deliver the expected results. If the answer is no, or if the expectations are unrealistic, treatment should be deferred and other modalities considered, if applicable. Careful pretreatment analysis is an indisputable necessity in the evaluation and treatment of facial rhytidosis.
What would you like to print?