Overview
Background
Rhinoplasty is arguably the most demanding of all facial surgical operations. While some other operations may claim difficult anatomic access, requisition of excessive physical strength, or significant operating time causing surgeon fatigue, the operation of rhinoplasty demands a thorough understanding of an art and science. [1] Each case has its own challenges and requires a careful estimation of the deformity preoperatively, a clear understanding of the techniques available for correction, a proposed plan of action and sequence, and a meticulous, uncompromising execution of the surgical technique. [2]
Every surgical operation has a tendency to complications, and only the surgeon who does not operate has no complications. A knowledge of relevant complications and sequelae is essential to enlighten the patient so that an informed decision can be made, for reducing the incidence of such complications, for minimizing the gravity of an impending complication, and for treating a complication once it has occurred.
Some complications of rhinoplasty relate to anesthesia and do not fall within the bounds of this discussion. Anaphylactic reactions to general and local anesthetics may well tax the knowledge and skill of the anesthesiologist, surgeon, and attending staff.
An image depicting a rhinoplasty complication be seen below.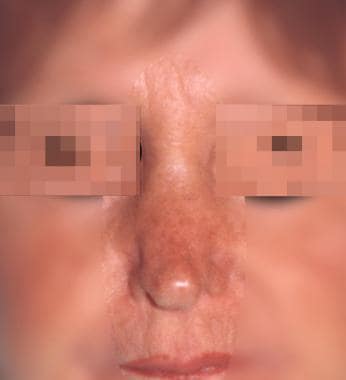 Failure to appreciate the role of the lower lateral cartilages in tip and alar support may cause problems. Transection of these cartilages near the domes and excessive excision may cause collapse of the alae and a pinched tip. In this case, the cartilaginous dorsum is also overexcised. Along with a pinched tip and saddling, alar collapse leading to nasal airway embarrassment was noted.
Complications of rhinoplasty may be divided into 4 basic categories as follows:
Intraoperative
Immediate postoperative (in the recovery ward)
Problem
A complication may be defined as an unexpected occurrence of an adverse medical or surgical condition requiring separate attention during or following an operation. While recognizing obvious medical and surgical complications should present no difficulty, finer aesthetic complications are harder to define and are based on value judgments related to the aesthetic sense of the surgeon and the body-image demands of the patient. A patient's body-image demands may be categorized as follows:
The physical reality of an individual's appearance: How do others see the patient? Society has agreed on certain definitions of beauty and unattractiveness, thereby imposing standards and feelings on the vulnerable individual.

The individual's perception of that appearance: How does the patient see himself or herself? Is this perception congruent with reality as perceived by others?

The degree of importance the individual attaches to appearance: Some individuals may attach little importance to their appearance, while some cosmetic surgery patients may derive a great deal of self-esteem from their appearance.

The degree of dissatisfaction the individual has with his or her appearance: Displeasure with appearance ranges from minor dissatisfaction, causing mild concern, to body dysmorphic disorder, causing obsessive preoccupation to the point of interfering with normal function. Approximately 2% of cosmetic surgery patients have body dysmorphic disorder and may need psychiatric appraisal.
Aesthetic sense is difficult to define, and it is much harder to agree on results. Aesthetics depend on variables, including the current fashion taste, the media, the public relations industry, and cultural and ethnic differences.
A practical approach to aesthetics in the nose begins with an accurate assessment. Frontal views define x-axis (width) and y-axis (height) deformities, lateral views define z-axis (depth/projection) and y-axis deformities, and basal views define x-axis and z-axis deformities. Based on these views, a 3-dimensional concept of the nose is made available for manipulation. The goal of rhinoplasty is to improve the existing harmony without causing functional impairment.
Epidemiology
Frequency
According to the literature, the complication rate for nasal surgery varies from 4-18.8%. In individual hands, this rate generally falls as surgical experience accumulates. Skin and associated soft tissue complications occur in up to 10% of cases. According to estimates, severe systemic or life-threatening complications occur in 1.7-5% of rhinoplasty cases. Intracranial complications are rare.
However, a study by Layliev et al of 4978 patients who underwent rhinoplasty reported the rate of major complications to be just 0.7%. Hematoma, infection, and pulmonary complications were the most common complications (0.2%, 0.2%, and 0.1%, respectively). Results indicated that a patient age of 40 years or above is an independent risk factor for complications. Moreover, while the complication rate for rhinoplasty alone was 0.58%, it reached 1.02% in patients who underwent a cosmetic procedure to one other body region, and 2.09% to those with procedures to two other body regions. The investigators also determined that cosmetic procedures to two other body regions raised the rate of pulmonary complications to 1%. [3]
A literature review by Sharif-Askary et al found that the postoperative adverse event rates in patients who underwent rhinoplasty included the following [4] :
Need for revision - 0 to 10.9%

Infection - 0 to 4%

Dehiscence - 0 to 5%

Bleeding - 0 to 4.1%

Septal perforation - 0 to 2.6%

Nasal airway obstruction requiring revision - 0 to 3%

Hypertrophic scarring - 0 to 1.5%
A literature review by Varadharajan et al found that the pooled donor site complication incidence in autologous costal cartilage rhinoplasty grafts included scar-related problems (2.9%), pleural tear (0.6%), infection (0.6%), seroma (0.6%), severe donor site pain (0.2%), and pneumothorax (0.1%). Pooled recipient site complication incidence included warping (5.2%), infection (2.5%), graft resorption (0.9%), displacement/extrusion (0.6%), and graft fracture (0.2%). [5]
Presentation
The clinical manifestations of rhinoplasty complications may broadly be classified as follows:
Complications
Intraoperative complications
See the list below:
Immediate postoperative complications
See the list below:
Early postoperative complications
Hemorrhage
Reported prevalence of hemorrhage varies from 2-4%. Attempt to localize the source of bleeding after appropriate vasoconstrictor application. Endoscopic cauterization of the offending vessel may be possible. The nose may require packing and antibiotic cover. Major artery ligation for persistent bleeding has been reported.
Septal hematoma
This may need daily aspiration until the return is free of blood. Some authors advocate a larger incision to aid drainage and subsequent packing for 48 hours. Antibiotic coverage is indicated to guard against formation of a septal abscess.
Infection
Types of infection include the following:
Dehiscence of incisions
Dehiscence of internal incisions usually goes unnoticed. Unless predicted to cause synechiae, this is usually not a problem, as these incisions will gradually heal. The transcolumellar incision must be attended to immediately, or a scar will form, contributing to a poor result.
Persistent edema
Initial edema and periorbital ecchymosis may last 10 days. Severity may be determined by difficult osteotomies, use of guarded instruments, long operating times, excessive nasal packing, postoperative vomiting, or raised blood pressure. Apart from avoidance of the foregoing, performance of the osteotomies just before application of the dressing, intraoperative intravenous dexamethasone, postoperative head elevation, cold compresses to the nose, and blood pressure monitoring can minimize edema. Persistent edema and numbness over the nasal tip region may occur following external rhinoplasty and may last several months. This is not a problem if the patient has been forewarned.
Skin necrosis
Excessive undermining, injudicious cautery use, and overzealous skin thinning may lead to skin necrosis. This may cause an impaired blood supply and infection. Similarly, a tight dressing may cause vascular impediment and skin necrosis. Debridement and secondary healing is encouraged if necrosis occurs. Later, local steroid injection, dermabrasion, laser modification, and/or flap reconstruction may be necessary to aid scar aesthetics. Skin necrosis may also result from dorsal augmentation, in which case removal of the augmenting material may be necessary.
A literature review by Ferzli et al on post-rhinoplasty skin necrosis indicated that surgical risk factors for vascular cutaneous compromise include extensive thinning of the tip of the nose, "tight splinting and taping with dorsal onlay grafting," and the combining of "extended alar base excision with revision open rhinoplasty." The review found the nasal dorsum and tip to be the first and second most frequently impacted aesthetic nasal subunits, respectively. [9]
Sequestra formation
Sequestration of bone or cartilage may occur with subsequent infection, extrusion, and attendant deformity (which may be aesthetic or functional). In such circumstances, the infection is first controlled with antibiotics and/or surgical debridement. Reconstructive measures may be necessary at a further stage.
Cardiovascular insufficiency
In the elderly and those with cardiac disease, nasal packing can lead to hypoxia and associated problems. Simultaneous oxygen therapy is advisable under these circumstances.
Cerebrospinal fluid rhinorrhea
The prevalence of this complication is not high. [10] A history of previous trauma may provoke its occurrence, as may the presence of congenital osseous defects. Identification of beta-2 transferrin in the draining fluid constitutes a definitive diagnosis. Most leaks heal spontaneously. Persisting leaks need localization and repair by extracranial and/or intracranial techniques.
Contact dermatitis
The dressing may contribute to this complication in sensitive individuals. Initial treatment involves removal of the dressing and administration of indicated antihistamines and/or steroids.
Nasal blockage
Postoperative trauma with the resultant edema and swelling can cause transient nasal blockage. Reassurance is all that is needed initially. Persisting nasal blockage may be related to vasomotor rhinopathy or unmasked allergic rhinitis. Patients who fail to respond to medical measures may require surgical turbinate debulking if causative.
Numbness and pain
Transient numbness and pain behind the upper incisors may be attributable to neurapraxia of the nasopalatine nerve.
Olfactory disturbances
Transient hyposmia is expected following nasal surgery and is related to several factors, including edema, direct trauma to the neuroepithelium, and use of certain pharmacologic agents.
Patients with past facial trauma may be predisposed to injury of the olfactory apparatus during osteotomy. Postoperative neurotrophic viral infection may indicate an operative cause. Psychogenic factors also may be responsible. Anosmia occurs in 1% of surgeries. [11]
Carotid-cavernous fistula
This is a rare complication and may be related to past trauma. [12] Disturbed pressure gradients in the sinus cause orbital pain, proptosis, ophthalmoplegia, visual impairment, and an audible bruit. These signs and symptoms suggest the diagnosis, which can be confirmed by angiography.
Modern neuroradiological treatment involving transarterial detachable balloon embolization has a high success rate.
Reassurance demand
A small number of patients need the surgeon to repeatedly express that the nasal blockage will disappear, the smell and taste sensation will return, the teeth anesthesia will subside, and the tip projection and swelling will decrease in time.
Early psychological complications
Transient episodes of anxiety or depression are not uncommon and may last up to 6 weeks after the operation. [13]
Late postoperative complications
See the list below:
Future and Controversies
A South Korean study of rhinoplasty in children found a high incidence of revision procedures and aesthetic dissatisfaction with the results of surgery and suggested that surgeons take a conservative approach in determining when to perform pediatric rhinoplasty. In the study, of 64 children aged 4-17 years, the majority of surgeries were performed either for deviated nose or nasal bone fracture or as cosmetic rhinoplasty in association with septoplasty. The study, which had a mean follow-up period of 59 months, found that 17 patients (26.6%) were dissatisfied with the aesthetic results of their surgery, as a result of problems such as nostril asymmetry, bulbous tip, tip depression, deviation, and short nose. Moreover, eight patients (12.5%) suffered postoperative nasal breathing problems, and six patients (9.4%) had revision surgery, with four others (6.3%) giving serious consideration to revision. [20]
As understanding of the anatomical, physiological, and pathological factors involved in nasal function and aesthetics improves, rhinoplasty will continue to be refined, and the incidence of complications will continue to decline. Aesthetic trends dictated by society will continue to influence the operation. Implant material hopefully will become more patient-friendly and surgeon-friendly and will contribute significantly to volume-enhancement needs with fewer complications. Technological innovations are leading toward endoscopic rhinoplasty, and computer imaging may soon dictate to the surgeon exactly what procedure is necessary.
What would you like to print?