Workup
Laboratory Studies
Laboratory studies are recommended based on clinical history and are only necessary to exclude endocrine, electrolyte, or coagulation disorders. Preoperative evaluation of these potential problems is critical because they can significantly affect outcome and perioperative management.
According to the extent of the tumor and/or resection, vascularity of the tumor, risk of vascular injury, and preoperative hematocrit, the patient is typed and cross-typed for 2-6 units of packed red blood cells (PRBC).
Imaging Studies
Imaging using CT scan and/or MRI is recommended to delineate the extent of the tumor, especially in areas that are not amenable to endoscopic examination, such as the cranial cavity, orbit, other paranasal sinuses, and soft tissues of the face, pterygopalatine, and infratemporal fossa.
CT scanning is superior to MRI in defining the bony boundaries, as depicted in the image below.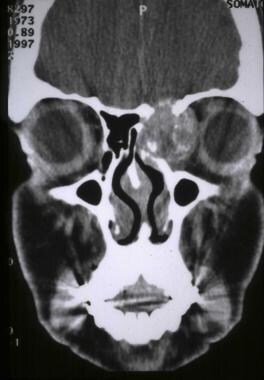 CT scan coronal view demonstrating an osteosarcoma of the ethmoid sinuses extending to the orbit and anterior cranial fossa.
Use of contrast during CT scanning can help estimate the vascularity of the tumor and demonstrates its relationship to the great vessels and other neurovascular structures such as dura, brain, and cranial nerves.
MRI usually is reserved for patients presenting with invasion of soft tissues, most importantly orbit and brain, as depicted in the images below.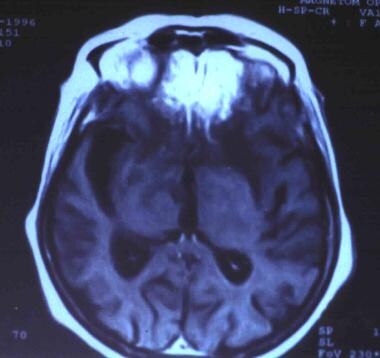 MRI axial view demonstrating extensive invasion of the frontal lobes by an adenocarcinoma.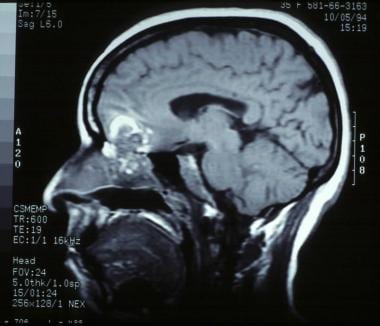 MRI sagittal view demonstrating invasion of the fontal lobes by an osteosarcoma.
MRI does not use ionizing radiation and better defines the soft tissue interfaces, demonstrates perineural spread, and differentiates tumor from retained secretions within the paranasal sinuses. For these reasons, MRI is the preferred method to monitor areas that are not amenable to clinical examination. Despite superior soft tissue definition, MRI may not distinguish scar or reconstructive flaps from tumor. This dilemma is elucidated by performing biopsy or sequential imaging to monitor changes or growth and thus corroborate the presence or absence of tumor.
Positron emission tomography (PET) may help to identify the presence of metastatic or recurrent tumor that may escape detection by clinical examination or CT and MRI. Fusion of a PET with a CT or MR provide an anatomic and metabolic correlate which helps to clarify the presence or absence of tumor in complex areas, such as the skull base.
Angiography rarely is necessary during evaluation of patients presenting with tumors of the sinonasal tract and usually is reserved for patients presenting with vascular tumors in which embolization is being considered. Angiography is important for patients who present with sellar or parasellar lesions that approximate, enclose, or invade the internal carotid artery.
When necessary, the vascular anatomy of the affected area (ie, sphenoid sinus invasion) can be assessed by noninvasive methods such as MR angiography (MRA) or CT angiography (CTA), reserving intra-arterial angiography for those patients in whom embolization of the tumor is being considered.
Patients who may need the sacrifice of the internal carotid artery or its branches are studied preoperatively with a cerebral blood-flow test, such as the angiography-balloon occlusion–xenon-CT scan test (ABOX-CT).
Single-photon emission computed tomography (SPECT) with balloon occlusion and transcranial Doppler also provides a reasonably accurate assessment of the adequacy of the blood supply provided by the contralateral internal carotid artery to the ipsilateral cerebral hemisphere. All these studies, however, usually are performed under very controlled circumstances and do not provide information about the status of the cerebral blood flow under stress conditions such as hypotension or hypoxia. In addition, these tests cannot predict embolic phenomena.
A metastatic workup including CT scan of the chest and abdomen and a bone scan is recommended for patients presenting with tumors that metastasize hematogenously, such as sarcomas, melanomas, or adenoid cystic carcinomas.
Diagnostic Procedures
Transnasal endoscopic biopsy is the method of choice for sampling tumors of the paranasal sinuses. The authors prefer to defer biopsy until the imaging workup is completed; this avoids interference from surgical artifact caused by the biopsy or by nasal packing, which is often required after sampling a vascular tumor. A punch biopsy often can be performed in the office. However, vascular tumors that require multiple or extensive biopsies (ie, lymphomas, sarcomas, neuroendocrine tumors) are better obtained in the operating room.
Patients with sarcomas of the sinonasal tract that invade the dura are advised to undergo a lumbar spinal tap for cytologic analysis. These patients should undergo an MRI of the brain and spine to exclude meningeal carcinomatosis or drop metastasis.
What would you like to print?