Treatment
Medical Therapy
Consultations with the following specialists may be beneficial:
Audiologist: Although most neonates are screened in the United States, confirming normal hearing in any infant who presents with external ear deformities is prudent. No definitive studies, however, have demonstrated that isolated preauricular pits necessitate hearing assessment.

Craniofacial teams: Consult these teams in the presence of multiple organ system abnormalities and for children thought to have syndromic features.
Antibiotics (eg, cephalexin [Keflex], amoxicillin and clavulanate potassium [Augmentin], erythromycin) are indicated in patients with cellulitis from infected preauricular pits.
Incision and drainage procedures may be required for patients with abscess formation. Staphylococcus aureus is the most common bacteria found in these infections, followed by Proteus, Streptococcus, and Peptococcus species.
Surgical Therapy
Sinuses, cysts, and pits
The authors discourage standard incision and drainage in the setting of abscess formation within a preauricular sinus tract or cyst. A potential alternative to incision and drainage is the use of a blunt-ended lacrimal probe inserted into the preauricular pit in order to open the abscess cavity. However, acute inflammation usually makes this option technically difficult and painful. Aspiration with a 21-gauge needle reliably provides at least temporary relief, eases pain, and provides purulent material for culture and sensitivity. Needle aspiration may need to be repeated if an abscess reaccumulates, but this procedure reliably leads to a better cosmetic result than incision and drainage.
Complete surgical excision, as shown below, of a preauricular sinus tract or cyst is indicated in the setting of recurrent or persistent infection. The operation is typically performed when the acute infection has subsided. Recurrence rates following excision range from 0-42%. Factors that reportedly reduce the risk of recurrence include complete excision of the sinus and tract with associated perichondrium, dissection down to temporalis fascia, closure of dead space, and avoidance of sinus rupture.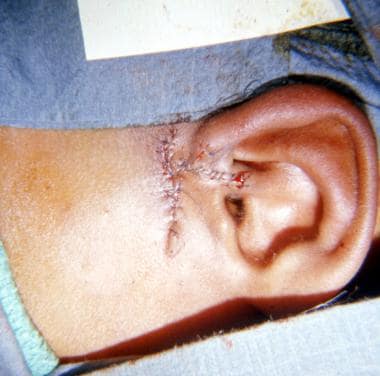 Preauricular sinus tract, cyst, and granulation removed. The skin was closed with slight undermining and no tension. Sutures are removed 7-10 days later.
A single-surgeon study by Khardali et al involving 247 ears indicated that preauricular sinuses can be effectively treated using a standard simple elliptical incision with a drainless subcutaneous suture technique. The overall rates of recurrence and postoperative wound infection were low (4.5% and 7.3%, respectively), although the postoperative infection rate was higher in patients who had undergone previous incision and drainage (9.8%) or previous fistulectomy (10%). In addition, the recurrence rate was higher in the previous fistulectomy group (10%). [8]
A retrospective study by Min Sik Kim et al indicated that in pediatric patients, postexcision recurrence of preauricular sinuses can be reduced via "a temporalis muscle fascia anchoring suture … used in combination with preoperative pit dye staining, probe use, and surgical microscopy." Following this procedure, the investigators found a 2.3% overall recurrence rate. Postoperative complications included chronic pain (4.5%), minor skin inflammation (10.2%), and subcutaneous suture knot discomfort (13.6%). Patients were divided into classical and variant groups based on the preauricular sinus location, with no differences found between the groups with regard to recurrence and complication rates (although the length of hospitalization was longer for the variant patients). [9]
In a histologic study of 19 revision operations following surgery for preauricular sinus, Woo Jin Kim et al recommended that postsurgical recurrence be avoided by employing, in the primary operation, a wide local excision that encompasses the inflammatory soft tissue, "with concomitant partial removal of the cartilage of the ascending helix adjacent to the" preauricular sinus. The investigators determined that for 14 of the revisions (73.7%), slides revealed lumen with stratified squamous epithelium, while on 14 of the 17 slides containing lumen (82.4%), attachment of cartilage tissue to the lumen's epithelial lining was found. Moreover, all slides demonstrated inflammatory changes, with granulation tissue detected on 10 of 19 slides (52.6%). [10]
A study by Choo et al suggested that early surgical intervention for an infected preauricular sinus (excision carried out within 3 weeks after the patient's first hospital visit) does not lead to greater postoperative complication or recurrence rates compared with later intervention. Patients were operated on after acute infection control, with a parallel incision added during surgery if incision and drainage resulted in an iatrogenic fistula or if infection had produced additionally opened wounds. [11]
A literature review by El-Anwar and ElAassar suggested that the recurrence rate following preauricular sinus excision is significantly lower with a supra-auricular approach (1.2% recurrence) than with tract sinusectomy approaches (8.1% recurrence). [12]
A retrospective cohort study by Rataiczak et al suggested that a history of infection in infants and children undergoing preauricular cyst excision does not lead to a higher rate of recurrence. The study did find, however, that a preoperative history of infection treated with incision and drainage may be associated with a higher recurrence rate. Among the 69 pediatric patients in the study, all of whom underwent excision for congenital preauricular cysts, the overall recurrence rate was 11.6%, while in those with a history of infection that had been treated with incision and drainage, the recurrence rate was 18.5%. [13]
Inflammation always exists to varying degrees around the cyst wall in the surgical field. Using auricular cartilage as a posterior boundary and the preparotid fascia as a medial boundary helps to assure complete excision when edema and fibrosis obscure the cyst wall. Some authorities recommend methylene blue injection into the cyst to caution against cyst wall violation, but the dye invariably leaks out of the tract into the surgical field, offsetting its benefit. The authors favor the use of a lacrimal probe during the procedure to help define the cyst's periphery.
Tags
An elliptical incision is made around tag at the base, and the skin is closed primarily.
Preoperative Details
The infectious process should be optimally controlled prior to excision of the tract or cysts.
Intraoperative Details
Although several techniques for excision have been described, the following is a standard approach:
The pit is excised with a rim of normal tissue.

Dissection onto temporalis fascia allows identification of normal tissue plane

A probe may be placed to follow the tract down to the base.

Blue dye may be used to document the extent of the tract.

A rim of auricular cartilage may be taken near the base of the tract to reduce recurrence.

Avoid violating the skin of the auricle.

Try to preserve skin that overlies the cyst, even if it looks nonviable.

If greater exposure is required, the incision may be extended into the postauricular groove.

Bipolar cautery and blunt dissection facilitate tissue plane preservation.

The wound is irrigated and closed with absorbable sutures.

A small rubber band drain may be used and is removed the next day.

A flexible dressing may be applied over the ear and around the head. The dressing is removed the next day.
Postoperative Details
Passive drain should be removed on the first postoperative day. Keep the wound dry for 3 days. Watch for bleeding, erythema, and fever. Patients should report any of these unusual symptoms. Purulent drainage is uncommon. Children usually resume normal activities by the following day.
Follow-up
A follow-up visit should occur 7-14 days after surgery for wound evaluation.
Complications
Bleeding and infection are the most common complications. Incomplete control of bleeding with failure to close the wound sufficiently may allow bacteria to flourish under the skin, causing infection and wound breakdown.
A seroma may form but typically responds to simple needle drainage or observation. A thick scar may form in wounds closed with too much tension. Scar formation is associated with skin of moderate or high melanin content. Keloid formation, as shown below, is also possible.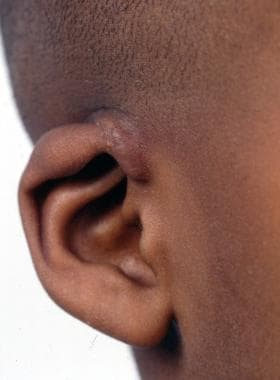 Keloid scar formed several months after removal of preauricular sinus tract. Intralesional steroids and close observation are indicated.
Incomplete removal of a sinus tract may lead to recurrence.
Outcome and Prognosis
The prognosis is excellent if the tract, fissure, and/or cyst is completely removed. Cosmesis is dependent on surgical knowledge and the scar-forming attributes of the patient. Previously infected cysts and tracts may cause deeper tissue damage that requires rotational and or advancement flap procedures for improved cosmetic outcome.
Future and Controversies
Routine renal ultrasonography has been advocated as a result of several studies that suggest a higher incidence of renal anomalies among patients with ear anomalies, and specifically those with preauricular pits. Cost-effectiveness data to support this practice, however, is lacking, and routine renal ultrasonography has yet to become the standard of care in the workup of patients with isolated preauricular pits.
What would you like to print?