Overview
Background
Facial soft-tissue injuries are not uncommon in athletics. [1, 2, 3, 4, 5, 6, 7, 8, 9, 10] The position and anatomy of the face make it particularly vulnerable to trauma. In addition, few sports mandate the use of protective equipment, leaving the face susceptible to injury. Although most such injuries are minor in nature, they should be evaluated promptly with a focused history and thorough examination (see image below). In addition, facial injuries should be treated early to reduce the likelihood of possible adverse outcomes (ie, infection, loss of function, poor cosmesis). In this article, common sports-related soft-tissue facial injuries are discussed, with an emphasis on the initial evaluation, diagnosis, and treatment. [11, 12]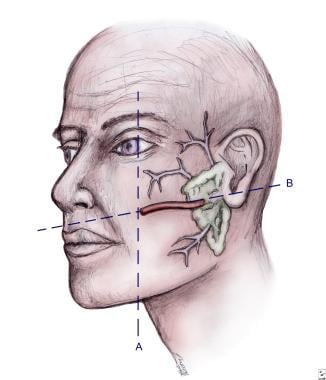 Location of the parotid gland and duct system.
For excellent patient education resources, visit eMedicineHealth's First Aid and Injuries Center and Eye and Vision Center. Also, see eMedicineHealth's patient education articles Facial Fracture, Black Eye, Nosebleeds, Bicycle and Motorcycle Helmets, and Bicycle Safety.
Epidemiology
Frequency
The exact frequency of facial soft-tissue injuries related to sports participation is unknown. This is, in part, due to the minor nature of many injuries, which can lead to underreporting. It may also be due to the wide variation that is seen between demographic groups and between specific sports.
Previous reports estimate sports participation to account for 3-29% of all facial injuries. [5] In terms of overall sports-related injury, facial trauma accounts for 11-40% of injuries attended to by medical professionals. Most injuries are reported in males, particularly those aged 10-29 years. Sports that mandate the use of helmets and face masks tend to have fewer soft-tissue injuries compared with sports that do not mandate the use of such equipment.
Sport-Specific Biomechanics
The mechanism of facial soft-tissue injuries is often a direct impact from an external source (eg, sporting equipment, another participant, environment/playing surface). The forces exerted by the impact can lead to friction, shear, compression, and/or traction of the soft tissue and underlying structures. Injury patterns vary widely by sport, based on various factors (eg, rules, equipment). [13, 14, 15]
What would you like to print?