Workup
Imaging Studies
CT scanning
Ranulas on CT scanning (as seen in the image below) are described as cystic masses in the submandibular or parapharyngeal space that extend into or abut the sublingual space. On CT scanning, they are noted to be sharply demarcated lesions of low attenuation that conform to their local fascial boundaries. They are generally unilocular in nature. With the exception of a sublingual epidermoid, the appearance of a simple ranula on CT scanning is distinctive. [1]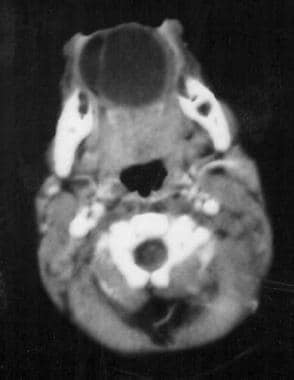 CT scan of ranula.
Plunging ranulas are occasionally noted on CT scanning to have a small tail extending into the sublingual space. This finding is almost pathognomonic for plunging ranulas. If this is absent, the presence of a homogeneous cyst in the submandibular or parapharyngeal space that abuts the sublingual space is highly indicative of a plunging ranula.
MRI
MRI is the most sensitive imaging study for evaluation of the sublingual gland and its pathologic states. On T1-weighted MRI scans, the gland appears as an area of intermediate signal intensity, lower than adjacent fat but higher than muscle. T2-weighted images help discriminate cysts from surrounding normal structures. [7]
Ultrasonography
High-resolution ultrasonography is a noninvasive test with no known biologic cost that has been demonstrated to be quite successful in evaluating cystic lesions of the submandibular region in young people, with particular utility in the plunging ranula. In addition to confirming the cystic nature of the lesion, the mylohyoid muscle integrity also can be elucidated. [2]
A study by Jain found that out of 126 patients with surgically proven plunging ranulas, only two showed tail sign on imaging, with both demonstrating fluid in the posterior sublingual space on ultrasonography and only one patient showing all of the classic components of tail sign. In this individual, fluid exclusively in the posterior sublingual space extended into the submandibular space over the mylohyoid muscle's posterior free edge. [8]
Diagnostic Procedures
Needle aspiration findings are as follows:
Analysis of fluid from ranulas demonstrates mucus with prominent histiocytes.

The biochemistry of this fluid shows high amylase and protein content.
Histologic Findings
Most ranulas demonstrate a cyst devoid of epithelial lining, with the wall composed of vascular fibroconnective tissue resembling granulation tissue. Histiocytes predominate the pseudocyst wall. Mucin and foamy macrophages are often observed. Occasionally, partial epithelial linings are observed.
What would you like to print?