Workup
Laboratory Studies
Lab studies used in the assessment of patients with postcricoid cancer include the following:
Hematology: Obtain a CBC count for all patients to evaluate white blood cell and platelet levels and to check for possible hypochromic anemia.

Metabolic: The authors' standard practice requires a renal profile (Chem-7) to evaluate for diabetes and any unknown metabolic derangement that necessitates correction prior to surgery or radiation. Because these patients are often malnourished, aberrancies in this profile are common.

Metastatic profile: Past standards called for liver function testing and bone profiles, but these tests are no longer required unless specific findings (eg, jaundice, bone pain) dictate they be performed.
Imaging Studies
CT scanning
Computed tomography (CT) scanning is best for delineating the laryngeal and hypopharyngeal interface and, with direct laryngoscopy, is the authors' basis for most clinical decisions. If performed with contrast material, CT scans also allow evaluation of the neck for metastases. When the patient is positioned in a plane horizontal to the true vocal cords, axial images offer a very detailed view of tumor extent. (See the image below.)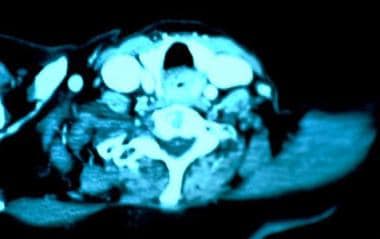 Postcricoid cancer.
Use CT scans to evaluate (1) cricoid cartilage invasion, (2) tumor progression inferior to the cricopharyngeus (into the cervical esophagus), (3) tongue base involvement, and (4) the possibility of resection, dependent on the relationship of the tumor to the deep neck structures.
MRI
Magnetic resonance imaging (MRI) is best used to determine any tongue base extension. In patients with very large tumors, removal of some or the entire tongue base may become an issue.
While CT scans often provide significant information, MRI is superior for examining muscular planes, although motion artifact in the airway sometimes complicates interpretation.
Modified barium swallow
Barium studies offer a better 3-dimensional representation of tumors. Secondary to collapse of the tissues in this area, study results are sometimes difficult to evaluate if the tumor is coming off anterior or posterior walls of the hypopharynx according to the CT scan images. Barium swallow also shows small mucosal irregularities better than the other imaging choices. This allows superior determination of the extent of resection required.
Even with these excellent attributes, the authors now rarely obtain barium swallows because of improvements in CT imagery. Furthermore, the authors' standard practice of panendoscopy before surgical resection renders the barium swallow unnecessary.
PET scanning
Positron emission tomography (PET) scanning may be useful in detecting lung metastases in patients with high-volume neck disease.
Diagnostic Procedures
Before definitive treatment (eg, surgery, radiation), evaluate the extent of the disease by performing a panendoscopy and a biopsy. Biopsy results confirm the pathologic diagnosis, while panendoscopy aids in the evaluation of the tumor for resectability with reasonable margins.
A study by Ni et al indicated that in patients undergoing laryngoscopic examination prior to surgery for hypopharyngeal cancer, the hypopharynx, including the extent to which the cancer has invaded the posterior pharyngeal wall and postcricoid area, can be successfully displayed using a combined strategy of anterior cervical skin traction and execution of the Valsalva maneuver by the patient. In the study, the investigators found that the hypopharynx was revealed in 106 of 113 patients (93.8%), using this technique. [1]
Histologic Findings
Almost all tumors in this region are squamous cell carcinomas. The histology of squamous cell carcinoma shows cells ranging from polygonal to cuboidal, with an increased nuclear-to-cytoplasmic ratio, varying amounts of cellular polymorphism, and nuclear atypia (with cells undergoing mitosis at an increased rate). More specific to squamous cells are intracellular bridging and keratin pearl formation, depending on the degree of tumor differentiation (well-differentiated tumors have increased keratin formation). Other potential tumors in this area include (1) adenocarcinomas, with some rudimentary glandular formation seen within the tumor; (2) sarcomas, usually with a spindle-shape component to the cells; (3) lymphangioma with thin-walled vessels; and (4) mucosal melanoma with small, round, blue cells that stain positive for melanoma markers and S-100.
Staging
The staging system used is derived from the American Joint Committee on Cancer, as updated in 2002, for hypopharyngeal cancer.
TNM definitions
Primary tumor (T)
Definitions are as follows:
TX - Primary tumor cannot be assessed

T0 - No evidence of primary tumor

T1 - Tumor limited to 1 subsite* of the hypopharynx and is less than or equal to 2 cm in greatest dimension

T2 - Tumor invades more than 1 subsite of the hypopharynx or an adjacent site, or measures more than 2 cm but less than or equal to 4 cm in greatest diameter without fixation of hemilarynx

T3 - Tumor measures more than 4 cm in greatest dimension or with fixation of hemilarynx

T4a - Tumor invades thyroid/cricoid cartilage, hyoid bone, thyroid gland, esophagus, or central compartment soft tissue, which includes prelaryngeal strap muscles and subcutaneous fat

T4b - Tumor invades prevertebral fascia, encases carotid artery, or involves mediastinal structures

*Subsites of the hypopharynx are as follows:

Pharyngoesophageal junction (ie, the postcricoid area), extending from the level of the arytenoid cartilages and connecting folds to the inferior border of the cricoid cartilage

Pyriform sinus, extending from the pharyngoepiglottic fold to the upper end of the esophagus, bounded laterally by the thyroid cartilage and medially by the surface of the aryepiglottic fold and the arytenoid and cricoid cartilages

Posterior pharyngeal wall, extending from the level of the floor of the vallecula to the level of the cricoarytenoid joints
Regional lymph nodes (N)
Definitions are as follows:
NX - Regional lymph nodes cannot be assessed

N0 - No cervical metastases

N1 - Metastasis in a single ipsilateral lymph node, less than or equal to 3 cm in greatest dimension

N2 - Metastasis in a single ipsilateral lymph node, more than 3 cm but less than or equal to 6 cm in greatest dimension, or in multiple ipsilateral lymph nodes, less than or equal to 6 cm in greatest dimension, or in bilateral or contralateral lymph nodes, less than or equal to 6 cm in greatest dimension

N2a - Metastasis in a single ipsilateral lymph node more than 3 cm but less than or equal to 6 cm in greatest dimension

N2b - Metastasis in multiple ipsilateral lymph nodes, less than or equal to 6 cm in greatest dimension

N2c - Metastasis in bilateral or contralateral lymph nodes, less than or equal to 6 cm in greatest dimension

N3 - Metastasis in a lymph node more than 6 cm in greatest dimension
In clinical evaluation, the actual size of the nodal mass should be measured, and allowance should be made for intervening soft tissues. Most masses more than 3 centimeters in diameter are not single nodes but confluent nodes or tumors in soft tissues of the neck. There are 3 stages of clinically positive nodes: N1, N2, and N3. The use of subgroups a, b, and c is not required but recommended. Midline nodes are considered homolateral nodes.
Distant metastasis (M)
Definitions are as follows:
MX - Distant metastasis cannot be assessed

M0 - No distant metastasis
AJCC stage groupings
Stages are defined as follows:
Stage III

T3, N0, M0

T1, N1, M0

T2, N1, M0

T3, N1, M0

Stage IVA

T4a, N0, M0

T4a, N1, M0

T1, N2, M0

T2, N2, M0

T3, N2, M0

T4a, N2, M0

Stage IVB

T4b, any N, M0

Any T, N3, M0

Stage IVC - Any T, any N, M1
What would you like to print?