Overview
Background
Thyroid storm is a clinical manifestation of an extreme hyperthyroid state that results in significant morbidity or disability or even death. Previously, thyroid storm was a common complication of toxic goiter surgery during intraoperative and postoperative stages. Preoperative control of the thyrotoxic state and use of radioiodine ablation has greatly reduced this phenomenon. Today, thyroid storm more commonly is seen in a thyrotoxic patient with intercurrent illness or surgical emergency. Early recognition and prompt intervention are necessary to prevail in management of this phenomenon.
Epidemiology
Frequency
International
Presently, incidence is less than 10% among patients hospitalized for thyrotoxicosis.
Mortality/Morbidity
Thyroid storm, considered a fulminating state, is fatal when untreated.
Although methods of diagnosis and management have improved considerably, reported mortality still is 20-30%.
Although it can develop in toxic adenoma or multinodular toxic goiter, thyroid storm is more commonly seen in toxicity secondary to Graves disease. See the image below.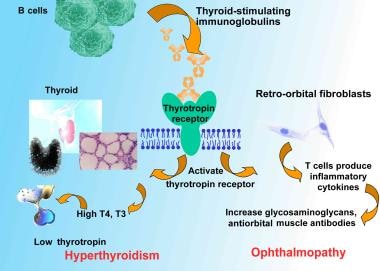 Pathophysiologic mechanisms of Graves disease relating thyroid-stimulating immunoglobulins to hyperthyroidism and ophthalmopathy. T4 is levothyroxine. T3 is triiodothyronine.
Sex
Age and sex predilection depends on the etiology of thyrotoxicity. Graves disease more frequently develops in females (ie, male-to-female ratio ranges from 1:7 to 1:10); multinodular goiter more often manifests in the elderly population.
What would you like to print?