Workup
Laboratory Studies
Rule out recurrence or second primary malignancy through biopsy where indicated. Obtain the radiation oncology treatment summary to determine the method of treatment, total dose, and radiation portal.
Imaging Studies
Radiography
Plain radiography of the mandible, or Panorex, depicts areas of local decalcification, osteolysis (see the images below) or sclerosis.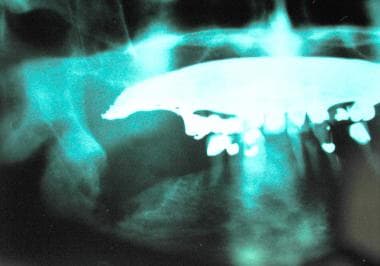 An absence of healing is evident in this radiograph following extraction of a tooth within a field of radiation therapy.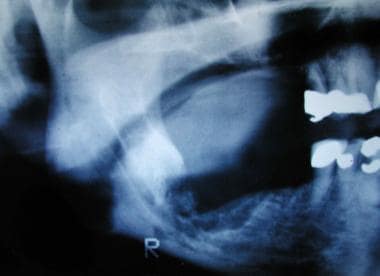 Osteoradionecrosis developed in the patient seen in the image above. Osteolysis is clearly evident.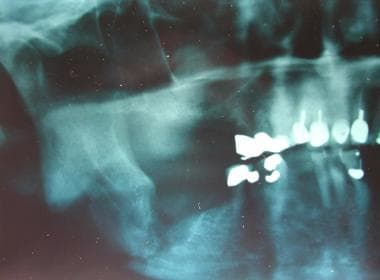 Pathologic fracture has developed in this case of osteoradionecrosis (ORN). This constitutes, by definition, stage III disease. This is the same patient seen in the 2 images above.
CT scanning and MRI
CT scanning and MRI may allow early diagnosis of osteoradionecrosis (ORN) and better delineate the extent of disease.
MRI depicts ORN with reduced bone marrow signal intensity on T1-weighted images and increased signal intensity on T2-weighted images.
Absence of marrow signal on MRI can be used to identify significant radiation injury in the mandible. This abnormal bone must be excised in the definitive treatment.
Panoramic radiography and CT scan images can be used to determine sites of significant bone injury. Alteration in trabeculation, cortical thinning, and sclerosis are common findings in sites of injury.
A retrospective study by Akashi et al found that CT scanning demonstrated periosteal reaction in patients with medication-related osteonecrosis of the jaw but not in those with ORN. [12]
SPECT scanning
Single-photon emission computed tomography (SPECT) imaging may have a role in the future as more experience is gained with this modality.
What would you like to print?