Overview
Practice Essentials
Ankle impingement is defined as a painful mechanical limitation of full ankle range of motion secondary to an osseous or soft-tissue abnormality. [1, 2, 3, 4, 5, 6] See the image below.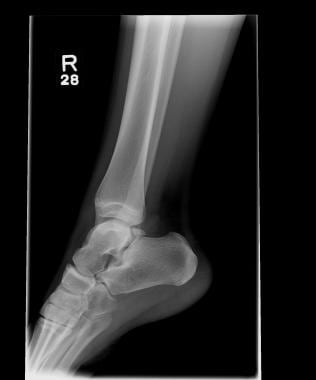 Radiograph of an os trigonum in a ballet dancer. Image courtesy of Dr. Craig Young.
Soft-tissue impingement lesions of the ankle usually occur as a result of synovial or capsular irritation secondary to traumatic injuries, infection, or rheumatologic or degenerative disease states. Ankle impingement syndromes may also be congenital in origin. The leading causes of impingement lesions are posttraumatic injuries, usually ankle sprains, leading to chronic pain. Involved areas may include the anterolateral gutter, syndesmosis, and posterior ankle regions.
According to multiple follow-up studies, excellent and good postoperative results can be expected for approximately 84% of patients. [7, 8, 9] In sports such as ballet, correct technique can help prevent injury.
Background
In 1950, Glassman et al reported on 9 patients who presented with chronic persistent pain and swelling around the anterolateral aspect of the ankle following an inversion ankle sprain. [10] At the time of surgery, a massive hyalinized connective-tissue band that extended from the anteroinferior region of the talofibular ligament (TFL) into the ankle joint was found. The authors referred to this pathologic entity as a meniscoid lesion because of its resemblance to a torn meniscus of the knee. [10] It was believed that repetitive tension on this tissue led to increasing hypertrophy and fibrosis, resulting in impingement on the talar cartilage and causing pain and swelling. Resolution of symptoms occurred in all cases with excision of the pathologic tissue.
In 1982, Waller described a pain syndrome along the anteroinferior border of the fibula and anterolateral talus following repetitive inversion injuries. [11] Examination of his patients revealed foot pronation and heel valgus. Waller believed this pathology to be synovial compression or chondromalacia of the lateral talar dome and called it the anterolateral corner compression syndrome.
Bassett et al found and described a separate pathologic fascicle of the anterior TFL (ATFL) in syndesmotic impingement. [12] Following a tear of the ATFL, the anterolateral talar dome extrudes anteriorly with dorsiflexion, resulting in impingement.
Hamilton described a labrum or pseudomeniscus of the posterior lip of the tibia, which can become torn or hypertrophied with ankle sprains and lead to posterior impingement. [13]
Epidemiology
United States statistics
After an ankle sprain, 20-40% of patients have chronic ankle pain; of these patients, approximately one third have pain that is related to impingement.
Ankle impingement syndrome is most common among football and soccer players, track and field athletes, and ballet dancers. [14]
Sport-Specific Biomechanics
The most common mechanism of an acute ankle impingement injury is plantar flexion/inversion injury that results in acute ankle sprain (eg, basketball player landing on opponent's shoe, cross-country runner stepping in a hole).
Etiology
Anterior ankle impingement: Seen in activites that cause forced dosiflexion. Seen in soccer players while kicking (sometimes termed "footballer's ankle") and ballet dancers (especially with pliés, which are lunging maneuvers). Chronic damage or microtrauma leads to subsequent bone spur formation (anterior tibiotalar spurs), which cause subsequent limitation of movement and pain. See the image below.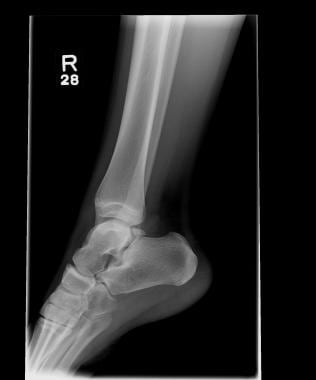 Radiograph of an os trigonum in a ballet dancer. Image courtesy of Dr. Craig Young.
Anterolateral ankle impingement: Common causes are inversion ankle injuries and sprains sustained while playing basketball (45%), volleyball (25%), or soccer (31%). Injury to the ligament or joint capsule may lead to synovitis, scar tissue, hypertrophied soft tissue, and, ultimately, impingement.
Syndesmosis impingement: Tearing of the syndesmosis or the anterior talofibular ligament (ATFL) results in chronic instability and extrusion of the anterolateral talus, leading to syndesmotic impingement. Ice hockey, football, and soccer players often sustain this type of injury.
Posterior impingement: Hypertrophy or tear of the posterior inferior TFL, transverse TFL, tibial slip, or pathologic labrum on the posterior ankle joint can lead to posterior ankle impingement, which may pinch on the os trigonum or posterior talus of calcaneus. This syndrome can also result from pathology of the os trigonum-talar process, ankle osteochondritis, flexor hallucis longus tenosynovitis, subtalar joint disease, and fracture. Pain is caused by forced plantar flexion and push-off maneuvers, as seen in dancing, kicking, gymnastics, or downhill-running types of activities. [15] In ballet dancers, forcing turnout of the foot can predispose to this condition. [16]
What would you like to print?