Overview
Background
In the head and neck, squamous cell carcinoma (SCC) encompasses 2 distinct clinical entities: aerodigestive tract SCC (commonly referred to as head and neck SCC; HNSCC) and cutaneous SCC (cSCC). It is a malignant tumor of keratinizing epidermal cells. For both HNSCC and cSCC, the most common route of metastasis is lymphatic. However, both the investigation and the treatment of a patient with a clinically N0 nodal basin remain controversial. Particularly in oral cavity SCC, up to 30% of patients have subclinical (not found on examination or imaging) metastases in the neck, and knowledge of lymph node disease alters surgical and postoperative management. [1, 2, 3]
The sentinel lymph node
The sentinel lymph node (SLN) is the first lymph node to drain a metastatic tumor cell that drains via the lymphatic route. The concept of the SLN is based on the orderly progression of tumor cells within the lymphatic system. Mapping of the lymph flow from the tumor site to the regional lymphatic drainage area can be used to identify the primary draining lymph node (ie, SLN). If the SLN can be identified and examined for the presence of tumor metastases, an elective lymph node dissection for staging may not need to be performed.
The concept of the SLN originated in 1977 when Cabanas described mapping of the first lymph node–draining penile carcinoma. In 1977, Robinson et al described the use of cutaneous lymphoscintigraphy in the nodal basin for truncal melanomas using colloidal gold scanning. The development of lymphatic mapping at the end of the 1980s was a breakthrough in making the sentinel node concept applicable to various types of malignancies, particularly breast cancer and melanoma. In 1993, Alex et al introduced the use of technetium-99m sulfur colloid, a radioactive tracer, which is injected intradermally around a primary melanoma site, followed by an imaging study and subsequent intraoperative use of a gamma probe to localize the sentinel node. [4] This technique is now commonly practiced for early-stage melanoma without clinically evident nodal metastasis. Alex and Krag performed the first successful SLN biopsy (SNLB) of the head and neck on a patient with a supraglottic carcinoma. [5]
Relevance of SLNB in SCC
Approximately 3.3 million patients are diagnosed with 5.4 million cases of keratinocyte skin cancer (cSCC or basal cell carcinoma) in the United States each year. Approximately 80% of ultraviolet light–induced SCCs develop on the arms, head, or neck. The frequency of cSCC, as with all nonmelanoma skin cancers, is increasing. Recent projections suggest 300,000-400,000 new cases of cSCC per year.
cSCC is the second leading cause of skin cancer death after melanoma, and it is the second most common type of nonmelanoma skin cancer after basal cell carcinoma. Most cSCCs occur on the sun-exposed areas of the head and the neck. Nodal metastasis is relatively uncommon, only occurring approximately 3% of the time, and it is even less likely in early-stage disease (T1-T2). [6] While it is uncommon, patients with aggressive disease have a high risk of development of nodal metastasis that may be subclinical at initial presentation. [7]
By 2017 estimates (American Cancer Society Facts and Figures), [8] approximately 70,000 cases of HNSCC are diagnosed in the United States each year. SCC can occur in any mucosal area of the head and neck, including the nasal cavity and sinuses, nasopharynx, oral cavity (including lower lip), oropharynx, larynx, and hypopharynx. Smoking and alcohol use are historically the primary risk factors for HNSCC, but the incidence of human papillomavirus (HPV)–related cancers of the oropharynx is rising rapidly. The latter rarely present without nodal disease, so SLNB is unlikely to have a role in the management of HPV-related tumors of the oropharynx. SLNB has primarily been investigated in lesions of the oral cavity, given the historically high rates of nodal metastasis noted above and the accessibility of these tumors for radiotracer injection. It can have a significant impact on the need for lymph node dissection.
Positron-emission tomography (PET-CT), contrasted CT, and MRI are commonly used to classify tumors and nodal or distant metastases of SCC. Definitive staging of lymph node disease can only be achieved by performing a staging lymph node dissection. For mucosal disease in its early stages (T1-T3, N0), clinicians have to balance the benefit of performing an elective (prophylactic) lymph node dissection against the associated morbidity. For cSCC, elective neck dissection is uncommon.
For more information, see Head and Neck Cancer and Head and Neck Squamous Cell Carcinoma.
Etiology
Any of the following may cause SCC:
Chemical carcinogens, such as arsenic and hydrocarbons

Chronic irritation or ulceration
In addition, immunocompromised patients have a much higher risk of developing SCC. Two genes, PATCHED and TP53, have been identified that usually prevent cancers but are inactivated in patients with SCC; TP53 is mutated in more than 90% of patients with SCC.
Clinical manifestations
cSCCs typically manifest on the head, neck, or arms. They usually have elevated and rolled edges with central ulceration. Well-differentiated SCCs are likely to manifest as firm erythematous nodules of varying sizes, sometimes with an area of central hyperkeratosis. The tumor is usually firm, although tumors in more advanced cases can be soft and friable. Erosion and ulceration are more common with SCCs. Poorly differentiated SCCs are more apt to manifest as faintly erythematous nodules or plaques that are not well defined; ulceration is also common.
See the image below.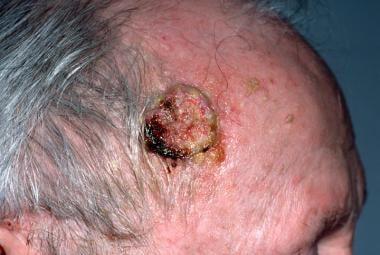 Large, sun-induced squamous cell carcinoma (SCC) on the forehead/temple. Image courtesy of Glenn Goldman, MD.
HNSCC typically manifests as an irregular, at times ulcerated, friable mass of the oral, oropharyngeal, laryngeal, hypopharyngeal, nasopharyngeal, or sinonasal mucosa. Lesions appearing in the oral cavity are subclassified according to anatomic location; the lower lip can exhibit HNSCC on the mucosal surface or cSCC on the skin surface. Oral cavity HNSCC is most amenable to SLNB because of the generally easy accessibility of the primary lesions.
Successful SLNB
Defining a successful SLNB accurately is critical. Although some studies have examined the impact of an individual surgeon's experience on the SLN identification rate, SLN identification is clearly not an appropriate endpoint; many studies have documented excellent SLN identification rates with unacceptably high false-negative rates, typically defined as a negative SLNB when there is either a metastatic lymph node at the time of surgery or recurrence in the nodal basin where the SLN was identified. [9] The more important issue is the experience required to achieve an acceptably low false-negative rate. Such rates are typically identified through prospective studies in which the neck is dissected after an SLNB to provide a point of comparison. In cases in which the pathology results from the scintigram are unclear or are negative, a formal elective neck dissection should be considered for staging purposes.
This procedure is multidisciplinary. As such, surgeons must ensure that experienced nuclear medicine specialists, radiologists, and pathologists are involved. The learning curve for individual surgeons is undoubtedly associated with the experience levels of specialists within the multidisciplinary team. The implications of the SLN procedure must be effectively communicated to radiation oncologists and medical oncologists. The coordination of effort among the various specialists in each discipline is an essential component of the learning process.
The role of the SLNB in the management of SCC of the head and the neck will evolve as more centers actively perform the technique. [10, 11, 12]
Patient education
For patient education information, see the Cancer and Tumors Center, as well as Skin Cancer, Skin Biopsy, and Cancer of the Mouth and Throat.
Indications
SLNB in cSCC
SLNB has been used in larger cutaneous tumors (at least T2) with clinically negative lymph node evaluation. Data from a systematic review show a positive SLN rate of 13.5% in patients carefully selected for the procedure. [7] A 5-year retrospective case series examining 93 SLNBs found a positive SLN rate of 5.4% (5 biopsies). The tumors associated with positive SLNBs were all staged as T2b. [13] Given that elective nodal basin dissection is rarely performed in cSCC, SLNB can be used to determine the need for therapeutic nodal dissection. While the survival benefit of such an approach has not yet been fully elucidated, it stands to reason that diagnosing subclinical nodal metastasis and providing complete treatment of locoregional disease is likely to improve both disease-specific and overall survival. However, a retrospective study of 720 patients with high-risk cSCC with a tumor thickness greater than 5 mm concluded that, based on the current data, SLNB does not provide any benefit as to future metastasis or tumor-specific survival. [14] As in melanoma, the challenge of performing SLNB in cSCC of the head and neck is that the predictability of SLN location is lower and the likelihood of multiple SLNs is higher than in other body locations. [9, 15] Identification of multiple SLNs can result in the need for multiple operations to evaluate disease status.
SLNB in HNSCC
SLNB has been studied primarily in HNSCC of the oral cavity. The primary role is in cases in which an elective neck dissection is considered, which often occurs when the primary tumor is staged as T1 or T2. In a large multicenter European trial, a negative SLNB in T1-2N0 oral cavity SCC was sufficient to rule out nodal metastasis in 86% of cases, producing a negative predictive value of 95%. [16] This approximates the negative predictive value of SLNB in melanoma. While historically floor-of-mouth tumors were believed to be inappropriate for SLNB because of "shine-through" (misleading detection of signal from the primary injection site), this association was not observed in the study. Yang et al found that SLNB had high sensitivity and high negative predictive value (NPV) for cT1/T2N0 SCC of the tongue. [17] Also, a prospective Japanese trial that included T2 and T3 tumors found benefit for directing neck dissection with SLNB. [1] Although shine-through is an acknowledged limitation of Tc-99m radiotracer use in SLNB, substituting SPECT CT with MR lymphography with a gadolinium-based contrast agent may overcome this limitation. A literature review found this MR lymphography approach had a sensitivity of 90.9% with a NPV of 92.8%. [18] Further trials are needed to verify that SLNB alone is sufficient to provide sufficient staging, and thus prognostic, information. Important to note, a 2015 multicenter trial in the United States demonstrated efficacy of SLNB in appropriately selected oral cavity cancers when using technetium (Tc) 99m tilmanocept. [19] Data from experienced centers continue to support further investigation and careful implementation of these techniques. [20]
Contraindications
Contraindications to SLN biopsy are clinical lymphadenopathy (based on physical examination or imaging), disruption of lymphatic drainage, prior extensive surgery (eg, dissection of the neck), previous radiation to the head and the neck, and adverse reaction to radiotracer compound.
Outcomes
SLNB can be a valuable staging technique for patients with cSCC or HNSCC whose lymphatic drainage has not been altered by previous surgery or radiotherapy. It provides reliable detection of micrometastasis, indicating the need for directing therapy (lymphadenectomy or radiotherapy) to the draining nodal basin. This technique also allows the surgeon to accurately plan a dissection of the neck, taking into consideration the pattern of lymphatic drainage of each patient, for example, understanding if the lymphatic drainage is unilateral or bilateral, or if multiple distinct nodal basins are involved. For example, a midface cSCC could drain to the parotid nodes, facial nodes, upper cervical nodes, or more than one of these sites. In the setting of elective surgical nodal treatment, all of these would need to be addressed, which would present substantial and often unnecessary morbidity to the patient. Sentinel lymph node mapping clarifies the drainage pathway(s) in this setting. In this way, unnecessary dissection and associated morphofunctional sequelae can be avoided in numerous patients.
Multiple studies have reviewed the outcome of patients undergoing sentinel lymph node biopsy of the head and neck. It has been shown that positive SLNB correlates with poorer disease-specific survival and overall survival in HNSCC, while not definitely affecting survival in cSCC. [1, 7, 16] Two major studies showed evidence of benefit from mapping of aberrant drainage pathways that directed dissection to levels not always included in an elective neck dissection (IIB, IV). [1, 16] At a minimum, data show that SLNB does not appear to adversely affect outcome. No studies exist that have directly compared morbidity associated with SLNB to that of elective nodal dissection, but it appears overall that SLNB provides a promising way to decrease morbidity while achieving the same or improved disease control for HNSCC and cSCC.
Complications of SLN biopsy
Allergic reactions to radiotracer, nerve injury, lymphedema, neuropathy, fat necrosis, seroma, and hematoma can result following SLNB.
What would you like to print?