Overview
Practice Essentials
In 1979, McCabe first described a cohort of patients with idiopathic, rapidly progressive bilateral sensorineural hearing loss (SNHL). These patients' hearing improved after treatment with corticosteroids, thereby suggesting an autoimmune pathogenesis. The hallmark of this clinically diagnosed condition is the presence of a rapidly progressive, often fluctuating, bilateral SNHL over a period of weeks to months. The progression of hearing loss is too rapid to be diagnostic for presbycusis and too slow to conclude a diagnosis of sudden SNHL. Vestibular symptoms, such as true vertigo, generalized imbalance, and ataxia, may be present. [1]
See the image below.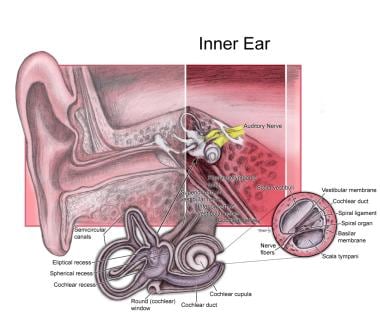 Inner ear.
Antigen-nonspecific tests are useful in routine screening for evidence of systemic immunologic dysfunction, yet specifically are not known to correlate with a diagnosis of immune-mediated inner ear disease.
Antigen-specific tests are as follows:
Migration inhibition assay

Lymphocyte transformation test (LTT)

Western blot analysis for antibodies to inner ear antigen
The natural history of untreated immune-mediated inner ear disease is unknown; much of the current therapy is based on empiric clinical data gathered during the past few decades. A key feature of immune-mediated inner ear disease is a positive response to immunosuppressive therapy (ie, corticosteroids) in the form of improved hearing. [2]
Surgery generally is not appropriate for immune-mediated inner ear disease. However, intratympanic therapy performed under local anesthesia has been found to be beneficial for some patients.
Pathophysiology
The term autoimmune inner ear disease (AIED) implies a direct attack of the immune system upon an endogenous inner ear antigen. Most of the evidence linking the immune system to cochleovestibular dysfunction is indirect; therefore, immune-mediated inner ear disease may be a preferred term. AIED is a clinical diagnosis based on its distinct clinical course, immune test results, and treatment response. The most important diagnostic finding is improvement in hearing observed with a trial of immunosuppressants. [3, 4, 5, 6]
Specific criteria for idiopathic progressive bilateral sensorineural hearing loss (IPBSNHL) include bilateral SNHL of at least 30 dB at any frequency with progression in at least one ear, defined as a threshold shift that is greater than 15 dB at any frequency or 10 dB at 2 or more consecutive frequencies or a significant change in discrimination score. This definition excludes patients with sudden SNHL occurring in less than 24 hours, which more likely is due to a microvascular or viral etiology.
A certain subset of patients with presumed Ménière disease (idiopathic endolymphatic hydrops) actually may have Ménière syndrome, in which the underlying pathophysiology is immune mediated. Typically, Ménière disease is initially diagnosed in these patients; however, fluctuating hearing loss in the contralateral ear develops later. This change may prompt a workup for AIED. Hughes et al found that approximately one half of their patients with AIED have manifestations of autoimmune Ménière syndrome. [7, 8]
Epidemiology
Frequency
United States
Because the existence of autoimmune inner ear disease (AIED) has been recognized only since 1979, incidence is difficult to determine. Recent studies in the literature from large referral centers are based on relatively small sample sizes of patients who fit the criteria for diagnosis of AIED. As diagnostic tests for the condition become more specific and more is known about AIED, more patients will be identified who have an autoimmune basis for inner ear symptoms.
Sex
The condition has been suggested to be more common in female patients who may or may not have concomitant systemic autoimmune disease than in male patients.
Age
In most patients, initial onset of symptoms occurs at age 20-50 years. Cases in pediatric patients are uncommon. [9]
What would you like to print?