Treatment
Medical Care
In the United States, acute otitis media (AOM) is typically treated with antibiotics. [6] Treatment with amoxicillin for 10 days is the initial antibiotic therapy, or Bactrim is substituted if the patient is allergic to penicillin. In Europe, a more conservative approach to treating acute otitis media (AOM) is used. Given the alarming increase in antibiotic resistance, the routine usage of antibiotics in the United States should be reconsidered.
A meta-analyses from 30 articles written in English and 3 articles written in a language other than English revealed that acute otitis media (AOM) achieved complete clinical resolution without treatment 81% of the time as compared with resolution 95% of the time with the use of antimicrobials. Criteria for withholding or delaying antibiotic therapy for acute otitis media (AOM) include (1) patient older than 2 years, (2) normal host, (3) intact tympanic membrane, (4) at least 3-6 months since last episode of otitis media (OM), (5) receptive parents, and (6) assurance of medical follow-up care.
A literature review by Hum et al found that in children with acute otitis media being treated with antibiotics, the rate of adverse events, specifically, diarrhea and generalized rash, differed according to the agent used. With regard to diarrhea, the incidence by drug was found to be azithromycin (2.2%), placebo (6.9%), low-dose amoxicillin (8.7%), cefdinir (13.0%), high-dose amoxicillin (13.8%), and high-dose amoxicillin/clavulanate (18.9%). For generalized rash, the incidences were azithromycin (1.4%), placebo (2.3%), low-dose amoxicillin (2.9%), high-dose amoxicillin/clavulanate (4.9%), and high-dose amoxicillin (6.5%). [19]
A study by Tawfik et al indicated that since the introduction of pneumococcal vaccination, hospital admissions for pediatric acute otitis media (AOM)/complications of acute otitis media (AOM) in the United States have decreased in prevalence, as have admission rates for pneumococcal meningitis with acute otitis media (AOM)/complications of acute otitis media (AOM). Using information from the Kids' Inpatient Database from between 2000 and 2012, the study found particularly sharp declines in admissions for children under age 1 years, from 22.647 to 8.715 per 100,000 persons, and for children aged 1-2 years, from 13.652 to 5.554 per 100,000 persons. [20]
A study by Wilson et al estimated that in Canada, as a result of routine infant vaccination with pneumococcal conjugate vaccine, almost 3.7 million episodes of acute otitis media (AOM) were averted between 2005 and 2015. [21]
In the United States, otitis media with effusion (OME) can be treated with observation, antibiotics, or tympanostomy tube placement. However, a meta-analysis of controlled studies revealed only a 14% increase in the resolution rate when antibiotics are given. [7, 8] Antibiotic suppression is not indicated for otitis media with effusion (OME), and multiple courses of antibiotics have no proven benefit. Consider surgical intervention after 3-4 months of effusion with a 20 dB or greater hearing loss. [9]
Eustachian tube dysfunction (ETD) can be treated primarily with a combination of time, autoinsufflation (eg, an Otovent), and oral and nasal steroids (budesonide, mometasone, prednisone, methylprednisolone). The results of one study suggest that intranasal steroid sprays alone do not help eustachian tube dysfunction. [22]
Decongestants (eg, pseudoephedrine, oxymetazoline, phenylephrine) are also helpful, but not as useful for chronic eustachian tube dysfunction (ETD). Consider the cardiovascular effects of oral decongestants and the early development of tachyphylaxis observed with the use of nasal decongestants; limit the use of the decongestant to short-term symptomatic relief (ie, no more than 3-5 d).
Nasal and oral antihistamines can also be beneficial in patients with allergic rhinitis. Leukotriene antagonists (eg, montelukast sodium [Singulair]) are helpful in some patients when oral steroids are not an option. Adequate control of laryngeal pharyngeal reflux helps to resolve eustachian tube dysfunction (ETD) in patients with an associated peritubal inflammation from reflux. Proton pump inhibitors (esomeprazole magnesium [Nexium], rabeprazole [Aciphex], omeprazole [Prilosec]) administered twice a day are often used. Myringotomy with tube insertion is reserved for the refractory patient with debilitating symptoms.
An international consensus statement on the management of pediatric OME, stemming from the 2017 International Federation of Oto-rhino-laryngological Societies World Congress, maintains that the underlying problems of age-dependent eustachian tube dysfunction are poorly addressed by nonsurgical treatment. The only exception, according to the statement, appears to be autoinflation, which the statement identified as an effective, low-risk, low-cost therapy. In addition, the statement recommended against steroid, antibiotic, decongestant, or antihistamine use in OME management, citing side effects, cost issues, and a lack of convincing evidence regarding long-term effectiveness. [23]
Surgical Care
The primary surgical treatment of all types of otitis media (OM) is myringotomy with tube placement. [10] The typical ventilation tube stays in place for a period of 8-12 months, with closure of the perforation occurring after tube extrusion. In a small percentage of patients with poor eustachian tube function or other complicating factors, the perforation may persist. Other surgical considerations include the following:
Adenoidectomy is indicated for refractory OME in children older than 4 years and in younger children when adenoid pathology is present (eg, chronic adenoiditis, adenoid hypertrophy).

Tonsillectomy has not been shown to prevent otitis media (OM) either alone or in conjunction with adenoidectomy.

Eustachian tube balloon dilation - For patients aged 18 years or older in the United States and aged 4 years or older in Europe (see the images below) [11]

Mastoidectomy, both canal wall up and canal wall down, can be used to treat complications of middle ear infection and eustachian tube dysfunction (ETD).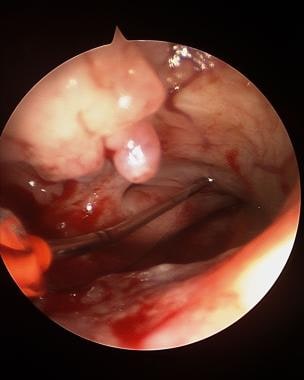 Eustachian tube dilation procedure, prior to insertion of balloon.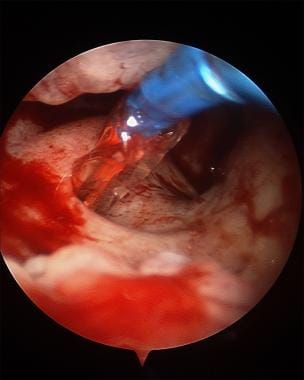 Insertion of balloon in eustachian tube dilation.
Consultations
Consult with an otolaryngologist if the patient has any evidence of complications of otitis media (OM), if the effusion persists for longer than 3 months, if a 20 dB or greater hearing loss exists, or if a patient has more than three episodes of otitis media (OM) in 4 months or six episodes of otitis media (OM) in 1 year.
Also consult with an otolaryngologist in the following cases:
If a patient has recurrent pain and pressure in the ears when flying or diving underwater

When any adult has a middle ear effusion; there is a need to rule out a nasopharyngeal tumor

When vertigo associated with a middle ear effusion occurs
Activity
Patients with eustachian tube dysfunction (ETD) must be careful when flying or diving because of the risk of barotrauma. Instruct patients with significant eustachian tube dysfunction (ETD) to use oral and topical decongestants 30 minutes before landing. An Otovent may be used to assist with autoinsufflation in the treatment of eustachian tube dysfunction (ETD).
Complications
Untreated eustachian tube dysfunction can lead to retraction of the tympanic membrane and the development of cholesteatoma and tympanic membrane perforations.
As indicated above, in patients with eustachian tube dysfunction, barotrauma and traumatic eardrum rupture can occur with flying and scuba diving.
Prevention
Measures for the prevention of eustachian tube dysfunction include the following:
Breastfeeding for 6 months

Avoidance of frequent upper respiratory infections

Treatment of allergic rhinitis

Treatment of chronic sinusitis

Treatment of laryngopharyngeal reflux
Long-Term Monitoring
This can be accomplished via the following:
Tympanic membrane examination

Audiography/tympanometry
What would you like to print?