DDx
Diagnostic Considerations
The diagnosis may be in doubt in individuals with small epitympanic retractions observed during physical examination. Computed tomography (CT) scanning may help to distinguish between shallow retractions without soft tissue extension into the epitympanic space and an extensive soft tissue mass with bony erosion.
CT scanning can also be helpful in individuals who previously had otologic surgery. In this group of patients, a white mass behind the tympanic membrane (shown below) may represent tympanosclerosis, cartilage grafting, or recurrent cholesteatoma. CT scanning may frequently help to resolve such questions. Diffusion-weighted magnetic resonance imaging (MRI) may also be helpful in these circumstances.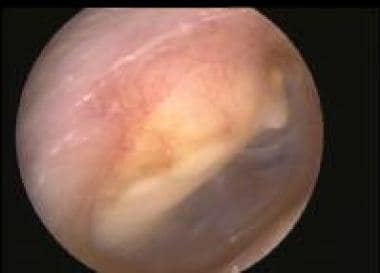 A large cholesteatoma. No landmarks are visible, which typically is the case with advanced cholesteatomas.
Other otologic conditions that should be considered include:
Middle ear osteoma

Granulomatous disease (eg, granulomatosis with polyangiitis [Wegener granulomatosis], histiocytosis X)

Mycobacterial infection

Primary auricular and/or temporal bone malignancy
Differential Diagnoses
What would you like to print?