Workup
Approach Considerations
No laboratory tests or biopsies are generally necessary for the diagnosis of cholesteatoma, as the diagnosis relies heavily on clinical history, physical examination, and radiographic findings. CT scanning is the diagnostic imaging modality of choice for these lesions, as it can detect subtle bony defects in the setting of a middle ear and/or mastoid lesion. Histologically, surgically removed cholesteatoma specimens demonstrate typical squamous epithelium. The histology is indistinguishable from that of sebaceous cysts or keratomas removed from any other part of the body.
Audiometry
Audiometry should be performed prior to surgery whenever possible. Air and bone conduction, speech reception threshold, and speech discrimination tests should all be conducted before the proposed operative procedure, to establish a hearing baseline. It is acceptable to forgo audiometric testing if, as occurs infrequently, cholesteatoma gives rise to a serious complication that requires urgent surgery.
Computed Tomography
CT scanning is the imaging modality of choice in the diagnosis of cholesteatoma, as it can detect subtle bony defects in the temporal bone. However, CT scans cannot always distinctly distinguish between granulation tissue and cholesteatoma. Even high-resolution CT scanning cannot reliably determine the full extent of the disease.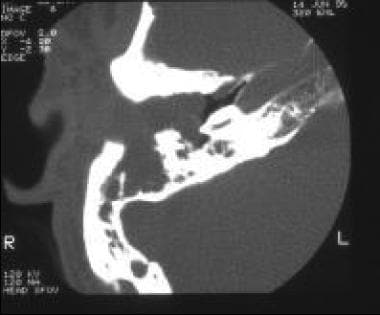 An unenhanced computed tomography (CT) scan demonstrating that the posterior canal wall has been eroded and the external auditory canal has filled with cholesteatoma, pus, and debris. Surprisingly, the middle ear appears relatively free of disease, a characteristic of primary acquired cholesteatomas.
As the otologic surgeon cannot always predict what is needed in the operating room based on findings from the preoperative evaluation, the otolaryngologist must be prepared for intraoperative temporal bone aberrations. [25, 26, 5]
Subtle bony defects that can be detected on CT scanning include the following [5] :
Ossicular erosion or discontinuity

Anomalies, erosion, or invasion of the fallopian canal (facial canal)
In a study of 64 patients with middle ear cholesteatomas, Gaurano and Joharjy found that the diagnosis of cholesteatoma was suggested by specific characteristics found on CT scans. These included expansion of the aditus and mastoid antrum (92%) and ossicular erosion (92%). Preoperative CT scanning in the study had a 97% correlation with surgical and histopathologic findings. [26]
Some surgeons believe that any patient with a cholesteatoma who is scheduled for surgical intervention should have a preoperative CT scan; it provides useful information in every circumstance, and, consequently, the expense of the scan and the radiation exposure involved are typically justified.
Other surgeons reserve preoperative imaging only for special cases and are quite comfortable performing surgery without it. These surgeons may nonetheless request a preoperative CT scan in the following circumstances:
Patient is adamant about avoiding an operation

CT scanning will help the patient and/or family to assess the risks of ossicular involvement

The underlying anatomy is indeterminate and the extent of disease is unclear as a result of previous surgery

Concern for congenital disorders (eg, atresia cases, craniofacial anomalies)

Labyrinthine fistula or erosion of the fallopian canal is suspected
A study by Baba et al indicated that temporal subtraction CT (TSCT) scanning in combination with conventional CT imaging is superior to conventional CT scanning alone in diagnosing recurrent/residual cholesteatoma following primary cholesteatoma surgery. TSCT plus conventional CT scanning better detected new, progressive erosive bone changes and had higher sensitivity for finding recurrent/residual cholesteatoma. For example, the mean sensitivity for experienced radiologists using TSCT plus CT scanning was 0.77, compared with 0.52 for those using only conventional CT scanning. [28]
Avoidance of surgery
Patients who are poor surgical candidates or who wish to avoid surgery for other reasons can be better advised about the risks of nonsurgical management if a CT scan has been performed and evaluated. The presence of extensive disease, a labyrinthine fistula, encroachment on the fallopian canal, and involvement of the oval window niche increase the risk associated with conservative management.
Risk assessment
If ossicular involvement is apparent on preoperative CT scanning, patients should be counseled that ossicular removal may be necessary and that significant postoperative conductive hearing loss should be expected.
Magnetic Resonance Imaging
MRI reveals cholesteatoma as isointense on T1 sequences without enhancement from contrast and hyperintense on T2 sequences. MRI is used when very specific clinical concerns, such as the following, exist [5] :
Dural involvement or invasion

Subdural or epidural abscess

Brain herniation into mastoid cavity

Inflammation of membranous labyrinth or facial nerve
A number of articles suggest that diffusion-weighted MRI may be able to distinguish between recurrent or persistent middle ear cholesteatoma, scar tissue, and granulation tissue. If future studies verify a high sensitivity and specificity for this modality, it may become possible to replace routine second-look procedures with high-quality diffusion-weighted MRI. [29, 30]
A literature review by Muzaffar et al indicated that following ear surgery, diffusion-weighted MRI is sensitive and specific for determining the existence of recurrent or residual cholesteatomas, with non-echoplanar imaging (non-EPI) techniques having greater sensitivity and specificity than echoplanar imaging (EPI) sequences. The investigators found that EPI studies had a sensitivity and specificity of 71.82% and 89.36%, respectively, while non-EPI studies had a sensitivity and specificity of 89.79% and 94.57%, respectively. [31]
A study by Lips et al compared the diagnostic performance of 1.5 T to that of 3 T non-EPI DWI, as employed to detect residual and/or recurrent cholesteatoma. The investigators showed 1.5 T to be preferred over 3 T for the detection of residual/recurrent cholesteatoma, with the sensitivity being 96% versus 80%, respectively, and the specificity, 59% versus 46%, respectively. [32]
A study by Yamashita et al indicated that fusing images from high-resolution three-dimensional diffusion-weighted MRI and multi-detector row CT scanning is useful in operative planning for cholesteatoma surgery. In this study, involving 12 patients, the investigators found a good correspondence between the location and extent of cholesteatoma, as seen on the fused images as well as intraoperatively. [33]
A study by Locketz et al indicated that combining temporal bone CT scanning with PROPELLER (periodically rotated overlapping parallel lines with enhanced reconstruction) diffusion-weighted MRI is superior to PROPELLER diffusion-weighted MRI alone for the preoperative identification and localization of cholesteatomas. The diagnostic sensitivity, positive predictive value, and negative predictive value of the CT/MRI-scan combination were 88%, 88%, and 75%, respectively, compared with 75%, 86%, and 60%, respectively, for PROPELLER diffusion-weighted MRI alone. [34]
What would you like to print?