Presentation
History
Patients with massive nasal polyposis typically present with increasing nasal congestion, hyposmia to anosmia, changes in sense of taste, and persistent postnasal drainage. Headaches and facial pain and discomfort are not uncommon and are found in the periorbital and maxillary regions. On occasion, a patient with completely obstructing nasal polyposis presents with symptoms of obstructive sleep apnea.
Patients with solitary polyps frequently present with only symptoms of nasal obstruction, which may change with a shift in position. For example, while lying supine, the polyp may swing posteriorly, opening up the nasal cavity. In an upright position, the polyp has a more obstructive effect.
Whether 1 or more polyps are present, patients may have symptoms of acute, recurrent, or chronic rhinosinusitis if the polyps obstruct the sinus ostia.
Physical
Intranasal examination reveals a fleshy translucent mass or masses in the nasal cavity, usually originating in the superior nasal vault. Polyps can be observed originating in the ethmoid region, from the maxillary sinus ostium (antral choanal polyps), the turbinates, or the septum. Obstructing polyps may make thorough intranasal examination difficult. See the images below.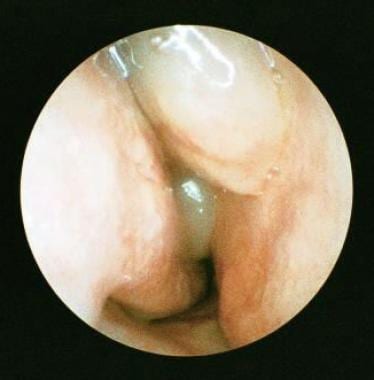 Nasal polyposis, right nasal passage.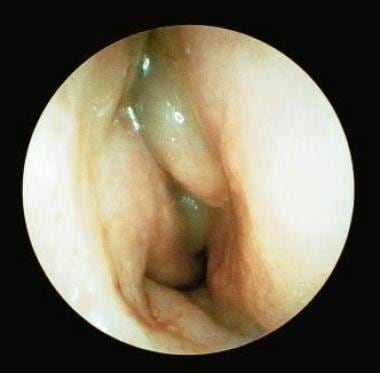 Nasal polyposis, right nasal passage.
Mucopurulent discharge occasionally emanate from the ethmoid region or the superior nasal vault, suggesting an underlying rhinosinusitis. Septal deformities may make the examination more difficult.
Causes
See the list below:
Chronic inflammation of indeterminate etiology
What would you like to print?