Workup
Imaging Studies
See the list below:
The preoperative workup for patients undergoing transphenoidal resection of the pituitary includes a thorough history of sinus disease (eg, hyposmia, epistaxis, nasal polyps, nasal discharge, sinusitis) and past nasal and sinus surgical treatment. Active or untreated chronic sphenoid sinusitis is a contraindication to performing the transphenoidal approach to the pituitary.

A CT scan is indispensable prior to performing any sinus surgery, and the transnasal-sublabial approach to the sphenoid sinus is no exception. Perform preoperative noncontrast-enhanced CT scanning in both the axial and the coronal planes. These positions allow the surgeon to visualize essential sinus anatomic relationships. The relationship of the perpendicular plate of the ethmoid bone to the sphenoid rostrum and the presence and location of any intersinus septae are important anatomic considerations. The CT scan also gives indication of any nasal or intrasinus pathology that may require surgical or medical treatment prior to transphenoidal hypophysectomy. Critical anatomic variations in the carotid artery or optic nerve can also be observed from the CT scan.

MRI can help differentiate infectious etiology from mucocele formation in the sinus. MRI studies may also help differentiate a possible vascular mass from the projection of 1 or both carotid arteries into the sinus.
Coronal and median sagittal images are shown in the image below.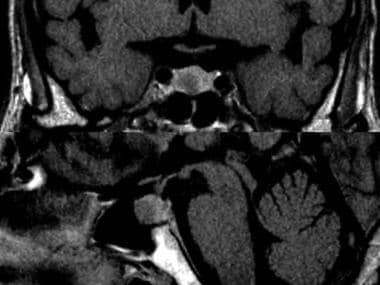 Coronal and median sagittal images of pituitary adenoma.
What would you like to print?