Workup
Laboratory Studies
Because of the varied etiologies of nasal septal perforations, performing a detailed laboratory evaluation on every patient is cost prohibitive. Because of this, an algorithm (as seen in the image below) is proposed to guide the physician when obtaining more detailed laboratory and other studies: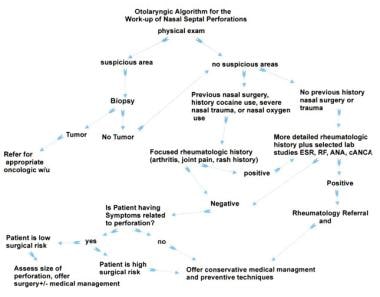 Proposed algorithm for a systematic evaluation of newly diagnosed septal perforations.
In patients without a likely cause for the perforation or in patients with rheumatologic complaints, basic laboratory studies may be performed.
A significantly elevated erythrocyte sedimentation rate can indicate an underlying rheumatologic disorder. Unfortunately, a value within the reference range does not rule out a rheumatologic or inflammatory disorder. The erythrocyte sedimentation rate can be elevated significantly in dermatomyositis-polymyositis, rheumatoid arthritis, sarcoidosis, lupus, Wegener granulomatosis, temporal arteritis, and many other disorders.

In patients with cough, hemoptysis, sinusitis, bloody nasal discharge, or eye abnormalities (episcleritis or conjunctivitis), an antineutrophil cytoplasmic autoantibody (C-ANCA) test should be obtained to assess for Wegener granulomatosis.

The rheumatoid factor level may be elevated in persons with rheumatoid arthritis, mixed connective tissue diseases, lupus, scleroderma, or other disorders.

Elevated angiotensin-converting enzyme (ACE) levels can indicate the presence of sarcoidosis. Chest radiography can also be performed to assess for this disease.

If any of the results are positive, consult with a rheumatologist regarding further testing.
Imaging Studies
Chest radiography may be performed to assess for sarcoidosis.
Procedures
A biopsy of the perforation edge to rule out sinonasal malignancy may be indicated if malignancy is suspected based on history or constitutional symptoms.
What would you like to print?