Overview
Background
The vibratory surface of the human vocal fold is a complex layered structure. Repeat trauma from vocal misuse or overuse may lead to the development of benign lesions that arise primarily within the lamina propria of the vocal fold, also known as the Reinke space.
Benign laryngeal disorders resulting in dysphonia most commonly affect glottic closure and the vibratory characteristics of the true vocal fold. A cyst is defined as an epithelial-lined structure with separate internal contents. Two types of cysts are found within Reinke space, mucus retention cysts and epidermoid cysts.
Application of current knowledge of the anatomy and physiology of the larynx and an understanding of voice production are essential to developing sound surgical approaches for benign laryngeal disorders.
An image depicting an intracordal cyst can be seen below.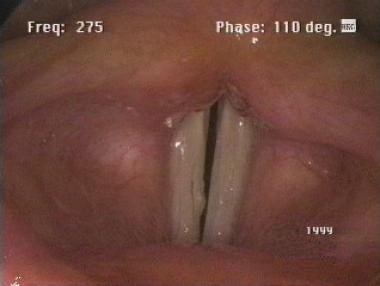 Indirect laryngoscopy of an intracordal cyst is shown. Note the appearance is similar to that of a nodule or polyp.
Problem
Two types of cysts are found within Reinke space. Mucus retention cysts are often translucent and are lined with cuboidal or columnar epithelium. Epidermoid cysts contain epithelium or accumulated keratin. These lesions may be true epithelial-lined cysts or pseudocysts. The term intracordal refers to a location just below the cover of the vocal fold within Reinke space and outside of the vocalis muscle.
Epidemiology
Frequency
The prevalence of intracordal lesions in the general population is not known. The group of patients that present to a voice clinic features a high percentage of professional voice users and may not be representative of the general population.
Etiology
Epidermoid cysts may occur secondary to vocal abuse and overuse or may be secondary to a remnant of epithelium trapped within the lamina propria. [1] Mucus retention cysts may occur spontaneously or may be associated with poor vocal hygiene. They are presumed to arise from an obstructed mucus-producing gland. As the cyst enlarges, it can start to significantly affect the vibratory region of the vocal fold.
A study by Hanshew et al suggested that Streptococcus pseudopneumoniae and, possibly, Pseudomonas, may play a role in the etiology of benign vocal fold lesions, such as cysts, nodules, polyps, and Reinke edema. The investigators found the bacterial communities of 31 out of 44 such lesions to be dominated by S pseudopneumoniae, unlike the microbiota found in healthy saliva and throat samples. Twelve of the remaining 13 lesions contained Pseudomonas, which was not seen in the healthy samples. [2]
Pathophysiology
Repeated trauma from vocal misuse or overuse may lead to the development of vocal fold nodules, polyps, or cysts. Mucus retention cysts may occur secondary to ductal obstruction, and epidermoid cysts may occur from congenital cell rests or from healing injured mucosa. A focal thickening may also form as a reaction to trauma caused by the cyst on the contralateral cord. Benign lesions are found within the lamina propria and cause dysphonia by disrupting the vibratory pattern and close approximation of the true vocal folds.
Presentation
A broad spectrum of clinical presentations exists. Patients may report hoarseness, increased effort, fatigue, pain, and soreness with voice use. Singers commonly report abrupt loss of voice or break at a certain pitch. Generally, patients with intracordal lesions have dysphonia that becomes more severe with use. They may also describe periods of aphonia following vocal overuse. Sometimes a vocal fold cyst can affect only the singing voice and not the speaking voice or have little or no effect on voice quality. In the latter situation, no indication exists for treatment. However, for a patient to have a normal speaking and singing voice is not unusual, and a patient may be able to perform. When a patient reports complete aphonia, a significant functional component can be expected. Cysts rarely cause symptoms of stridor, aspiration, globus sensation, or dysphagia.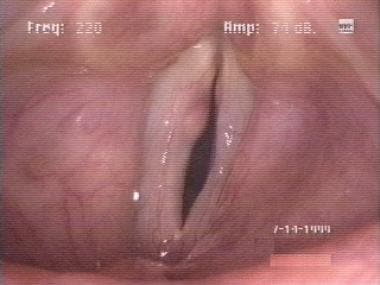 This patient had an essentially normal speaking voice but complained of fatigue and loss of vocal range. Note the translucent quality of the mucosal cover.
Patients may be hoarse or may have normal speaking voices. Patients in the latter group often exhibit difficulty with the singing voice, including decreased range, easy fatigability, strain, and periods of aphonia associated with heavy voice use. Diplophonia, or the production of two simultaneous tones, is also observed at higher pitches. Singers may exhibit an abrupt break at a specific frequency. In addition, maladaptive compensation patterns may be present (secondary muscle tension dysphonia).
On indirect laryngoscopy, a cyst may appear as a fullness in the fold or simply as a lucent outline visible under the mucosal cover. An intracordal mass must be suspected in a dysphonic patient when no obvious lesion is found on indirect laryngoscopy. Video stroboscopy is essential to making the diagnosis of a cyst. The mucosal wave overlying the cyst is decreased or absent in comparison with the opposite cord.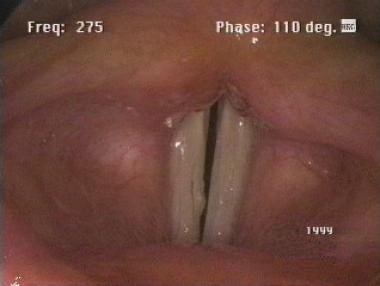 Indirect laryngoscopy of an intracordal cyst is shown. Note the appearance is similar to that of a nodule or polyp.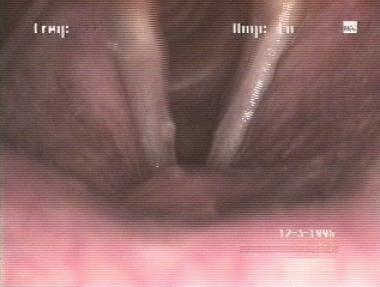 Note the translucent outline of the body of the cyst within the mucosal cover of the right true vocal fold. The articulatory surface of the cord is minimally disrupted.
Indications
Surgery is reserved for patients with lesions that demonstrate no significant vocal symptom reversibility with exhaustive medical and speech therapy or for patients in whom the diagnosis is uncertain. Medical therapy consists of reversing or eliminating irritants and inflammatory conditions such as allergy and reflux laryngitis and maintaining good vocal hygiene. Speech therapy consists of reducing abusive behaviors, improving vocal efficiency, and modifying vocal habits to maximize rest and recovery time (see the Medscape Reference article Voice Therapy).
In singers, surgery is indicated when the accustomed performance style or required schedule cannot be maintained, for recurrent disabling periods of dysphonia, or for intolerable vocal strain and fatigue. These requirements must be assessed on an individual basis since some performers are able to sing infrequently enough to prevent significant problems.
Relevant Anatomy
The vocal fold is composed of a muscle covered by a free mucosal edge that vibrates and can be separated into discrete layers in which various types of pathology may develop. Each layer has distinct mechanical properties and can be differentiated by the concentration of elastin and collagen fibers in a 3-dimensional layered structure parallel to the leading edge.
Histologically, the vocal fold is a complex structure. The delicate arrangement of the extracellular matrix proteins within the lamina propria permits passive movement of the epithelium, or vocal cover, over the body, resulting in the formation of the mucosal wave as air is passed through the glottis as a release of building subglottic pressure. Most benign lesions occur in the superficial layer of the lamina propria; therefore, surgical approaches to benign lesions should ideally be confined to this layer. Benign lesions are usually superficial to the vocal ligament and the thyroarytenoid muscle.
Contraindications
Please see Preoperative details.
What would you like to print?