Workup
Laboratory Studies
Consider laboratory studies with a CBC count and erythrocyte sedimentation rate (ESR) if infection, inflammatory arthropathy, or a tumor is suspected.
Imaging Studies
X-ray films (see images below)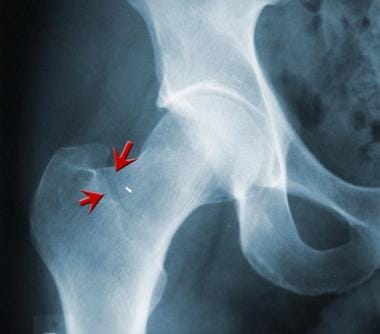 Radiograph showing a tension-side, completed femoral neck stress fracture.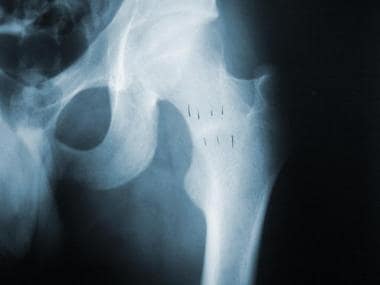 Radiograph showing sclerosis on the compression side of the femoral neck.
Obtain anteroposterior and frog-leg views.
Obtain appropriate radiographs if femoral shaft or pubic ramus fractures are suspected. (See also the article Femur Injuries and Fractures.)
If the initial radiographs are negative (and they often are), and the suspicion for FNSF is high based on the patient history and physical examination, obtain a bone scan or MRI. [4] Instruct the patient to remain non-weight bearing on crutches until the study is obtained.
If the patient's symptoms are mild, or bone scanning or MRI is unavailable, the patient should be on crutches, non-weight bearing or touchdown weight bearing, until the bone scan/MRI is obtained or repeat films in 2 weeks are negative.
See image below of a bone scan depicting FNSF.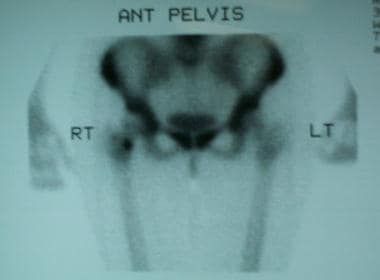 Radiographs are often initially negative for stress fractures, including femoral neck stress fractures. Repeating x-ray films in 2 weeks may show the changes of a stress fracture, but approximately 20% of cases do not. Bone scanning or magnetic resonance imaging may be necessary to rule out a stress fracture. In the x-ray film for this patient, no changes were seen, but a bone scan showed an obvious compression stress fracture of the right femoral neck.
MRI
MRI yields more diagnostic information than bone scanning and is especially more useful in difficult cases. [4, 14]
Other Tests
Other tests, such as hip joint aspiration for a septic joint, are only indicated if the clinician is considering alternative diagnoses.
What would you like to print?