Workup
Laboratory Studies
Beta-2 transferrin test
The beta-2 transferrin test is the definitive means of evaluation for CSF rhinorrhea. One milliliter of the suspected fluid should be collected in a red-top tube. The beta-2 transferrin test is a "send-out" laboratory test at most institutions.
Watery rhinorrhea positive for beta-2 transferrin is diagnostic of a CSF leak. Besides CSF, only the vitreous humor of the eye and the perilymph of the ear have been found to contain beta-2 transferrin.
Halo sign test
Bloody rhinorrhea suspicious for CSF can be placed on filter paper and observed for a halo sign. If CSF is present, it diffuses faster than blood and results in a clear halo around the central stain.
Other
Routine chemistry analysis of the rhinorrhea may reveal an elevated glucose content consistent with CSF.
Imaging Studies
Plain sinus radiographs may reveal FS opacification or gross bony step-offs.
Thin-cut axial and coronal CT scans (1.5 mm) are the criterion standards for the evaluation of FS fractures. However, the compact anatomy of the NFR can make accurate fracture diagnosis in this area difficult. Axial images reveal the location, severity, and degree of comminution of anterior and posterior table fractures. Coronal images reveal fractures of the FS floor and orbital roof.
See the image below.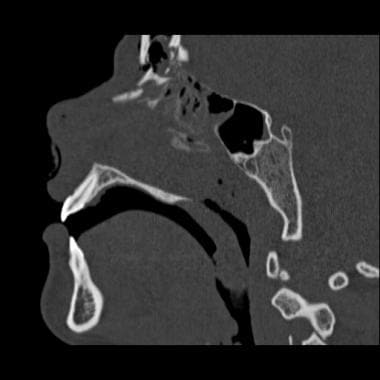 Sagittal CT scan demonstrating frontal sinus floor depressed fracture obstructing nasofrontal outflow tract.
What would you like to print?