Treatment
Acute Phase
Rehabilitation Program
Physical Therapy
The treatment of femoral neck fractures, intertrochanteric hip fractures, and most tension femoral neck stress fractures requires surgical intervention. Stress fractures occur most often in the femoral neck and are classified according to the location (ie, inferior or compression, superior or tension). Tension fractures have a poor prognosis and tend to be unstable. Compression fractures may heal with conservative management.
Compression fractures are most commonly treated with several days of rest followed by protected, crutch-assisted weight bearing. Frequent serial x-ray films are recommended to monitor fracture healing and progress and to assess for any changes. The operative treatment of tension stress fractures and hip fractures is discussed in Surgical Intervention.
Medical Issues/Complications
The most commonly used classification system for femoral neck fractures is the Garden classification. The fractures are divided into 4 groups according to the degree of displacement and fracture fragments. [4, 5, 6] This classification system gives guidance for treatment options and surgical implants. The following 4 groups comprise this classification system:
Garden type I: Incomplete fracture with valgus impaction, as shown below

Garden I femoral neck fracture. Note the valgus impaction with compression of the superior femoral head-neck junction.

Lateral view of a Garden I femoral neck fracture. Compression of the head-neck junction inferiorly.

Garden type II: Complete fracture without displacement

Garden type III: Complete fracture with partial displacement of the fracture fragments

Garden type IV: Complete fracture with total displacement allowing the femoral head to rotate back to an anatomic position
This classification can be further simplified into nondisplaced, Garden I and II, or displaced Garden III and IV fractures.
Classification of intertrochanteric hip fractures is based on a system introduced by Evans in 1949. This system is based on the fracture pattern and the ability to obtain a stable reduction. Evans recognized the importance of restoring the posteromedial cortex as a contributing factor to fracture stability. Others classify intertrochanteric fractures by the number of fracture fragments present; however, for ease of description and simplicity, these fractures are best classified as follows:
Stable: Fractures with an intact posteromedial cortex

Unstable: Fractures with comminution of the posteromedial cortex, fractures with diaphyseal extension
The classification system used most commonly for pediatric hip fractures is that of Colonna. In this classification, the fracture prognosis is dependent on the location of the injury and its interference with the blood flow to the femoral head.
Type I: Transepiphyseal fractures, account for 8% of pediatric hip fractures, AVN rate approaches 100%

Type II: Transcervical fractures, account for 45% of pediatric hip fractures, 80% are displaced, AVN rate approaches 80%

Type III: Cervicotrochanteric fractures, account for 30% of pediatric hip fractures, AVN rate of 20-30%

Type IV: Intertrochanteric fractures, account for 10-15% of pediatric hip fractures, fewer complications than types I-III
A study by Shin and Gillingham classified stress fractures based primarily on MRI findings. [10] The 3 basic categories were compression, tension, and displaced fatigue fractures. Compression side injuries were further subdivided on the basis of whether a fatigue line, which appears as a linear band of low-signal intensity lying perpendicular to the line of force across the femoral neck, was present.
The 2 subtypes are those that demonstrate a fatigue line less than 50% of the femoral neck width and those with a fatigue line greater than or equal to 50%. Tension side findings are subtle; their hallmark is increased signal intensity at the superior femoral neck on T2-weighted and short inversion time inversion recovery (STIR) images. Displaced fractures can be identified on plain radiographs.
Complications associated with poorly treated or misdiagnosed stress fractures are considerable. AVN, nonunion, varus deformity, osteonecrosis, and completely displaced femoral neck fractures may occur. These complications can lead to serious, life-altering changes in function and the patient's ability to ambulate efficiently and perform activities of daily living.
Surgical Intervention
Garden types I and II femoral neck fractures are surgically stabilized with closed reduction and internal fixation. Garden types III and IV are controversial in the type of implant used for treatment. In younger patients, closed or open reduction is recommended. In less active older patients, prosthetic replacement is recommended (see the images below). Patients with intertrochanteric hip fractures require surgical stabilization.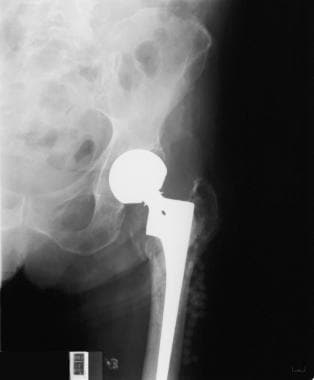 An example of a calcar replacement hemiarthroplasty. A low femoral neck fracture extending into the calcar femoralis, not amenable to internal fixation or conventional hemiarthroplasty, requiring a calcar replacement prosthesis.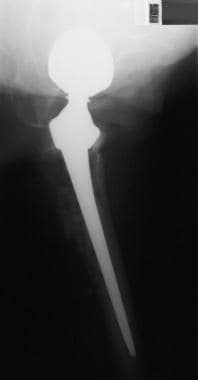 A lateral x-ray film of a calcar replacement hemiarthroplasty.
In acute (or chronic) displaced femoral neck tension stress fractures, most authors recommend aggressive treatment with internal fixation with percutaneously placed cannulated screws (see the images below). Postoperative treatment is similar as above, with crutch-assisted touch-down weight-bearing ambulation for the first 6 weeks and partial weight bearing for the subsequent 6 weeks. Thereafter, a supervised physical therapy program is outlined for progressive activity, lower extremity strengthening, and full weight-bearing ambulation.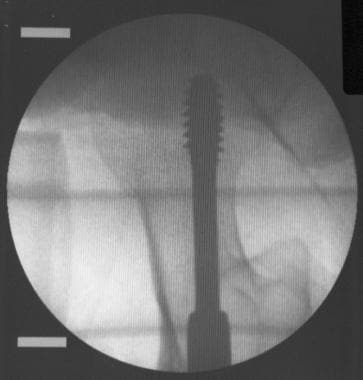 Intraoperative x-ray film (fluoroscopic view) of placement of the lag screw.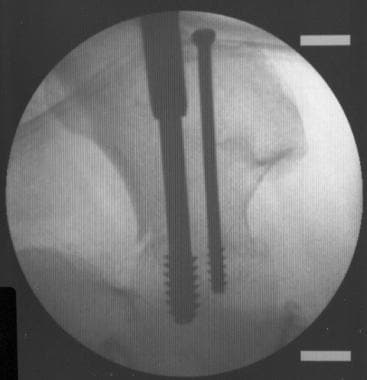 Addition of a superior derotational screw to maintain alignment and allow compression.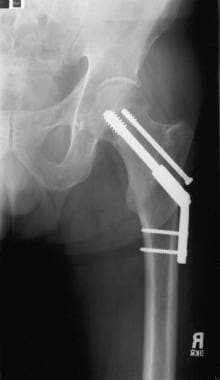 Internal fixation of the subcapital femoral neck fracture with a screw and short side plate with an additional derotational screw above. Final anteroposterior view.
Treatment of pediatric hip fractures requires expedient evaluation and, usually, surgical reduction and stabilization for displaced fractures. Timing of treatment is important and may play a role in the final outcome. A retrospective cohort study by Pincus et al that included 42,230 hip fracture patients reported an increase in complication risk (6.5% vs 5.8%) when patients waited more than 24 hours for surgery. [11]
Consultations
Femoral neck fractures and intertrochanteric hip fractures occur most often in elderly populations, who generally have other medical diagnoses. The fracture may have been due to a medically related problem such as a syncopal episode, dehydration, overmedication, or vertigo. The cause of a fall must be explored, and consultation with an internal medicine specialist is obtained to help rule out medical reasons leading to a fall and to obtain medical clearance for treatment and timing for surgical intervention. The reason for surgical treatment of hip fractures is to allow early patient mobilization and, hopefully, avoid associated medical complications from inactivity.
Supplementation with high dose oral vitamin D (≥800 IU daily) may help prevent hip fractures and other nonvertebral fractures in persons ≥65 years of age. [12]
Consultation with a pediatric specialist is recommended for assistance in pediatric hip fractures. Complications of pediatric hip fractures include AVN, premature physeal closure, femoral shortening, coxa vara, short femoral neck, trochanteric arrest, and nonunion.
Recovery Phase
Rehabilitation Program
Physical Therapy
Compression side stress fractures are usually treated with conservative care, using MRI to identify the minority of patients who warrant internal fixation. If no fatigue line on MRI greater than 50% of the width of the neck is present, rest and crutch-assisted touch-down weight-bearing gait are initiated. Recommend interruption of all aggravating activities until the patient is free from pain. This is followed by gradual introduction of weight-bearing activities to the limit of pain, progressively increasing activity until the patient returns to his or her previous level of function. Weekly x-ray films are taken to monitor changes in fracture status, and any sign of fracture displacement requires surgical intervention.
Medical Issues/Complications
If a significant compression stress fracture is initially apparent on the x-ray film, a more aggressive treatment plan must be initiated because of the tendency for fracture displacement and its associated complications. Closed reduction and internal fixation is recommended. Postoperatively, these patients are allowed to return to athletic activity once fracture healing and remodeling are complete, which may require up to 12 months. The internal fixation devices may be removed 12-18 months after surgery. An additional period of 6 weeks of protected activity is recommended to allow restoration of bone strength, before engaging in excessive athletic conditioning and activity.
Those patients who have sustained a tension-type stress fracture of the femoral neck require surgical stabilization because of the high prevalence of displacement. Following fixation, a standard progressive rehabilitation protocol is recommended. Protected touch-down weight-bearing ambulation with crutches is initiated postoperatively for 6 weeks, under the supervision of a physical therapist. Hardware may be removed 12-18 months following surgery.
Maintenance Phase
Rehabilitation Program
Physical Therapy
Physical therapy in the maintenance phase focuses on more dynamic and functional training to ensure that the patient is able to safely return to his or her previous lifestyle. For athletes, sport-specific training must be incorporated, and the physical therapist must evaluate the overall condition of the hip and lower extremity in order to provide recommendations to the physician and patient. In elderly individuals, physical therapy continues until the patient has reached his or her maximum potential with range of motion and strength and until he or she is able to independently complete all required activities of daily living.
What would you like to print?