Workup
Imaging Studies
Rhinography is a procedure that involves the administration of radiopaque dye into the nasal cavity as illustrated in the image below.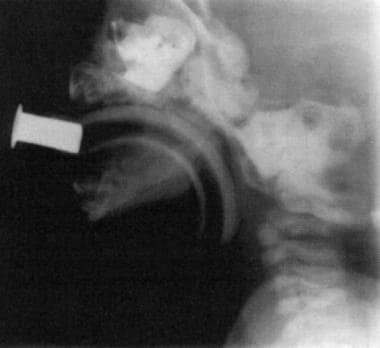 Choanal atresia. Rhinogram demonstrating blockage of radiopaque dye at the posterior choanae. From T.L. Tewfik and V.M. Der Kaloustian, with permission.
CT scanning is the radiographic procedure of choice in the evaluation of choanal atresia. For good results, careful suctioning is performed to clear excess mucus, and a topical decongestant is applied. The purpose of CT scanning is outlined as follows:
Confirm the diagnosis of choanal atresia (unilateral or bilateral).

Evaluate choanal atresia (vomer bone width and choanal airspace distance).

Exclude other possible nasal sites of obstruction.

Determine the degree of bony, membranous, or mixed atresia.

Delineate abnormalities in the nasal cavity and nasopharynx.
CT scan image of choanal atresia is seen below.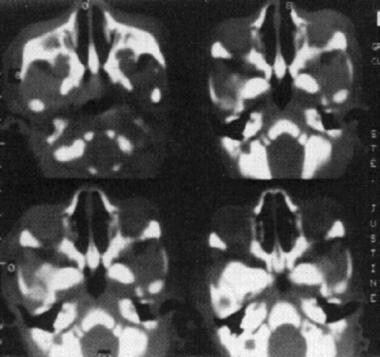 Choanal atresia. CT scan showing membranous and bony choanal atresia. From T.L. Tewfik and V.M. Der Kaloustian, with permission.
Diagnostic Procedures
See the list below:
Failure to pass an 8F catheter through the nasal cavity more than 5.5 cm from the alar rim

The lack of movement of a thin wisp of cotton under the nostrils while the mouth is closed

The absence of fog on a mirror when it is placed under the nostrils

Listening for breath sounds with either a stethoscope or a Toynbee auscultation tube

Gently blowing air into each nasal cavity with a Politzer bag

Administering into the nose a colored solution that is visible in the pharynx
What would you like to print?