Workup
Imaging Studies
Plain radiography views of the sinuses may demonstrate nasopharyngeal polyp. Bowing of the posterior wall of the maxillary sinus and maxillary sinus opacification is very suggestive of juvenile nasopharyngeal angiofibroma (JNA). Newer radiographic modalities have surpassed plain films in usefulness.
CT scan images below demonstrate the extent of the tumor. Extension to the sphenoid sinus, erosion of the greater sphenoidal wing, or invasion of the pterygomaxillary and infratemporal fossae is usually visualized, as in the images below.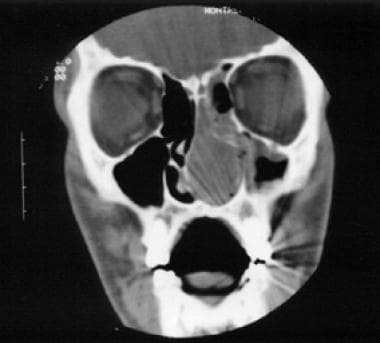 Coronal CT scan of the lesion filling the left nasal cavity and ethmoid sinuses, blocking the maxillary sinus and deviating the nasal septum to the right side.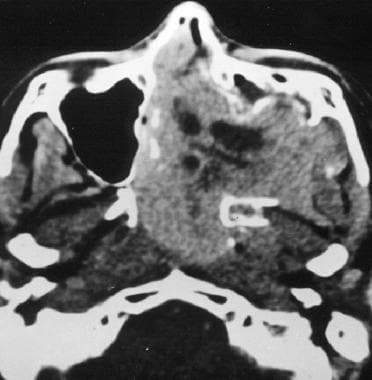 Axial CT scan of lesion involving the right nasal cavity and paranasal sinuses. Courtesy of J Otolaryngol 1999;28:145.
Magnetic resonance imaging (MRI) is indicated to delineate and define the extent of the tumor, especially in cases of intracranial involvement. Coronal MRI scan showing extension of the lesion to the cavernous sinus is seen in the image below.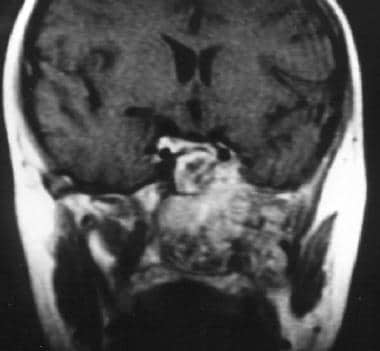 Coronal MRI scan showing extension of the lesion to the cavernous sinus. Courtesy of J Otolaryngol 1999;28:145.
Angiography shows the branches of the external carotid system to be the primary feeders (94%). The main supply comes from the internal maxillary artery, but ascending pharyngeal or vidian arteries may contribute to the blood supply. Unnamed branches from the internal carotid artery contribute to vascularity in rare instances. Bilateral vascular supply may be an underappreciated factor in JNA, and thorough radiographic investigation via angiography of bilateral carotid systems should be routinely performed preoperatively. [3] An angiofibroma before and after embolization can be seen in the images below.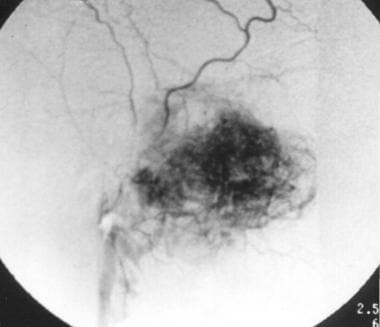 Angiogram depicting angiofibroma before embolization. Courtesy of J Otolaryngol 1999;28:145.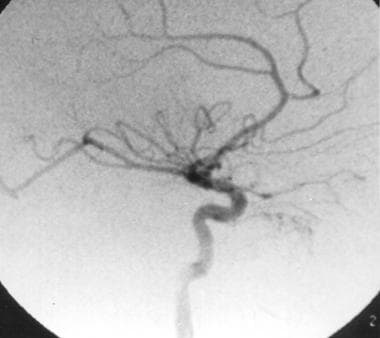 Angiogram depicting angiofibroma after embolization. Courtesy of J Otolaryngol 1999;28:145.
Histologic Findings
On gross examination, the tumor is usually sessile, lobulated, rubbery, and red-pink to tan-gray in appearance. In rare cases, the tumor is polypoid or pedunculated.
Nasopharyngeal angiofibroma is usually encapsulated and composed of vascular tissue and fibrous stroma with coarse or fine collagen fibers. Vessels are thin-walled, lack elastic fibers, have absent or incomplete smooth muscle, and vary in appearance from stellate or staghorn to barely conspicuous because of stromal compression. Stromal cells have plump nuclei and tend to radiate around the vessels. An abundance of mast cells in the stroma and a lack of other inflammatory cells exist. Localized areas of myxomatous degeneration may be observed in the stroma.
When examined under electron microscope, stromal cells are mostly fibroblasts and show intensive immunostaining for vimentin. However, myofibroblasts may occur focally in connection with fibrotic areas and are characterized by the coexpression of vimentin and smooth muscle actin.
Staging
Different staging systems exist for nasopharyngeal angiofibroma. The 2 most commonly used are those of Sessions and Fisch.
Classification according to Sessions

Stage IA - Tumor limited to posterior nares and/or nasopharyngeal vault

Stage IB - Tumor involving posterior nares and/or nasopharyngeal vault with involvement of at least 1 paranasal sinus

Stage IIA - Minimal lateral extension into pterygomaxillary fossa

Stage IIB - Full occupation of pterygomaxillary fossa with or without superior erosion of orbital bones

Stage IIIA - Erosion of skull base (ie, middle cranial fossa/pterygoid base); minimal intracranial extension

Stage IIIB - Extensive intracranial extension with or without extension into cavernous sinus

Classification according to Fisch

Stage I - Tumors limited to nasal cavity, nasopharynx with no bony destruction

Stage II - Tumors invading pterygomaxillary fossa, paranasal sinuses with bony destruction

Stage III - Tumors invading infratemporal fossa, orbit and/or parasellar region remaining lateral to cavernous sinus

Stage IV - Tumors invading cavernous sinus, optic chiasmal region, and/or pituitary fossa
What would you like to print?