Workup
Imaging Studies
CT scanning of paranasal sinuses
Axial and coronal views provide good information on the patency of the nasal valve, especially the area under the nasal dorsum (nasal valve area), which is sometimes difficult to visualize. This study is comparatively affordable and can also provide insight into other nasal structures. However, it should not be considered a substitute for a comprehensive physical examination, particularly in the most anterior part of the nose. In the first image below, a normal valvular area can be observed in the axial view. The coronal view (second image) shows a contact area between the right nasal wall and the septum. Both images are from the same patient.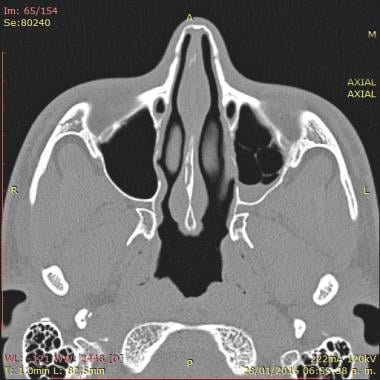 Normal valvular area in an axial view.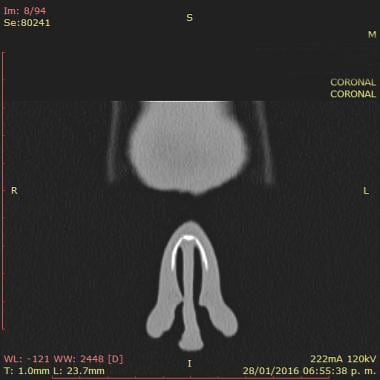 Coronal view shows a contact area between the right nasal wall and the septum.
Other Tests
Rhinomanometry
This helps evaluate the airflow resistance offered by each cavity. It is a useful test, but it does not provide information about the location of the obstruction.
Acoustic rhinometry
This method is relatively new. It was introduced in the late 1980s. Results provide information about the cross-sectional area of the nose. It can provide information about the position of the obstruction. Results from the anterior portion of the nose are more accurate than results from the posterior, making this test particularly suitable for evaluating the valve. Acoustic rhinometry is important to evaluate the symmetry of the areas because the cross-sectional area varies depending on the size of the nose.
Diagnostic Procedures
The nasal valve is better explored without instruments because tools can open the valve and produce the false impression that the area is normal. A headlight and an endoscope are the only necessary instruments to examine the nasal valve. In many male patients (and some females), the vibrissae are thick, making direct visualization of the area difficult. If this occurs, one option is to trim them until the valve can be visualized.
The Cottle test is a good method to examine the vestibular portion of the nasal valve. It consists of pulling the nasolabial fold upward and laterally and asking the patient if breathing is better (see the image below). An affirmative answer implies that a collapse of the valve is present on that side. A negative answer means the cause of the obstruction is elsewhere in the nose. A false-positive result can occur in patients with collapse of the nasal ala. False-negative results are observed in patients with scars or webs in the valve that prevent it from opening. False-negative results also occur in those with narrowing of the pyriform aperture secondary to congenital malformation or after an excessive narrowing of the nasal base with an osteotomy.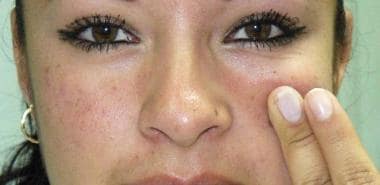 The Cottle test is useful to evaluate nasal valve stenosis. The cheek of the evaluated side is gently pulled laterally with 1 or 2 fingers, which opens the valve.
What would you like to print?