Workup
Other Tests
The in-office use of external nasal dilators can help identify external or internal valve obstruction. Gruber et al used external nasal strips independently placed over the middle vault (upper lateral cartilage) and over the lower third of the nose (lower lateral cartilage). [3] Patients were prompted to report improvement, worsening, or no change in airway symptoms with each position. Although many asymptomatic patients improve with nasal strips, the site of improvement or the lack of improvement at the upper or lower position may assist in surgical planning. This method is a more valve specific test than the traditional Cottle test (placing finger on cheek and drawing laterally to open nasal passage [4] ).
Rhinomanometry (as in the image below) can help to define actual airflow both preoperatively and postoperatively. Rhinometry at both the internal and external valve during apnea and active inspiration can be a useful tool in the identification of valve obstruction. Although rhinomanometry may be useful in research, it is not practical in the clinical setting.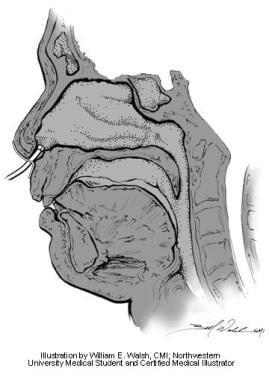 Anterior rhinomanometry.
What would you like to print?