Workup
Imaging Studies
A CT scan usually is obtained for concurrent reasons, such as assessing sinus disease or evaluating head and/or facial trauma. While septal deviations are readily apparent on CT scans (see the image below), obtaining a CT scan is not necessary in a patient in whom no other pathology is suspected (eg, concomitant sinus disease).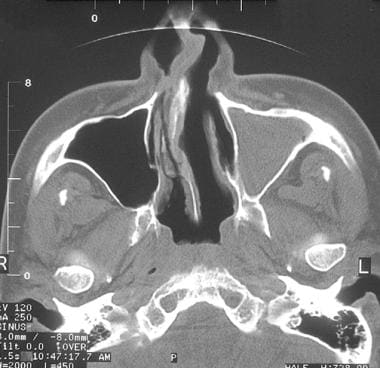 Axial CT scan demonstrating severe septal deviation. Note left-sided deflection of caudal septum and right-sided nasal airway obstruction due to bony and cartilaginous posterior deviation.
In addition, a study by Sedaghat et al indicated that CT-scan results do not correlate well with physical exam/anterior rhinoscopic/endoscopic findings in septal deviation. Although the study, which involved 39 patients, determined that such correlation was significant with regard to the bony septum, it was not significant with regard to the cartilaginous septum, maxillary crest, and nasal valve. [4]
Plain films are not indicated in most instances; they offer minimal benefit because the cartilaginous portion of a deviated septum is not easily visible on plain films. A direct or an endoscopic examination is generally the preferred approach.
Other Tests
Many proposed methods of nasal airway analysis exist, including rhinomanometry, acoustic rhinometry, and nasal peak flow. However, the measurements derived from these methods are not always reproducible and do not consistently correlate with a patient's subjective complaint of nasal obstruction. In general, these types of studies are useful for research in nasal obstruction but provide little clinical value in the decision-making process regarding surgery or medical management.
What would you like to print?