Overview
Background
Skin defects created by trauma or excision of benign or malignant lesions may be repaired by numerous methods. Techniques include healing by secondary intention, full or partial-thickness skin grafts, or local skin flaps (ie, rotation, advancement flaps).
More substantial defects, or those that also involve soft tissue, bone, and nerve, are usually repaired with axial pattern flaps, regional flaps, or revascularized free flaps.
Many variables determine the type of repair chosen. Variables include defect size, functional deficit, anatomic location, donor site morbidity, likelihood of infection (particularly in human and animal bites), need for tumor surveillance, overall patient health, and surgeon experience and preference.
Advancement flaps are used when the patient is in overall good health and the defect is free of tumor and obvious infection. Flaps should match thickness, color, and texture of excised skin. Resultant scars should fall in relaxed skin-tension lines.
An image depicting advancement flaps can be seen below.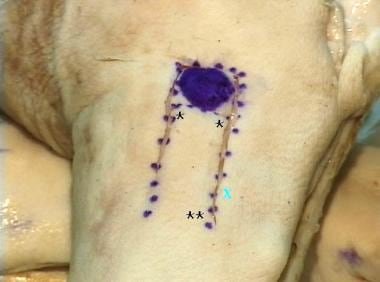 The photograph shows advancement flap incisions, with lesion to be excised. (The asterisk represents the distal end of the advancement flap; the double asterisk represents the proximal end of the advancement flap.)
History of the Procedure
Celsus, of ancient Rome, is the first person credited with using advancement flaps to close skin defects. In the early 1800s, French surgeons described and advocated advancement flaps under the term "lambeau par glissement" (sliding flaps).
Today, advancement flaps are widely used to close skin defects of the face, scalp, and neck.
Indications
Advancement flaps are indicated when the skin defect lies next to an area of skin laxity, and prospects for a favorable resultant scar appear strong.
Favorable scars respect anatomical subunits of the face and lie in relaxed skin-tension lines. Advancement flaps are typically used in forehead, scalp, eyelid, and upper lip areas.
Relevant Anatomy
Any viable flap must have an adequate blood supply. Blood flow of 1-2 mL/min/100 g of tissue is adequate. Circulation to the skin starts with large, named, segmental vessels branching from the aorta. Segmental vessels branch to give rise to perforating arteries that run through overlying muscles. Perforating arteries arrive at the skin either by direct cutaneous arteries (the basis for axial pattern flaps) or by anastomosis with the subdermal or dermal plexus.
Advancement flaps are based on a random pattern blood supply, which comes from the anastomoses within the subdermal or dermal plexus. The perfusion pressure of feeding vessels and intravascular resistance determines the viable length of an advancement flap. These flaps in the head and neck region may achieve a length-to-width ratio of 4:1. The sympathetic nervous system, with control over arteriovenous (A-V) shunts in the subdermal plexus, regulates arterial resistance. Local skin flap failure may be due to preferential blood flow through A-V shunts.
Contraindications
Advancement flaps are contraindicated by poor patient health (eg, uncontrolled diabetes, extensive smoking history, bleeding disorder), concurrent wound infection, or the need for postoperative tumor surveillance. Other forms of reconstruction may be more favorable because of better cosmesis.
What would you like to print?