Overview
Background
Rotation flaps are local flaps that use adjacent tissue rotated in an arc to close a defect. They are nearly always random flaps composed of skin and subcutaneous tissue devoid of segmental vessels. They ultimately rely on perforators that course superficially to supply the dermal and subdermal plexuses. The network of blood vessels in the dermal plexus seems to be dominant over the subdermal system; its integrity is vital to flap survival. [1]
The image below depicts a rotation flap.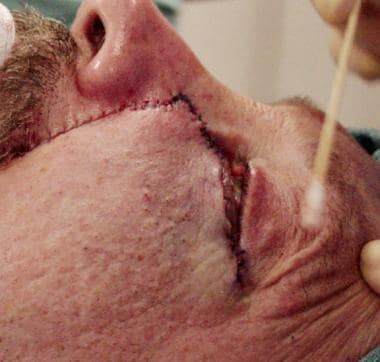 Cheek rotation flap mobilized in a clockwise direction to close a defect creates redundant skin below the eyelashes, which was resected to avoid a standing cone deformity.
Indications
Options for repairing facial defects include healing by secondary intention, skin grafting, or tissue transfer, which can be local, regional, or free. Allowing a facial wound to granulate may work well in small concave areas, but large defects may take several weeks to heal, and the resultant scar, especially in convex areas, is thin and atrophied in comparison to surrounding skin.
Skin grafts are usually a suboptimal choice in facial reconstruction for many reasons, including poor aesthetic results, donor site disfigurement, minimal protection of underlying structures, and significant wound contraction with healing. Local flaps take advantage of the plentiful blood supply and mobility of face and neck skin. These features permit aggressive use of random flaps when a more extensive or invasive reconstruction would be required in other areas of the body. Rotation flaps can be designed to place incisions in relaxed skin tension lines and take advantage of adjacent areas of skin laxity or redundancy.
Relevant Anatomy
Contraindications
Rotation flaps are most commonly used for partial-thickness defects of the midface area. They work well for small-to-midsize defects of the nose, eyelids, and canthal regions. They can also be used to reconstruct more extensive defects of the malar region. The curvilinear design integrates well into these regions; however, it does not lend itself well to the midforehead or glabellar regions. Transposition flaps with straight lines, which can be oriented parallel to skin creases, are more appropriate in these areas. Random flaps are likewise ill suited for reconstruction of more extensive defects, such as full-thickness nasal deformities. Axial or multiple flaps or composite grafts may be better suited for these situations.
Heavy smokers or patients with insulin-dependent diabetes mellitus present an increased risk of complications with any flap. If the defect is created after excision of a carcinoma, confirm that margins are free of disease before any local flap covers the area.
What would you like to print?