Follow-up
Return to Play
Contusions, in particular quadriceps contusions, [23] should be observed closely after injury until the hemorrhage has stopped, which usually occurs 24-48 hours after the injury. It is important to consider compartment syndrome or muscle rupture if the pain or girth of the affected area has not stabilized by 48 hours postinjury. See the images below.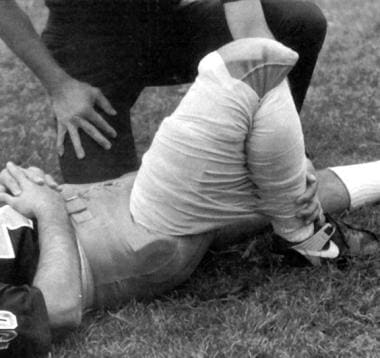 Athlete with a quadriceps strain. Place knee passively in 120º of flexion and immobilize with a double elastic wrap in a figure-8 fashion. This should occur within minutes of the injury. Used with permission courtesy of John Aronen, MD.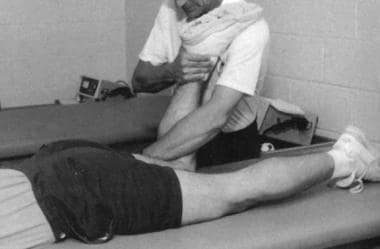 Modified treatment of quadriceps contusion. Used with permission courtesy of John Aronen, MD.
No objective data indicate when an athlete may safely return to competition. Each case must be evaluated on an individual basis, and the clinician' s best judgment must act as a guide. In general, if athletes have 90% of strength on the affected side and are able to perform the required activity without any pain or obvious deficits, they are ready to return to the field.
Complications
Myositis ossificans occurs in 9% of all contusions, 4% of mild contusions, 13% of moderate contusions, and 18% of severe contusions. Development of myositis ossificans is a multifactorial problem. Reinjury is a significant factor in prolonging disability.
Rhabdomyolysis must be considered if the contusions are extensive or multiple.
The most serious complication is compartment syndrome. Pain out of proportion to the injury or increasing pain over time are red flags that should alert and prompt the physician to measure the compartment pressures. See the images below.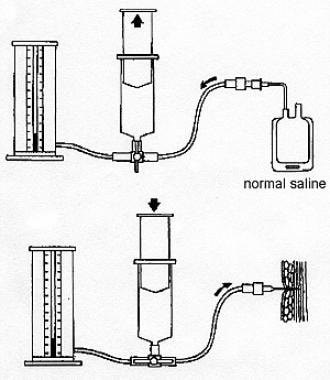 Picture of compartment pressure measuring device for use when commercial devices are unavailable.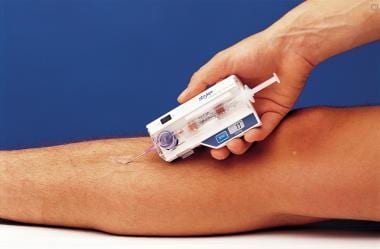 Stryker STIC Monitor. Image courtesy of Stryker Corporation, used with permission.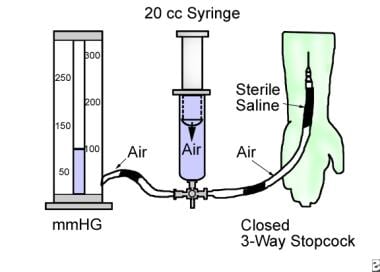 An illustration that depicts measurement of compartment pressures in the forearm.
Prevention
The use of protective equipment has helped reduce the incidence of contusions, and the athlete must be instructed on the proper use of protective equipment.
Some data indicate Indocin can help in decreasing heterotopic bone formation. To date, the data are inconclusive, but Indocin may be considered when selecting a medication with which to treat a patient. See the images below.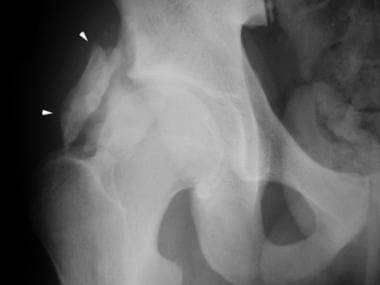 Anteroposterior radiograph of the right hip in a 16-year-old boy who had suffered trauma to the hip 2 years previously (same patient in Images 10-11). The patient is currently experiencing hip pain. Mature heterotopic ossification (arrowheads) projects over and lateral to the femoral head.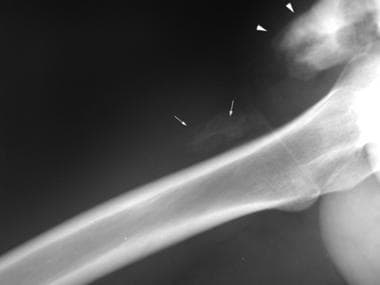 Corresponding lateral view of the right hip (same patient in Images 10-11). Distal to the mature heterotopic ossification (HO) seen on the anteroposterior view (arrowheads) is a subtle area of early mineralization (arrows) consistent with early HO.
Prognosis
For most muscle contusions, the prognosis is excellent. Jackson and Feagin's research on thigh contusions found the average disability time was 13 days for mild contusions, 19 days for moderate contusions, and 21 days for severe contusions. [4]
Risk factors for a more unfavorable prognosis include injuries that occur during football, previous contusion in the same muscle, delay in treatment for more than 3 days, and large muscle involvement. Reinjury is a significant factor in prolonging disability.
Education
Education about the proper use of protective equipment and aggressive early treatment of contusions is essential.
What would you like to print?