Overview
History of the Procedure
Midface reconstruction has undergone numerous advancements. Key among these advances has been the availability of biocompatible, versatile, rigid internal fixation hardware. Further, improvement in osteocutaneous free tissue transfer has allowed surgeons to bring moderate-to-large amounts of well-vascularized composite tissue into the midface for reconstruction. Lastly, the availability of experienced prosthodontists who are able to obturate postsurgical defects continues to provide a robust and scalable adjunct or alternative to nonsurgical closure of palatomaxillary defects.
An image depicting a midface and palatomaxillary defect can be seen below.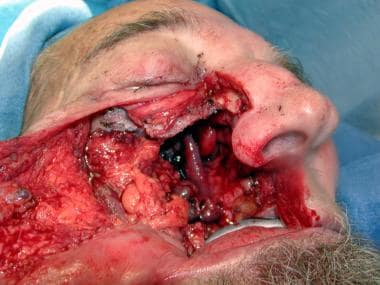 Maxillectomy defect demonstrating significant midface bone and palatal soft and hard tissue defect.
Problem
Midfacial reconstruction is typically required following extirpative cancer surgery of the palate and sinonasal tumors. Alternatively, panfacial trauma can result in significant amounts of bone and soft tissue loss requiring midface reconstruction. These situations often represent high-energy traumatic injuries resulting in additional trauma to other organ systems. Reconstruction of the midface, regardless of the etiology, is complicated by its central and conspicuous position and its complex contour. Further, the palate and alveolar ridges are crucial for proper mastication, control of deglutition, and velopharyngeal speech control.
Etiology
Palatomaxillary reconstruction related to oncologic surgery results most commonly after removal of a squamous cell carcinoma of the oral cavity or sinonasal mucosa. [1] However, removal of minor salivary tumors and adenocarcinoma, among others, can also result in defects requiring midface reconstruction. Again, palatomaxillary reconstruction can also be required following high-energy trauma and often is concurrent with reconstruction of other craniofacial injuries.
Pathophysiology
Indications
Midface reconstruction is required when extirpative defects result in functional impairment, significant bone and soft tissue loss that cannot be reconstituted primarily with local tissue, open communication between the oral and sinonasal cavity, or significant cosmetic deformity. In addition to the above indications, posttraumatic unstable injuries, especially comminuted fractures or those with bone loss, and injuries that are too large or positioned such that nonsurgical obturation is not adequate to reconstitute function can require reconstruction with composite tissue.
Relevant Anatomy
The midface is composed of the hard and soft palate, the alveolar ridge, and the maxilla and maxillary sinus, as well as the overlying skin and soft tissue envelope. In addition to the importance in cosmesis, the maxilla plays a crucial role in separation of the oral and sinonasal cavities, speech production, and mastication, acting as a stable platform for dentition. Structures that are critical in preoperative planning include the number of teeth and quality of residual dentition. Firstly, successful obturation requires existing dentition to anchor the prosthesis. Secondly, the presence of dentition and need for dental reconstruction are indications for osteocutaneous free tissue transfer, as the fibula free flap can accommodate osseointegrated implants.
Contraindications
In the patient with cancer, few contraindications to palatomaxillary reconstruction exist, except in those patients with unresectable disease or patients that cannot tolerate the initial extirpative surgery. Markers of unresectable disease include skull base/dura/brain parenchyma or prevertebral fascia involvement, orbital apex involvement, extension into the nasopharynx or clivus, and encasement of the carotid artery. Many patients with small-to-moderate defects who are willing and able to undergo frequent follow-up are good candidates for obturation.
However, obturation can be contraindicated in those patients with large defects, edentulous patients, or those patients with defects that preclude stable anchorage of the prosthesis. Lastly, patients must have an adequate donor site of soft tissue or composite osteocutaneous tissue to be candidates for free tissue transfer reconstruction.
Particularly in the patient with peripheral vascular disease, fibula osteocutaneous flap harvest might be contraindicated because of compromised peripheral vasculature. However, given the diverse donor site options, including fibula osteocutaneous, radial forearm osteocutaneous, fasciocutaneous, and scapula osteocutaneous free tissue transfer, one is usually able to find adequate donor tissue. Lastly, although rare, patients who do not have adequate recipient vessels due to prior trauma or surgery are not good candidates for free tissue transfer. However, given the ability to obtain vessels from the contralateral side, this too is an unusual scenario.
In the patient with multiple traumas, reconstruction is typically contraindicated in the unstable patient or in the patient with multiple severe injuries, such as intracranial trauma, requiring more immediate management.
What would you like to print?