Workup
Laboratory Studies
Often the first clues to functional asplenia in an asymptomatic patient are abnormalities in the peripheral blood smear.
The initial evaluation should begin with a review to identify Howell Jolly bodies (see the image below).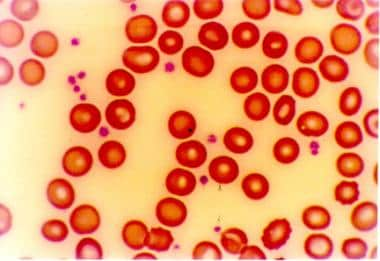 Peripheral blood smear shows Howell-Jolly (HJ) bodies in RBCs.
The nuclear remnants are small, round, densely stained inclusions in RBCs. They can be seen as a normal variant in the newborn period and are occasionally seen in leukemia, steatorrhea, and a variety of anemias (megaloblastic anemia, dyserythropoietic anemia, thalassemia).
The presence of Howell Jolly bodies in the peripheral smear of an individual older than 7 days should suggest splenic dysfunction.
Other red cell abnormalities include an increased presence of target cells, Heinz bodies, Pappenheimer bodies (small basophilic inclusions that contain non-heme iron), reticulocytes, and spherocytes.
In addition, thrombocytosis and leukocytosis are observed because the elimination of senescent cells by the spleen is lost.
Another helpful means of screening the splenic function is by determining the pit (autophagic vacuoles) count (ie, counting the number of pocked erythrocytes).
Normally, less than 2% of red cells have these pocks or pits. A pocked erythrocyte count of more than 3.5% suggests functional hyposplenia, and a count of more than 12% is indicative of asplenia.

This technique involves the use of special equipment (Nomarski optics) that is not always readily accessible.
An assessment of the argyrophilic granules in the peripheral smear may be a helpful and easy method to detect splenic dysfunction, but the procedure needs further evaluation.
Howell Jolly body quantitation by flow cytometry has also been described as a way to assay for splenic function but is not currently available, except in specialized laboratories.
Imaging Studies
Various imaging modalities may be useful for splenic assessment, including CT scanning, MRI, ultrasonography, and technetium-99m scintigraphy. Although the presence of an anatomical spleen does not ensure its adequate functioning, generally an imaging modality that is noninvasive, simple, and low cost (eg, ultrasonography) may be done initially to look for the spleen.
Various imaging modalities may be helpful in defining splenic anomalies.

Certain associated anomalies, especially cardiac and visceral changes, often lead to further evaluation of the spleen.

Abdominal ultrasonography can be performed to document the presence of the spleen and its size, and newer ultrasonography techniques with color Doppler ultrasonography have shown promise in assessing splenic function. A small spleen with absent parenchymal vascularization on color Doppler ultrasonography has been associated with functional asplenia, but this should be confirmed with further imaging before declaring a patient functionally asplenic.

The absence of the spleen is best confirmed with a technetium-99m radionuclide scan. This agent is taken up by the reticuloendothelial cells and enables better assessment of splenic function. Similarly, as a result of functional asplenia, patients with sickle cell disease who still have normal-sized and even enlarged spleens demonstrate absent or decreased splenic uptake of technetium-99m sulfur colloid.

Absence of the intrahepatic segment of the inferior vena cava should trigger careful evaluation of abdominal masses, which could represent splenules. These masses can be confused with multiple metastatic lesions in patients, especially adults, in whom asplenia or polysplenia is undiagnosed.

MRI or CT scanning of the abdomen may also reveal absence or hypoplasia of the spleen. These studies have no place in the routine workup of isolated asplenia or hyposplenia but may be useful if they are obtained for other accompanying indications, such as visceral heterotaxy. Newer MRI techniques have expanded the role of MRI in the detection and characterization of splenic diseases.

Computerized models are available to determine the splenic volume, but this approach is mainly used to judge the increased size (eg, tumors, infiltrations) of organs. With more experience, computerized models may provide important information about conditions that decrease the size and volume of the spleen.

If the spleen is not visualized with radiographic imaging and if no hematologic data support the diagnosis of asplenia, the extremely rare condition of wandering spleen may be considered. In this condition, a functional spleen is present; however, because of its long pedicle, it may be in an abnormal location, such as the pelvis.
Histologic Findings
A hypoplastic spleen may exhibit a hyperemic red pulp with underdevelopment of the white pulp and a paucity of lymphoid follicles.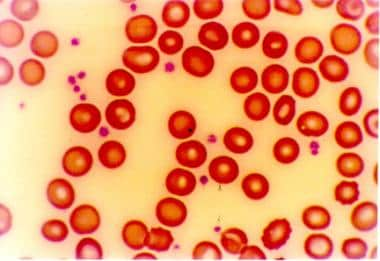 Peripheral blood smear shows Howell-Jolly (HJ) bodies in RBCs.
When hyposplenia is secondary to an underlying hemoglobinopathy such as sickle cell disease, specific histologic features may be observed because of infarction (see History).
What would you like to print?