Treatment
Medical Care
No therapy is indicated in hypereosinophilic syndrome with absence of organ damage. Presence of angioedema and urticaria suggest a benign course (see the image below). However, therapy to prevent the risk of thrombosis may be reasonable for all patients suffering from hypereosinophilic syndrome. [11]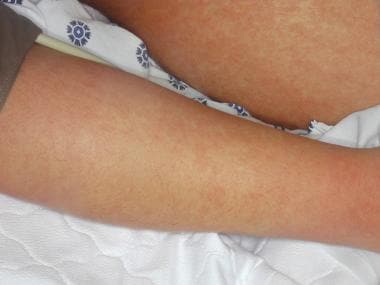 Urticarial and erythematous rash.
Corticosteroids have been used as first-line treatment. However, mucosal ulcers do not respond to corticosteroids. Other immunosuppresants and immunomodulating agents have been used as detailed in the medication section. These include hydroxyurea, vincristine, cyclophosphamide, busulfan, methotrexate, chlambucil, etoposide, cyclosproin, and alemtuzumab.
Rapid intervention for cardiac disease is essential.
Reducing the eosinophil load is the major goal of treatment. [12] Although seemingly important, therapeutic benefits of aggressive control of eosinophilia are hypothetical, because all reports about treatment approaches are essentially anecdotal for this rare disorder. In the absence of organ disease, any indication for treatment is unclear, except for preventive measures for thrombosis.
A small experimental study found that alemtuzumab (humanized anti-CD52 murine monoclonal antibody) was helpful in patients with advanced hypereosinophilic syndrome refractory to other standard therapies. Escalating doses of 5 mg, 10 mg, and 30 mg IV on days 1-3, and then at tolerated dose 3 times per week for 3 weeks, were suggested. If a full response is seen, weekly administration is indicated by authors. The authors also suggest clinical evaluation of alemtuzumab in a larger clinical trial is warranted. [13]
Surgical Care
Cardiac surgery is indicated for annuloplasty, valve replacement, thrombectomy, and aortic prostheses. Because patients with mechanical valve replacements are especially prone to thrombosis, bioprostheses are recommended. Splenectomy may ameliorate platelet sequestration and is indicated for splenic infarction and pain due to splenic distention.
Consultations
Obtaining subspecialty input from a rheumatologist and hematologist is essential.
What would you like to print?