Treatment
Medical Care
Prophylactic antimicrobials against S aureus and Candida species constitute the most important management of HIES. The first-line anti-staphylococcal antibiotics are dicloxacillin or trimethoprim-sulfamethoxazole. Fluconazole is the drug of choice against Candida species.
Eczematous dermatitis requires rigorous topical therapy with steroids and a moisturizing cream. Topical application of calcineurin inhibitors (tacrolimus and pimecrolimus) may also be used for controlling eczematous lesions, but their immunosuppressive actions on skin infection should be carefully monitored. A drug to control pruritus is often needed; this may be diphenhydramine or a longer-acting antihistamine such as loratadine, fexofenadine, desloratadine, or cetirizine. Dermatitis control becomes essential when casts are applied to manage fractures or scoliosis.
When pneumonia develops, it is usually due to S aureus infection. Generally, intravenous nafcillin or vancomycin for methicillin-resistant S aureus (MRSA) is first-line therapy. Haemophilus influenzae type b and non–typable strains also cause pneumonia; in these cases, cefuroxime intravenously is the drug of choice. Superinfection of pneumatoceles or lung abscesses with Aspergillus species requires intravenous amphotericin for several months; usually, surgical intervention is also necessary.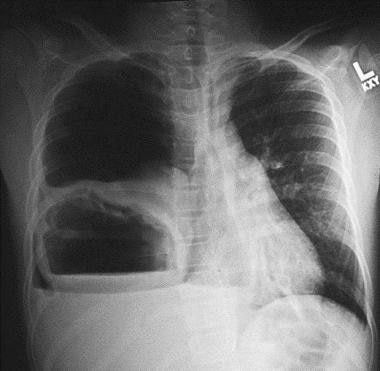 Chest radiograph of a patient with autosomal dominant (AD) hyperimmunoglobulin E syndrome (HIES) and a lung abscess following multiple staphylococcal pneumonias. Aspergillus fumigatus was isolated from the abscess.
When superinfection with P aeruginosa or other gram-negative bacteria is present, an aminoglycoside plus ceftazidime and surgical intervention are appropriate.
In the case of P jiroveci pneumonia, intravenous trimethoprim-sulfamethoxazole is required. The author has seen unusually severe and prolonged pneumonitis from respiratory syncytial virus in infants; inpatient respiratory support has been required.
Bone marrow transplantation (BMT) is curative for a significant number of primary immunodeficiency diseases; however, one patient with HIES was reported to have recurrence of HIES following successful hematopoietic stem cell transplantation. Given a role of DOCK8 in T- and B-cell development/function, DOCK8 deficiency may require BMT at an earlier age, depending on penetrance. Likewise, patients with PGM3 mutations with clinical features of combined immunodeficiency likely require BMT if not contraindicated.
Guidelines for the diagnosis and management of primary immunodeficiencies have been established. [36]
Surgical Care
Thoracic surgical intervention to drain abscesses and empyemas, treat bronchial artery bleeding, and resect bronchopulmonary fistulas is frequently required. Lobectomy has been performed, although it can be technically difficult.
Orthopedic procedures are needed to correct scoliosis or treat fractures.
Surgical drainage of deep-seated abscesses in the skin and muscle may require postsurgical packing during a prolonged healing phase.
Consultations
Dermatologic advice may be sought, but eczematous dermatitis often seems intractable.
Pulmonologists may help optimize the management of chronic lung disease.
Infectious disease specialists may be helpful when difficult-to-treat organisms, such as MRSA, are suspected or isolated or when difficult-to-treat sites of infection are present. In general, prophylactic antibiotics covering S aureus and anticandidal drugs are helpful for patients with HIES.
Orthopedic surgeons must consider the possibility of osteopenia contributing to delayed healing of fractures. They must also contend with the high risk of fracture-site infection, particularly with S aureus, related to pinning or to the overlying poorly controlled dermatitis. In addition, they need to manage significant scoliosis.
In patients with AD-HIES with variable penetrance, input by a geneticist is necessary to help identify additional affected family members. More subtly affected individuals may be best diagnosed by a geneticist who is skilled in identifying the dysmorphic features of AD HIES. Likewise, genetic counseling may also be indicated for patients with AR HIES who have DOCK8 deficiency with high risk of malignacies and neurological manifestations.
Diet
A regular-for-age nutritious diet is needed. No therapeutic advantage has been observed with calcium or vitamin D supplementation for osteoporosis. Even if the patient reveals positive reactivity in prick skin testing or in food allergen–specific IgE, avoidance of food allergens seldom attenuates eczema skin lesions.
Activity
Encourage patients with hyperimmunoglobulinemia E syndrome to exercise actively, attend school, and maintain employment. Discourage them from smoking, being exposed to smoke, and using illegal drugs because these actions further impair pulmonary function.
Patients generally benefit from outdoor activities.
Good skin care is essential.
Given the reasonably good survival rate into adulthood, healthy activities can help patients not to be emotionally crippled from this immunodeficiency disease.
What would you like to print?