Presentation
History
The onset of serum sickness symptoms usually occurs 1-2 weeks after administration of the offending agent and correlates with the peak of circulating immune complexes. Fever, malaise, and headache are the earliest symptoms. Rash, joint pain, edema, gastrointestinal (GI) symptoms, arthralgia, and other symptoms follow.
Physical Examination
A rash is often the first clinical symptom and is frequently pruritic. If the causal agent was injected, the rash typically starts at the site of injection. Otherwise, the rash starts on the abdomen and spreads outward. Mucous membranes are not involved. Eruption over the rest of the body is usually symmetric and may take any of the following forms:
Urticaria (see image below)

Erythema, petechiae, or purpura with a serpiginous border at the margin of palmar plantar skin with the use of ATG [14]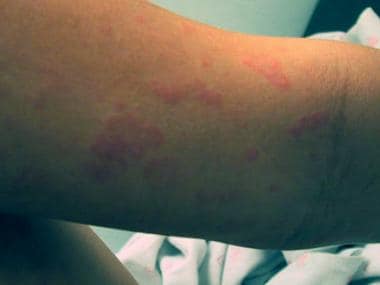 Urticarial rash in a child 10 days after cefaclor was administered for sore throat. Associated findings included fever, arthralgia of knees and ankles, and eosinophilia.
Approximately two thirds of patients experience joint discomfort. [47] In order of decreasing frequency, the affected joints include the knees, ankles, shoulders, wrists, spine, and temporomandibular joint. Joint fluid usually yields a moderately high number of white cells. Myalgias in the arms and thighs may also occur.
Lymphadenopathy coincides with the onset of other symptoms of serum sickness. Lymph nodes that receive drainage from the injection site may enlarge and become tender. Other lymph nodes may also enlarge, sometimes to several centimeters in diameter.
Proteinuria, microscopic hematuria, and hyaline casts may be observed. Serum creatinine levels may transiently rise, and the creatinine clearance may decrease. Edema may be due to proteinuria or rash.
Nausea, vomiting, and abdominal pain are usually mild but may be confused with appendicitis and other GI disorders in children. Other, rare symptoms include:
Headache and blurred vision

Cardiovascular problems - Pericardial effusion

Respiratory problems - Dyspnea, wheezing, cyanosis
Complications
Since this condition is associated with immune complex-based bascular inflammation, in severe cases, involvement of other organs such as the kidney, brain, lung, GI tract, etc. can occur. For example, severe cases of serum sickness with sulfonamide can manifest as Stevens-Johnson syndrome.
What would you like to print?