Overview
Background
Ebstein anomaly of the tricuspid valve is a congenital heart lesion that involves abnormal attachments of the tricuspid valve leaflets to the annulus of the tricuspid valve. See the images below.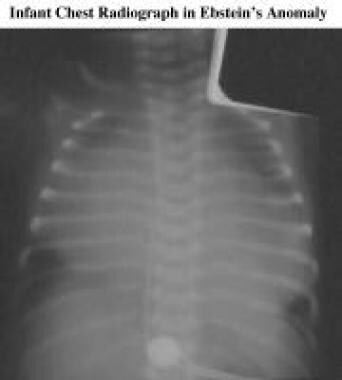 Frontal chest radiograph in an infant with severe Ebstein anomaly shows a large heart that leaves little space for the lung. Although the appearance is relatively nonspecific, the large heart should suggest Ebstein anomaly in the differential diagnosis.
An atrial septal defect (ASD) or patent foramen ovale (PFO) is present in 90% of the patients; pulmonary stenosis or atresia is present in 20-25% of the patients. The lesion was first described in 1866 by Wilhelm Ebstein and first referred to as Ebstein disease in 1927.
Pathophysiology
Hemodynamic consequences of this lesion are directly related to the severity of the leaflet displacement and the resultant tricuspid valve regurgitation. In the case of mild displacement and mild valvar regurgitation, the patient may be asymptomatic for many years. If, however, the leaflet displacement and valvar regurgitation are severe, pulmonary blood flow is decreased, the right atrium becomes dilated, blood is shunted right to left across an ASD or PFO, and the patient may become cyanotic. Congestive heart failure may also develop secondary to a small functional right ventricle and decreased right ventricular compliance. Additional problems in these patients include an association with paroxysmal supraventricular tachycardia (SVT), which occurs in 25-50% of patients, and 5-10% of these patients have Wolff-Parkinson-White (WPW) syndrome.
What would you like to print?