Workup
Laboratory Studies
Blood tests are required for molecular genetics in patients with Holt-Oram syndrome (HOS) and for management, because the cardiac anomaly present may be a major one that causes and cause symptoms or requires intervention.
Imaging Studies
Imaging studies of upper limbs
Note the following:
The scapula may be raised and small, with abnormalities at the acromial region, a prominent coracoclavicular joint, and a small glenoid fossa.

The humerus may be hypoplastic or absent in patients with phocomelia. In other patients, the medial epicondyles are large and the humeral head may be deformed with epiphyseal irregularities. Radioulnar and humeroulnar synostosis, radial hypoplasia or absence, and ulnar absence are all reported.

Scaphoid anomalies are particularly common and include hypoplasia and bipartite ossification. In the normal fetus, a scaphoid bone called the os central (representing a third row of carpal centres) usually fuses with the scaphoid, but this may not occur in patients with Holt-Oram syndrome (HOS).

Additional carpal bones may be present. Other carpal anomalies include absence, hypoplasia, enlargement, irregularity, and fusion.

The first through fifth metacarpals may have both proximal and distal epiphyses. Structural changes such as hypoplasia may be present.
Chest radiography
Chest radiography findings are either normal or reflect the type of cardiac abnormality.
Doppler-echocardiography evaluation
Doppler echocardiography (ECHO) is used to reveal the primary heart defect, its severity, and associated cardiac malformations. It also allows estimation of certain hemodynamic values, such as blood flows and chamber size and pressure. Doppler ECHO studies are extremely useful in identifying the cardiac defects (eg, atrial, septal defect, ventricular septal defect) and quantitating the severity of the defects.
Doppler ECHO is an integral part of echo-Doppler study and is indicated in patients at any age with a skeletal abnormality suggestive of HOS, as depicted below.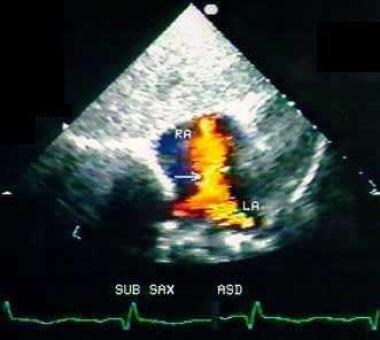 Color Doppler echocardiographic picture taken from subxiphoid window showing the large left-to-right flow of blood (arrow) across the atrial septal defect. The red color pattern depicts flow direction from left atrium (LA) to right atrium (RA). ASD = Atrial septal defect; RA = Right atrium; RV = Right ventricle; LA = Left atrium; LV = Left ventricle.
Magnetic resonance imaging
Magnetic resonance imaging (MRI) is helpful for delineating cardiac and skeletal involvement, but it may not be necessary in all cases. MRI may also be used to confirm muscular hypoplasia and to help distinguish the muscle involvement from those of any coexisting progressive neuromuscular disorders.
Other Tests
Electrocardiography
Electrocardiography (ECG) reveals the features of the underlying heart defect. The most common defect, secundum atrial septal defect (ASD), usually demonstrates right atrial enlargement and right ventricular enlargement.
Cardiac rhythm disturbances include both tachyarrhythmia and bradyarrhythmia. Prominent among these are heart blocks (first-, second-, or third-degree), wandering atrial pacemaker, and sinus bradycardia.
Twenty-four–hour Holter ECG
Twenty-four hour Holter ECG reveals paroxysmal tachycardia, especially atrial tachycardia. Occasional sinus pauses or sinus arrest is found.
This test is especially important in patients with a history of syncope.
Karyotyping and molecular studies
Detailed cytogenetic analysis may help to map the breakpoints within the critical area of 12q.
This study requires a combination of chromosome painting and fluorescent in situ hybridization (FISH) with yeast artificial chromosomes (YAC) and cosmids.
Prenatal diagnosis
Note the following:
Amniocentesis and chorionic villus biopsy may be indicated based on the family history.

Fetal ultrasonography may reveal a skeletal abnormality suggestive of HOS.

Prenatal diagnosis is feasible in families with HOS linked to band 12q2.

DNA-based diagnosis must be coupled with noninvasive fetal imaging techniques to define phenotypic manifestations.
Procedures
Cardiac catheterization and angiography
Cardiac catheterization and angiography are performed in selected patients in whom echocardiographic findings are either inconclusive or more accurate hemodynamic assessment is considered necessary. Findings reflect the specific cardiac abnormality. Cardiac catheterization is an integral part of transcatheter occlusion of atrial septal defects if there are adequate septal rims.
Complications during the procedure may include blood vessel rupture, tachyarrhythmias, bradyarrhythmias, and vascular occlusion, but these are uncommon. Postcatheterization problems are rare but include hemorrhage, vascular disruption after balloon dilation, pain, nausea and vomiting, and arterial or venous obstruction due to thrombosis or spasm.
What would you like to print?