Treatment
Approach Considerations
To the extent possible, treatment of hypertension (see the image below) should address the cause and correct it. It is essential to recognize remediable causes of hypertension, especially coarctation of the aorta in a symptomatic infant. Reserve the therapeutic modalities described below for those children who have irremediable causes of hypertension or essential hypertension. [20]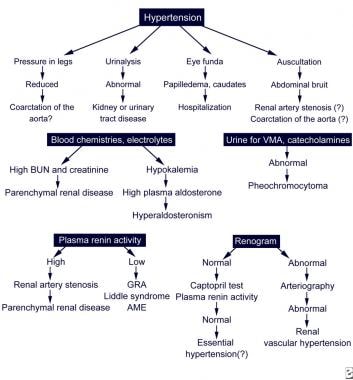 Management algorithm. AMC = Apparent mineralocorticoid excess; GRA = Glucocorticoid remedial aldosteronism; VMA = Vanillylmandelic acid.
Nonpharmacologic measures are important in the treatment of all patients with hypertension, regardless of its etiology or severity. Pharmacologic treatment is indicated in some cases. Interventional cardiac catheterization procedures have been employed as well. Surgery may be required for children with severe renal vascular hypertension, renal segmental hypoplasia, coarctation of the aorta, Wilms tumor, or pheochromocytoma.
Nonpharmacologic Therapy
In children with mild or moderate hypertension, nonpharmacologic therapy may suffice to lower blood pressure (BP) to within normal limits. This approach avoids the need for drugs that have adverse effects and that require a degree of compliance difficult to achieve in children.
Weight reduction should be a goal in all overweight children with hypertension, regardless of etiology. Obesity and hypertension are closely correlated, particularly in adolescents. [15]
Aerobic and isotonic exercises have a direct beneficial effect on BP. They help in reducing excess weight or maintaining appropriate body weight. Encourage participation in sports. Only patients with severe uncontrolled hypertension or cardiac abnormalities that require exercise restriction are exempt from aerobic and isotonic exercises.
Potassium supplementation can decrease BP and reduce ventricular hypertrophy in adults. How potassium supplementation affects children with hypertension remains to be determined. However, avoiding potassium depletion (eg, from diuretic therapy) and prescribing a potassium-rich diet in patients without renal insufficiency appear reasonable.
A low-fat diet is recommended for all patients with a high BP; a low-salt diet is also recommended for all such patients, though it may yield only a 4% reduction of the elevated pressure (see Dietary Measures). Stress-reducing activities (eg, meditation, yoga, biofeedback) can reduce BP when performed on a regular basis. However, this effect is lost when the activity is discontinued.
When sleep-disordered breathing is discovered, weight loss, tonsillectomy and adenoidectomy, or use of continuous positive airway pressure may improve the patient's sleep and secondarily improve BP.
Pharmacologic Therapy
Many of the antihypertensive agents available for adult use may also be used to manage hypertensive children and adolescents, even though only limited data are available to support this practice. Angiotensin-converting enzyme (ACE) inhibitors, angiotensin II receptor blockers (ARBs), and calcium-channel blockers have the strongest data to support their use in pediatric patients. Nevertheless, there is a need for more trials in pediatric populations, especially comparative trials of different agents. [21, 22]
Indications for pharmacologic treatment include symptomatic hypertension, secondary hypertension, hypertensive target-organ damage, diabetes, and hypertension that persists despite nonpharmacologic measures.
The Fourth Report recommends starting with a class of antihypertensive medication appropriate for each specific patient. [3] Pediatric clinical trials have focused on the ability of each drug to lower blood pressure (BP), but the effects of these drugs on clinical endpoints have not been compared. Therefore, the choice of drug is the clinician's.
The Task Force recommends the use of ACE inhibitors or ARBs only for children with diabetes and microalbuminuria or proteinuric renal disease and recommends beta-blockers or calcium-channel blockers for children with hypertension and migraine headaches. A low dose of 1 drug should be started first. If this dose is unsuccessful, it should be titrated upward.
In children with uncomplicated primary hypertension, BP is considered controlled when it is below the 95th percentile. In children with chronic renal disease, diabetes, or hypertensive target-organ damage, the goal should be a BP below the 90th percentile. If BP is not controlled, a drug from another class should be added. If control is not achieved with 2 drugs, reconsider the possibility of secondary hypertension before adding a third drug.
In general, treatment of chronic hypertension requires expertise that is seldom available in the general pediatrician. Therefore, it is advisable to refer patients to physicians who specialize in treatment of children with high BP. The American Society of Hypertension, Inc. (ASH) identifies physicians with expert skills and knowledge in the management of clinical hypertension and related disorders. It also grants such physicians the title Specialist in Clinical Hypertension. ASH provides a list of available specialists ordered by city, state, and country.
After BP is stabilized, the patient can return to the general pediatrician for follow-up care. The pediatrician should work in close collaboration with the specialist.
Management of Hypertensive Crisis
Hypertensive crises occur as a result of an acute illness (eg, postinfectious glomerulonephritis or acute renal failure), excessive ingestion of drugs or psychogenic substances, or exacerbated moderate hypertension.
The clinical manifestations may be those of cerebral edema, seizures, heart failure, pulmonary edema, or renal failure. Accurate assessment of blood pressure (BP) in every patient presenting with a seizure is essential, particularly when no seizure disorder has been established in that patient.
Anticonvulsant drugs are usually ineffective in treatment of a seizure due to a hypertensive crisis. Seizures due to severe hypertension must be treated with a fast-acting antihypertensive drug.
The following drugs are currently used in the treatment of hypertensive emergencies:
Labetalol, 0.2-1 mg/kg/dose up to 40 mg/dose as an intravenous (IV) bolus or 0.25-3 mg/kg/h IV infusion

Nicardipine, 1-3 µg/kg/min IV infusion

Sodium nitroprusside, 0.53-10 µg/kg/min IV infusion to start
Sublingual nifedipine is no longer recommended for the treatment of acute hypertension, because of reports of death from hypotension in the adult population.
Additional drug recommendations for patients aged 1-17 years may be found in The Fourth Report on the Diagnosis, Evaluation, and Treatment of High Blood Pressure in Children and Adolescents. [3] For neonatal doses, see Neonatal Hypertension.
The goal of therapy is to lower BP to normal. Clinicians should be familiar with the therapeutic effects and adverse effects of these drugs. Patients must be supervised closely to avoid an excessively rapid decrease in BP, which may result in underperfusion of vital organs.
Transcatheter Therapy
Interventional cardiac catheterization procedures can be used to treat coarctation of the aorta. Balloon dilation of a previously untreated (native) coarctation remains controversial. Some pediatric cardiologists recommend this approach and may also place a stent across the coarctation site. The appropriateness of this approach remains to be determined in studies of long-term outcome. For detailed discussion of the role of transcatheter therapy (balloon angioplasty and stents), the reader is referred to the Medscape Drugs and Diseases topic Coarctation of the Aorta. [19] Most physicians seem to prefer surgical treatment for neonates and infants (<1 y). Children older than 1 year with discrete native coarctation may be adequately managed with balloon angioplasty. If the segment of aortic coarctation is long, surgical treatment in younger children and stents in adolescents and adults are appropriate treatment approaches.
A study by Sezer et al indicated that stent placement in pediatric patients with coarctation of the aorta can lower blood pressure but may not reduce it to normal levels. In the study, which involved 15 children with native or recurrent coarctation of the aorta who underwent stenting, as well as 30 healthy sex-and-age-matched control subjects, the investigators found that the patients' mean arterial pressure prior to stenting, 134.4 mm Hg, had been reduced to 115.5 mm Hg by the sixth month postprocedure but was still not as low as that in the control group (107.3 mm Hg). [23]
In a multi-institutional study of 350 patients in which surgery, balloon angioplasty, and stent implantation were used in the treatment of native aortic coarctation, investigators showed improvement in all three groups both immediately after the procedure and at follow-up. [24] However, the stent group (1) had less complications when compared with the surgical and balloon angioplasty groups, (2) had shorter hospitalization duration when compared with surgical patients, and (3) had lower coarctation gradients at follow-up when compared with balloon angioplasty patients. Despite those findings, the stent group also had higher reintervention rates when compared with the surgical and balloon groups, although these were noted as "planned" reinterventions. [24]
Balloon dilation, with or without stent placement, has gained widening acceptance for treatment of recurrent coarctation. Recurrence is most likely to arise when young infants must undergo surgical repair because of the severity of the lesion.
Interventional catheterization with balloon dilation can also successfully relieve many instances of discrete renal artery stenosis.
Consultations
A pediatric endocrinologist should be consulted when pheochromocytoma is suspected. If the diagnosis is confirmed, surgical removal of the tumor is indicated. A pediatric endocrinologist should also be consulted when metabolic syndrome is diagnosed.
A pediatric and/or an interventional pediatric cardiologist should be consulted in the management of aortic coarctation.
A nutritionist can review the DASH eating plan with the patient's family and make further suggestions for weight loss and sodium reduction.
Dietary Measures
A low-fat diet should be followed by all patients with elevated blood pressure (BP). Low levels of adipocytokine has been noted in patients with elevated percent fat content. [25, 26] An absence of this substance may cause an elevation of BP. [27, 28]
Salt restriction probably benefits only a subgroup of patients with hypertension, particularly African American patients, who may have a defect in the cellular handling of sodium. However, given the excessive amount of salt in the typical American diet, reduced salt intake should be recommended to all patients with hypertension. The Task Force recommends the Dietary Approaches to Stop Hypertension (DASH) eating plan (see Your Guide To Lowering Your Blood Pressure With DASH from the NHLBI).
Long-Term Monitoring
Closely monitor patients with hypertension, particularly during the initial phase of therapy. A chemistry panel should be checked after therapy with an angiotensin-converting enzyme (ACE) inhibitor or an angiotensin II receptor blocker (ARB) is started or increased.
The frequency of visits is dictated by various factors, including the following:
Extent of understanding of the disease and its treatment on the part of both the parents or caregivers and the patient

Adherence to nonpharmacologic and pharmacologic treatments

Ability to monitor BP properly at home

Likelihood of drug adverse effects

Need to monitor for complications of hypertension

Need to monitor for weight loss
After surgical or catheter treatment of coarctation of the aorta, patients must be monitored yearly with accurate measurement of systolic and diastolic pressures in the right arm. For these measurements, the patient should be properly positioned. Systolic pressures in both the right arm and leg should be obtained with the patient supine. Remember that systolic pressure in the lower leg should exceed that in the arm.
What would you like to print?