Workup
Laboratory Studies
Children with a clinical diagnosis of ventricular hypertrophy should undergo appropriate laboratory evaluation to rule out other etiologies of hypertrophic cardiomyopathy (HCM).
No specific laboratory testing is required in patients diagnosed with HCM; however, genetic testing should be considered and is available for 9 sarcomeric genes, including MYH7, MYBPC3, TNNT2, TNNI3, TNNC1, TPM1, ACTC, MYL2, and MYL3 and one regulator CAV3. Approximately 50-80% of patients have positive results. If the genotype of the proband is determined, mutation testing is available and should be used to identify additional family members with HCM. Genetic testing is also available for the storage disorders with ventricular hypertrophy. [17]
Electrocardiography
Common electrocardiographic (ECG) findings in individuals with hypertrophic cardiomyopathy (HCM) include ST-T wave abnormalities and left ventricular hypertrophy (see the image below). Other findings include axis deviation (right or left), conduction abnormalities (eg, PR prolongation or bundle branch block), sinus bradycardia with ectopic atrial rhythm, and atrial enlargement. [18] In a genetic syndrome due to mutations in AMP-activated PRKAG2, HCM has been associated with inherited Wolff-Parkinson-White syndrome and conduction defects.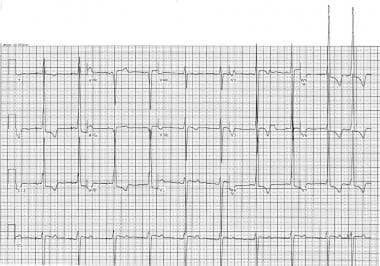 Pediatric Hypertrophic Cardiomyopathy. ECG of a 16-year-old with hypertrophic cardiomyopathy (HCM), demonstrating left ventricular hypertrophy pattern and "pseudo-preexcitation."
Uncommon findings include an abnormal and prominent Q wave in the anterior precordial and lateral limb leads, a short PR interval with QRS suggestive of preexcitation, atrial fibrillation (a poor prognostic sign), and P-wave abnormalities (including left atrial enlargement).
Holter monitoring
Findings on Holter monitoring commonly include atrial and ventricular ectopy, sinus pauses, wandering atrial pacemaker, intermittent or variable atrioventricular (AV) block, and nonsustained atrial or ventricular arrhythmias.
Echocardiography
Two-dimensional echocardiography is the main diagnostic tool for evaluating patients with suspected hypertrophic cardiomyopathy (HCM) (see the image below). The septum in individuals with HCM is relatively thicker than the posterior wall. The left ventricular diameter is at the lower limit of normal or smaller than normal. The left atrium may be enlarged as a result of left ventricular noncompliance.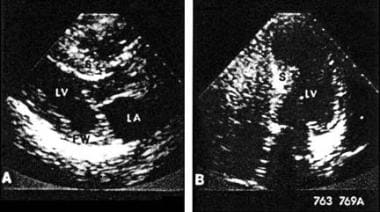 Pediatric Hypertrophic Cardiomyopathy. Hypertrophic cardiomyopathy. Image courtesy of Michael E. Zevitz, MD
Doppler echocardiography can be used to reveal an elevated flow velocity across the left ventricular outflow tract. Systolic anterior motion (SAM) of the anterior mitral valve is one of the hallmarks of obstructive HCM. The following explanations for SAM of the mitral valve have been offered:
The mitral valve is pushed against the septum because of its abnormal position in the outflow tract (ie, drag effect)

The mitral valve is drawn toward the septum because of the lower pressure that occurs as blood is ejected at high velocity through a narrowed outflow tract (ie, Venturi effect)
Systolic function in individuals with HCM is typically normal or even hyperdynamic. Diastolic dysfunction with decreased left ventricular compliance is common and is independent of the presence or absence of outflow tract obstruction.
Abnormalities in mitral inflow patterns or tissue Doppler tracings may reveal a mitral valve E/A ratio (ratio of early transmitral flow/late flow with atrial contraction) below 1 (usually < 0.8) or an abnormal tissue Doppler E wave lower than 10 cm/sec. Interestingly, patients who have positive genotype findings but negative phenotype findings appear to demonstrate abnormal tissue Doppler patterns, particularly abnormally low E wave velocities.
Exercise stress echocardiography
Exercise stress echocardiography has been found to be a good prognostic tool in adults with HCM. Children with left ventricular outflow tract gradients higher than 30 mmHg at rest and with exercise were found to have a 5 times higher risk for development of symptoms or adverse clinical outcomes during follow-up. [19] Consequently, exercise stress echocardiography may be useful for prognostication.
Other Imaging Studies
Chest radiography
Chest radiography findings vary in patients with hypertrophic cardiomyopathy (HCM). The cardiac silhouette may range from normal to being markedly increased. Left atrial enlargement may be observed, especially if significant mitral regurgitation is present.
Cardiac magnetic resonance imaging (CMRI)
CMRI is helpful in identifying patients with fibrosis and serves as an adjunct evaluation of anatomy and outflow tract obstruction in patients with poor echocardiographic windows.
CMRI can be particularly useful in evaluating left ventricular thickening to identify the cause, diagnosis, and/or prognostic factors; determine the left ventricular geometry; and decision making regarding serial follow-up and therapeutic options. [20]
Areas of delayed enhancement on MRI correlate with areas of fibrosis and can be found in a subset of patients with HCM. These patients may be at increased risk for arrhythmias, including nonsustained ventricular tachycardia. Findings of fibrosis may have implications for risk stratification for sudden cardiac death in this group of patients.
Cardiac Catheterization
In patients with hypertrophic cardiomyopathy (HCM), a diagnostic hemodynamic catheterization may be useful to determine the degree of outflow obstruction, assess the diastolic characteristics of the left ventricle, and define ventricular as well as coronary arterial anatomy.
Transcatheter septal alcohol ablation to relieve the left ventricular outflow obstruction has been performed as an alternative to surgical myectomy in adults, but it is not commonly performed in children (see Treatment).
Electrophysiologic Testing
A diagnostic electrophysiologic study may reveal conduction abnormalities, sinus node dysfunction, and the potential for inducible arrhythmias using programmed electrical stimulation. However, the prognostic correlation of inducible arrhythmias with spontaneous clinical arrhythmias or sudden death is not entirely clear.
Several studies have demonstrated a relationship between electrophysiologic study results and risk stratification, although others have not been able to demonstrate a direct relationship. Electrophysiologic studies may also be used to identify a substrate that is amenable to catheter ablation, such as atrial flutter or ventricular tachycardia.
Histologic Findings
Myocardial hypertrophy and gross disorganization of the muscle bundles result in a characteristic whorled pattern; cell-to-cell disarray and disorganization of the myofibrillar architecture within a given cell occur in almost all individuals with hypertrophic cardiomyopathy (HCM). Fibrosis is prominent and may be extensive enough to produce grossly visible scars.
Abnormal intramural coronary arteries, with reduced lumen sizes and thickening of the vessel wall, are common, occurring in more than 80% of patients. This abnormality occurs most frequently in the ventricular septum and accompanies extensive fibrosis in the affected walls of the heart.
What would you like to print?