Workup
Laboratory Studies
In patients with mitral valve prolapse (MVP), perform blood and other laboratory tests as dictated by the condition of the patient.
Other tests
Electrocardiography
Electrocardiography findings are usually normal; however, in about one half of children and adolescents, the findings may reveal inverted or biphasic T waves, especially in leads II, III, aVF, and/or V5-6 (see image below). [13] The T-wave abnormalities may vary at different times in the same patient and may improve with exercise or with beta-blocker therapy.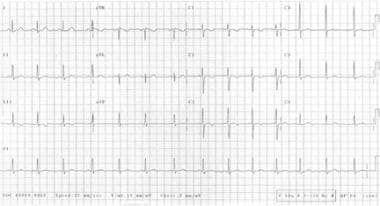 Two-lead electrocardiogram of a child with mitral valve prolapse (MVP) showing T-Wave inversion in leads III and aVF.
Arrhythmias described at rest or during exercise include premature atrial (23.6%) or ventricular (27.3%) contractions, supraventricular tachycardia, and conduction abnormalities. Patients with mitral valve prolapse demonstrate a higher frequency of left-sided accessory pathways. More serious findings include ventricular tachycardia and fibrillation.
A higher incidence of arrhythmia may be due to a prolonged QT interval. Diastolic depolarization of muscle fibers in the anterior mitral leaflet in response to stretch may also have a role.
Slow response action potentials originating in the atrial-like muscle fibers in the mitral valve leaflets can lead to sustained rhythmic action that penetrates the cardiac chambers.
Phonocardiography
This was previously used as an adjunct to confirm the auscultatory findings.
Imaging Studies
Radiography
Chest radiography findings are normal. Cardiac size and pulmonary venous congestion appear when mitral regurgitation (MR) is severe. The image below depicts a radiograph of a 5-year-old girl with mitral valve prolapse.
Skeletal surveys may reveal abnormalities. The image below depicts a radiograph of the left hand of a 10-year-old boy with marfanoid syndrome and mitral valve prolapse.
Echo-Doppler ultrasonographic studies
This is an essential tool to identify the presence and magnitude of mitral valve prolapse. The thickness of mitral valve leaflets, mitral annulus size, chordae tendineae length, and left ventricular and left atrial size and function should be evaluated. The test also reveals any associated heart diseases. [14]
Multiple views of the mitral valve are essential, and the echo-Doppler findings have to be correlated with clinical data.
These studies, particularly transesophageal echocardiography in adults, also help identify potential embolic sources in patients with focal neurologic symptoms or signs.
Findings are always interpreted in the context of the clinical evaluation by dynamic auscultation. The diagnostic accuracy improves by use of a constellation of findings, which include structural and functional changes. Patients with echocardiographic criteria for mitral valve prolapse, without evidence of thickened redundant leaflets or significant MR, require careful review before mitral valve prolapse is diagnosed. Mere sagging of anterior leaflet in the 4-chamber view does not indicate mitral valve prolapse. Patients with typical auscultatory findings may be diagnosed even with questionable echocardiographic findings.
Rarely, patients with mitral valve prolapse may have typical echocardiographic findings but no abnormality on auscultation. Patients with suggestive symptoms and no auscultatory findings, who have nonspecific echocardiographic changes, present a real challenge and may require periodic reevaluation before a firm diagnosis can be made. Family history could be of help in some of these patients.
Two- and three-dimensional studies
Two-dimensional, real-time echocardiographic pictures from parasternal long-axis window reveal the mitral valve leaflets coming together in systole and billowing into the left atrium beyond the atrioventricular junction (see image below). The medial aspect of the anterior leaflet and middle scallop of the posterior leaflet are visualized from this view. The lateral scallop of posterior leaflet can be seen only from the apical 4-chamber window, and, at times, mitral valve prolapse can be focal.
The echocardiographic description of the mitral valve prolapse should include structural changes, such as leaflet thickening, redundancy, annular dilatation, and chordal elongation. A varying degree of noncoaptation of the leaflets is present, and MR can be identified by Doppler-color, pulse wave, and continuous wave. The MR jet can be defined, and its magnitude and direction estimated. The size of the left atrium and left ventricle are increased in the presence of moderate-to-severe MR.
Three-dimensional echocardiography is reportedly very helpful in delineating the prolapse and associated regurgitation (see image below). Segmental analysis of the mitral valve leaflets has been as successful with this technique as with transesophageal echocardiography. [15, 16, 17] It has also been reported to provide information that helps in surgical repair.
Transesophageal and M-mode studies
Transesophageal echocardiography has also improved the identification of leaflet morphology, assisting surgical repair.
M-mode echocardiography reveals a characteristic posterior movement of the posterior mitral leaflet during mid or late systole or pansystolic prolapse of both anterior and posterior mitral leaflets toward the left atrium (see image below). With the availability of 2-dimensional and Doppler studies, mitral valve prolapse should no longer be diagnosed solely on M-mode pictures.
Stress scintigraphy
Myocardial perfusion scintigraphy (eg, using thallium-201) during exercise may help identify the rare patient with mitral valve prolapse and myocardial ischemia.
Procedures
Ambulatory 24-hour electrocardiography
A Holter monitor may help identify the nature and frequency of arrhythmic activity in patients with mitral valve prolapse (MVP). Premature ventricular beats (38%), multiform couplets, and tachyarrhythmias (8%) are usual findings.
Exercise testing
This is useful in patients with palpitations and exercise-related symptoms. Premature ventricular beats (16%), ventricular tachycardia (4%), and supraventricular ectopy are common findings. Ventricular fibrillation is a rare finding.
Cardiac catheterization and angiography
These tests are generally restricted to patients with mitral valve prolapse and severe mitral regurgitation who may require valve repair or replacement. Associated coronary artery disease can also be confirmed or excluded.
A left ventricular angiogram, obtained in the right anterior oblique view, best shows the posterior leaflet. A left anterior oblique projection reveals the anterior leaflet.
Other abnormalities that may be revealed include dilatation, decreased systolic contraction, calcification of the mitral annulus, and poor contraction of the basal portion of the left ventricle.
Electrophysiology
Indications for electrophysiology (EPS) are similar to those in general clinical practice. EPS is useful in the presence of supraventricular tachycardia because accessory atrioventricular pathways are common in patients with mitral valve prolapse. In this subset of patients, EPS is important because radiofrequency ablation can be performed during the same procedure, with a very high curative success rate.
Tilt test
Upright tilt studies with blood pressure and cardiac rhythm monitoring may be valuable in patients with light-headedness or syncope when vasodepressor-vasovagal reaction is suspected and confirmation of clinical symptoms is desired.
Histologic Findings
Mitral valves excised from patients with severe mitral regurgitation (MR) secondary to mitral valve prolapse (MVP) have large leaflets and show various alterations.
The most specific, fundamental, and characteristic histologic changes are (1) collagen dissolution and disruption in the pars fibrosa of the mitral valve leaflet and (2) replacement of the dense collagenous fibrosa by loose myxomatous connective tissue with high acid mucopolysaccharide content. Similar histologic abnormalities are observed in chordae tendineae.
Scanning electron photomicrographs demonstrate surface folds and focal loss of endothelial cells on mitral valve leaflets obtained from patients with severe mitral valve prolapse and significant MR. These surface abnormalities may predispose to thromboembolic complications and/or infectious endocarditis.
Continuous pressure and stress on the leaflets and chordae tendineae during left ventricular systole contribute to gradual progression of these histologic changes.
What would you like to print?