Treatment
Medical Care
Direct the medical care of the patient with a ruptured sinus of Valsalva aneurysm toward hemodynamic stabilization, prevention or treatment of endocarditis, and management of arrhythmias, cardiac ischemia, or both using the following indications and medications [3, 17] :
Heart failure: Administer diuretics, digitalis, and ACE inhibitors, and perform stabilization of cardiac rhythm (as indicated).

Cardiac ischemia: Administer nitrates and beta-blockers.

Endocarditis: Standard prophylaxis is no longer routinely recommended. Standard prophylaxis should be used after an episode of bacterial endocarditis has occurred to prevent reoccurrence. [23] For more information, see Antibiotic Prophylactic Regimens for Endocarditis.
See also the following American Heart Association (AHA) and/or American College of Cardiology (ACC) guidelines:
Surgical Care
Prompt surgical therapy is recommended when a ruptured sinus of Valsalva aneurysm is diagnosed. A combined approach from the affected chamber and from inside the aorta is most helpful to allow inspection of the aortic valve and to avoid injury to the coronary vessels. The procedure is described as follows. [24, 25, 26]
The fistula tract from the ruptured aneurysm is closed, and an associated ventricular septal defect is repaired.
The aorta is reunited with the valve annulus either by direct anastomosis or by the interposition of a graft, if required. Competency of the aortic valve is tested using transesophageal Doppler study, and valve repair can be undertaken, if necessary. Preservation of the aortic valve, particularly in children, is of paramount importance; therefore, early surgical intervention may be warranted.
No consensus as to when to perform surgery on a fortuitously discovered unruptured sinus of Valsalva aneurysm has been reached. Regular follow-up of these patients using echocardiography or MRI to document the size of the aneurysm is indicated. Undertake elective repair of a known sinus of Valsalva aneurysm at the same time as surgical repair of any other intracardiac shunt or defect.
Although surgical closure is generally indicated and reserved for patients with ruptured sinus of Valsalva, particularly complicated cases (eg, severe aortic regurgitation, complex lesions [endocarditis, bicuspid aortic valve, tunnel-type fistulous connections, large defects, multiple rupture sites]), percutaneous closure has been found to be safe and effective in patients who are not candidates for bypass, have mild/absent aortic regurgitation, simple associated defects (eg, muscular ventricular septal defects, secundum atrial septal defect, small patent ductus arteriosus). [27]
Percutaneous transcatheter closure of a ruptured sinus of Valsalva aneurysm was first described in 1994. [28] Numerous occluder devices have been used, including the Gianturco coil, [29] the Amplatzer device, [8, 30, 31, 32] and others. [33, 34, 35, 36, 37, 38] An example with closure by Gianturco coil [29] is shown below.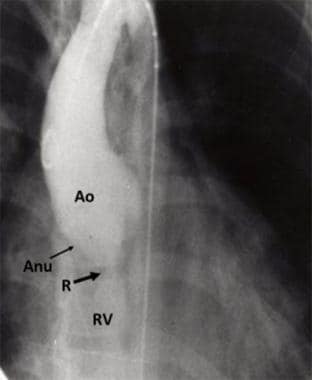 Sinus of Valsalva aneurysm. Selected frame from aortic (Ao) root cineangiography following coil occlusion demonstrating complete ablation of the shunt. ANU, aneurysm; R, rupture; RV, right ventricle.
Device selection should be based on the availability of the devices, anatomy of the particular case and the operator's experience in use of these devices.
Guidance for transcatheter closure is provided by 2-dimensional or 3-dimensional transesophageal echocardiographic guidance. [32]
Although the traditional approach for transcatheter closure is antegrade, successful closure with a retrograde approach has also been reported. [39]
While the device closure has been successfully used by several investigators, complications such as device embolization, [40, 41] failed procedure, [42, 43] and late thrombosis [44] can occur. A study comparing the outcomes following surgical with percutaneous approaches concluded that the percutaneous approach is safe and effective in patients who cannot undergo cardiopulmonary bypass, those who have minimal or no aortic insufficiency, and those who have simple associated cardiac defects. [45]
Activity
Patients with a sinus of Valsalva aneurysm should avoid participation in contact sports or activities involving vigorous exertion or sustained heavy lifting. Chest trauma may precipitate rupture of a sinus aneurysm.
Patients with ruptured aneurysms who are awaiting surgical repair can be allowed activity to tolerance levels. Activity may be limited because of symptoms of congestive heart failure.
Prevention
Because the genetic mutation that causes the sinus of Valsalva aneurysm is presumed to be spontaneous, no preventive measures are available. With careful follow-up monitoring of an unruptured sinus of Valsalva aneurysm, complications of rupture and infective endocarditis can be avoided.
Long-Term Monitoring
Regularly follow-up with patients with sinus of Valsalva aneurysm who have not undergone surgical repair using echocardiography or MRI to document the size of an unruptured sinus of Valsalva aneurysm.
Early rupture can be detected using color Doppler echocardiography or real-time MRI.
What would you like to print?