Workup
Laboratory Studies
Routine laboratory studies in the neonate with truncus arteriosus generally aid in determining therapeutic strategy rather than diagnosis.
An important exception in some cases is an arterial blood gas measurement, which helps to evaluate the degree of acidosis on presentation and may aid in differentiating cardiac disease from primary pulmonary pathology when performed before and after administration of 100% inspired oxygen (hyperoxia test).
Note that a hyperoxia test may be misleading in patients with truncus arteriosus and torrential pulmonary blood flow, both because of severe mismatch between pulmonary and systemic blood flow and, in some cases, because of streaming of left and right ventricular outflow into the systemic and pulmonary arterial systems, respectively.
Measurement of serum electrolytes, including total and ionized calcium, is important in patients with truncus arteriosus, given the common association with DiGeorge syndrome, which frequently may include hypoparathyroidism and hypocalcemia.
Electrocardiography
Electrocardiographic (ECG) findings in young infants with truncus arteriosus do not distinguish this lesion from others on the differential diagnosis.
A normal sinus rhythm, normal intervals, and either a normal QRS axis or minimal right-axis deviation are generally observed. Biventricular hypertrophy is a characteristic finding.
In patients with substantial pulmonary overcirculation, left ventricular forces are especially prominent with evidence of left atrial enlargement.
Imaging Studies
Chest radiography
Upon presentation, obtain a chest radiograph in most patients with truncus arteriosus. Cardiomegaly and increased pulmonary vascular markings are typically present, and fullness in the region of the truncal root may possibly be discerned. In patients with a right aortic arch, this radiographic finding in association with increased pulmonary vascular markings suggests truncus arteriosus. A narrowed mediastinal shadow may indicate an absent thymus gland which can be associated with DiGeorge syndrome complex.
Echocardiography
Echocardiography with cross-sectional and Doppler flow analysis is sufficient to confirm the diagnosis of truncus arteriosus and fully characterize the various anatomic features in most patients. A full complement of echocardiographic views is necessary to ensure complete and accurate definition of the anatomy and potential associated anomalies.
Using subcostal coronal and parasternal long-axis images is the best way to demonstrate the single arterial trunk arising from the ventricles, with variable override of the ventricular septum. These views also demonstrate the thickness and mobility of the truncal valve leaflets. In general, the subcostal coronal view allows delineation of the pulmonary arterial origin(s) from the common trunk, although additional views are helpful to more completely characterize the pulmonary arterial anatomy. Morphology of the truncal valve and origins and course of the proximal coronary arteries are best observed from the parasternal short-axis window.
Doppler color imaging from these windows is critical to evaluate pulmonary arterial flow and regurgitation or stenosis of the truncal valve. Imaging from the high parasternal and suprasternal notch views is necessary to define the aortic arch and provide additional perspective on the anatomy of the central pulmonary arteries. Standard approaches to imaging of the ventricular masses, atrioventricular valves, and atriums are important for full characterization of their structure and function.
Increasingly, diagnosis of truncus arteriosus and other complex heart defects is made by prenatal echocardiography. Prenatal echocardiography is generally accurate and sensitive for the diagnosis of truncus arteriosus, although the precise diagnosis may be difficult to distinguish from similar anomalies, such as tetralogy of Fallot or double-outlet right ventricle with pulmonary atresia, or aortic atresia with a ventricular septal defect. [9]
An echocardiographic image of truncus arteriosus is shown in the image below.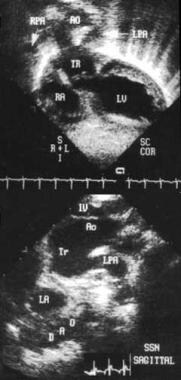 Echocardiographic images of truncus arteriosus (TA). The top image is from the subcostal coronal window (SC COR) and shows the common trunk (TR) arising from the left ventricle (LV), overriding the interventricular septum. The common trunk branches into the pulmonary trunk and the ascending aorta (AO). The left pulmonary artery (LPA) may be seen branching from the pulmonary trunk. RA=right atrium; RPA=right pulmonary artery. In the bottom image, which is from the suprasternal notch sagittal window, the truncal origin and course of the pulmonary trunk and left pulmonary artery can be appreciated. DAO=descending aorta; IV=innominate vein; LA=left atrium.
The advent of four-dimensional (4-D) fetal echocardiography using spatiotemporal image correlation, tomographic ultrasound imaging display (STIC-TUI echo) and color Doppler has the potential for identifying complex fetal cardiac anomalies in high-risk mothers in the first trimester. [10] The major factor in successful volume acquisition appears to be optimal imaging of the four-chamber view with 2-D ultrasonography.
MRI
MRI is rarely necessary in patients with truncus arteriosus. MRI modality provides excellent imaging for characterizing anatomy, and may be especially useful in reconstructing complex pulmonary arterial anatomy in older patients with truncus arteriosus.
Procedures
Cardiac Catheterization
Standard angiographic images from the truncal root can aid in the assessment of the coronary arterial anatomy and complex pulmonary artery anatomy arising from the thoracic aorta, if echocardiography is inadequate, and in the assessment of regurgitation through the truncal valve.
Cardiac catheterization is generally not required prior to repair in neonates and young infants with truncus arteriosus. [11]
Catheterization is an important tool for evaluating some of the most common anatomic problems in patients with repaired truncus arteriosus, such as obstruction of the surgical reconstructed right ventricular outflow tract, branch pulmonary arterial stenosis, truncal valve regurgitation, and, in patients repaired later in life, pulmonary vascular obstructive disease.
Transcatheter Balloon Dilation
Treatment of pulmonary outflow tract or pulmonary arterial obstruction with transcatheter balloon dilation or stenting is an effective therapy for these problems in many patients who have undergone complex surgical repair.
Biopsy
Histologic examination is not generally indicated in the evaluation of patients with truncus arteriosus. In the rare older patient with evidence of elevated pulmonary vascular resistance, pulmonary biopsy is occasionally performed as a means of assessing the extent of pulmonary vascular obstructive disease.
What would you like to print?