Workup
Laboratory Studies
It is recommended that infants born with interrupted aortic arch type B or other isolated aortic arch anomalies, as well as those with truncus arteriosus or tetralogy of Fallot, undergo genetic testing to detect a 22q11.2 deletion.
High-resolution (650 band level and above) chromosome analysis is used to look for a chromosome region 22q11.2 deletion.
Fluorescence in situ hybridization (FISH) for a band 22q11.2 deletion must be performed to rule out a submicroscopic deletion (see the image below).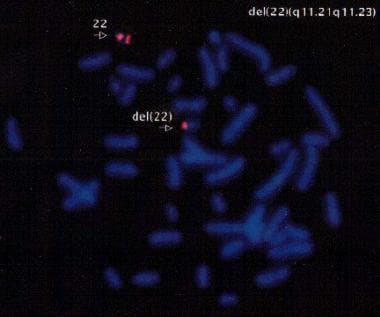 Velocardiofacial Syndrome. Chromosomal fluorescence in situ hybridization (FISH) demonstrating the deletion of one chromosomal region 22q11 segment.
In addition, both parents of a proband should undergo chromosome analysis and 22q11 FISH testing to determine if either is a carrier (frequency is 10%). This allows for accurate recurrence risk estimates.
Serum calcium levels should be measured in diagnosed newborns and in any patients with suspected velocardiofacial syndrome (VCFS) at any age who have seizures.
Immunologic studies (T-cell marker studies) should be performed as directed by a pediatric immunologist on all infants with this diagnosis and in older individuals who have a history of frequent infections.
Genetic testing serves to identify those individuals affected by the 22q11.2 deletion and, therefore, identifying the need for present and future medical attention.
Other Tests
Electrocardiography (ECG) can help determine the presence of a heart defect.
To detect hearing loss, conduct audiology testing at the time of diagnosis and at least annually thereafter.
Imaging Studies
Chest radiography can reveal evidence of a heart defect in a patient with velocardiofacial syndrome (VCFS).
Echocardiography is needed to rule out a heart defect, even in the absence of a heart murmur.
Renal ultrasonography is used to look for a structural anomaly.
Brain magnetic resonance imaging (MRI) is used if a severe delay is present. Numerous brain malformations have been observed in these patients, such as pachygyria or polymicrogyria, agenesis of the corpus callosum, myelomeningocele, and mild cerebellar hypoplasia or mega cisterna magna (the latter two are the most common). [10] Of note, young patients with VCFS have significant differences in white matter microstructure and volume, and some of these defects seem to be associated with schizotypal behavior. [11, 25]
Procedures
As stated earlier, the most common cardiac malformations in patients with velocardiofacial syndrome (VCFS) include conotruncal defects, such as tetralogy of Fallot (TOF), pulmonary atresia with ventricular septal defect (PA-VSD), truncus arteriosus (TA), interrupted aortic arch (IAA), and ventricular septal defect (VSD). Cardiac catheterization is usually not necessary for diagnosis, as an echocardiogram will show the cardiac structures; however, it might be indicated to evaluate and treat specific cardiac lesions, such as stenotic pulmonary arteries where flow may be severely restricted.
What would you like to print?