Overview
Background
Ventricular fibrillation (VF) is rare in the pediatric population; when it does occur, ventricular fibrillation is usually a degeneration of other malignant arrhythmias, such as ventricular tachycardia (VT). The period of arrhythmia may not be extensive, but ventricular fibrillation that occurs without a few initial beats of ventricular tachycardia is unusual. In adults, ventricular fibrillation is preceded by ventricular tachycardia in approximately 80% of cases. [1]
Primary ventricular fibrillation is uncommon in children. In a study of pediatric out-of-hospital arrests, ventricular fibrillation was the initial recorded rhythm in 19% of cardiac arrests. [2] Causes of ventricular fibrillation varied and included medical illness, overdose, drowning, and trauma; only 2 of 29 patients had congenital heart disease. Thus, ventricular fibrillation as a terminal rhythm in cardiac arrest may result from various causes. [3]
The outcome in patients with ventricular fibrillation is better than in patients with asystole or pulseless electrical activity (PEA), and outcome may be further improved by prompt recognition and treatment of ventricular fibrillation. In a population of patients with known ventricular arrhythmias, individuals who had ventricular fibrillation were more likely to have underlying significant heart disease (eg, cardiac tumors, long QT syndrome, structural congenital heart disease) than patients with ventricular tachycardia. [4]
After initial resuscitation, therapy in patients with ventricular fibrillation is primarily focused on preventing the antecedent ventricular tachycardias. However, technologic advances in both implantable and external automated defibrillators have made these devices an important part in the management of malignant ventricular arrhythmias. [5]
Pathophysiology
The electrical activity in ventricular fibrillation is characterized by chaotic depolarization of cells throughout the ventricular myocardium. The lack of coordinated depolarization prevents effective contraction of the myocardium and, thus, ejection of blood from the heart. Surface ECG demonstrates no identifiable QRS complexes, although a wide range of amplitude of electrical activity is present, from sine-wave ventricular flutter to fine ventricular fibrillation, which may be difficult to distinguish from asystole (see image below). This arrhythmia is maintained by multiple re-entrant circuits because portions of the myocardium are constantly depolarizing. Ventricular fibrillation may be initiated when an area of myocardium has refractory and conducting portions, and, as in any reentrant circuit, this combination promotes a self-sustaining rhythm. [6]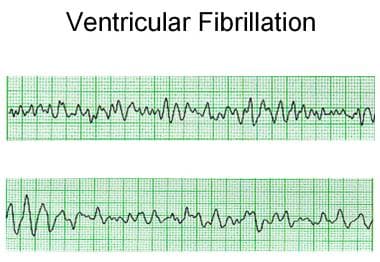 Ventricular fibrillation with polymorphic morphology and cycle lengths varying from 80-280 milliseconds.
Epidemiology
Frequency
United States
The incidence of ventricular fibrillation from all causes is very low in the pediatric population. In studies of pediatric cardiac arrests, ventricular fibrillation was the first identified rhythm in 6-19% of patients, with asystole or PEA as the most frequent rhythm identified first. [7, 8] Overall incidence is likely to be higher because cardiac rhythms frequently change during an arrest, and ventricular fibrillation may have preceded asystole in some patients.
Mortality/Morbidity
Prognosis
The short-term prognosis of a patient with ventricular fibrillation is primarily dictated by time to defibrillation, and long-term issues are modulated by any underlying conditions that may have led to the ventricular fibrillation event.
One study demonstrated a good outcome in 17% of patients presenting with cardiac arrest and ventricular fibrillation, all of whom had early defibrillation. [9]
Morbidity/mortality
Without prompt and aggressive therapy, sustained ventricular fibrillation is uniformly lethal. Polymorphic ventricular tachycardia (eg, torsade de pointes) may be sustained or nonsustained, and morbidity is related to the duration of the arrhythmia and to the cardiac output. Some ventricular arrhythmias allow adequate cardiac ejection for a limited period, but once a rhythm degenerates to ventricular fibrillation, ejection is minimal. Until the rhythm is converted, cardiac output is not effective; thus, patients are extremely vulnerable to ischemia and death. [3] In one study, 17% of patients with cardiac arrest and a presenting rhythm of ventricular fibrillation had a good outcome (ie, absent or mild disability), all of whom received early defibrillation. [9] Clearly, early defibrillation is essential to a good outcome.
Race
Although some predisposing factors may demonstrate genetic trends, ventricular fibrillation can be observed throughout all populations.
Sex
Vulnerability to ventricular fibrillation is not significantly different between males and females, although, at least in adults, torsade de pointes is more commonly observed in females than in males. In preadolescent children, this sex difference in QT interval range and propensity to torsade de pointes is not evident.
Age
Sudden cardiac death is unusual in pediatric populations, even in children with known cardiac disease; however, patients with congenital heart disease may encounter increasing risk of arrhythmias with or without surgical intervention and as they age. Although terminal rhythms are not often documented in sudden death populations, ventricular fibrillation may represent a final common pathway for these patients.
Various forms of congenital heart disease have been associated with an increased incidence of late sudden death, including tetralogy of Fallot, aortic stenosis, and the atrial switch operations for D-transposition of the great arteries. This may represent an increased incidence of both ventricular tachycardia and ventricular fibrillation vulnerability in this population because the sudden death is presumed to be of arrhythmic etiology. [10]
What would you like to print?