Workup
Laboratory Studies
Fluorescent in situ hybridization
Fluorescent in situ hybridization (FISH) for the 7q11.23 elastin gene deletion or array comparative genomic hybridization (aCGH) should be performed in patients in whom Williams syndrome is suspected. A deletion at 7q11.23 is noted on FISH or aCGH testing is found in 99% of patients. Testing is routinely performed on peripheral blood leukocytes obtained in a heparinized tube in cytogenetics laboratories. Non-cytogenetic–based methods for detection of Williams syndrome involve targeted mutation analysis, include real-time quantitative polymerase chain reaction (PCR), multiplex ligation-dependent probe amplification (MLPA), and heterozygosity testing; this reaches the same sensitivity as FISH analysis. An international list of laboratories offering testing for Williams syndrome is available through GeneTests or the European Directory of DNA Diagnostic Laboratories.
A standard karyotype may be performed because a negative FISH result for Williams syndrome does not exclude the possibility of an underlying chromosomal abnormality, and chromosomal translocation in the region affected by Williams syndrome has been reported. [82]
Because atypical cases of Williams syndrome may have other chromosomal rearrangements not detected by the standard FISH test, further studies should be coordinated through a clinical geneticist.
Testing in the parents is not routinely indicated, unless either parent has associated physical features or other findings for which Williams syndrome is suspected, a positive family history of Williams syndrome, or other affected children with Williams syndrome. [83, 84] Although there is an increased risk of a parent being a carrier of a translocation on chromosome 7, this finding is considered to be noninformative, as the translocation is present in a large number of people in the general population who do not have children with Williams syndrome.
Other laboratory tests
Plasma creatine phosphokinase (CPK) levels may be elevated, but the clinical significance is not clear in incidental cases. [28] Further studies are needed to see if this may relate to an underlying myopathy. [85]
Obtain baseline measurements of serum calcium, BUN, and serum creatinine levels. Perform routine urinalysis and obtain spot urine calcium/creatinine ratios. Serum or ionized calcium can be checked in suspected cases before genetic confirmation of the diagnosis.
Obtain baseline thyroid-stimulating hormone (TSH) levels.
Imaging Studies
Perform baseline echocardiography in all patients diagnosed with Williams syndrome, regardless of cardiac physical examination findings. Approximately one half of all children with Williams syndrome have a significant cardiac lesion (see image below).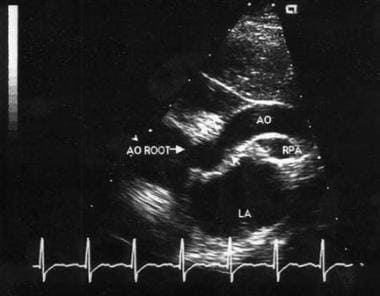 Two-dimensional suprasternal echocardiographic image of supravalvular aortic stenosis (SVAS).
Cardiovascular management depends on the specific cardiac lesion present.
In addition to ECG and echocardiography, children with supravalvar aortic stenosis (SVAS) may require cardiac catheterization as part of their presurgical evaluation.
Perform renal ultrasonography in the initial workup to not only look for anatomic abnormalities but also for nephrolithiasis caused by hypercalcemia. Structural renal abnormalities are found in 15-20% of patients with Williams syndrome. [78, 86] Further management may require referral to a urologist, nephrologist, or both.
Other Tests
Full neurodevelopmental testing may aid the general practitioner in identifying suspected cases of Williams syndrome and may help tailor schooling and supplemental developmental assistance for children already diagnosed with Williams syndrome.
Obtain a baseline audiology examination to allow monitoring of changes.
What would you like to print?